On Tuesday, FactSet Research Systems (NYSE:FDS) delivered solid earnings for its fiscal second-quarter. EPS came in at 71 cents, two cents more than estimates. That's a 20% jump over the 59 cents it made in last year's Q2. Revenue rose 11.6% to $156.5 million (Call Transcript).
For the current quarter, FDS sees EPS coming in between 72 and 74 cents which is higher than the Street's current consensus of 70 cents.
For the last three months, FactSet saw a net decline of just 12 clients to give them a total of 2,067 clients. The company has 38,700 users after a quarterly decline of 1,500 users.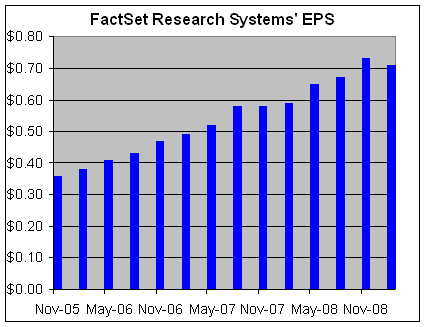 Disclosure: Author holds a position in FDS.