I recommend that investors sell shares of Cohen & Steers REIT and Preferred Income Fund (NYSE:RNP) and separately invest equal amounts of the proceeds in a real estate closed end fund (CEF) and a Preferred CEF for better overall returns. For its part, RNP should spin-out its preferred portfolio into a separate CEF to be traded among the Preferred CEF peers at favorable discounts relative to real estate CEFs.
RNP's investment strategy of investing both in REITs and preferred securities on roughly an equal basis is inherently flawed with regards to maximizing shareholders' value. RNP's preferred securities portfolio is being valued at the much higher average discount (lower valuation) of the real estate oriented CEFs rather than the lower discounts of Preferred CEFs. (Historically, the discount for preferred CEFs is approximately 6.2%; it's 9.9% for special equity funds; 12.3% for sector real estate funds.)
This inherent problem has been recently exacerbated by RNP's poor portfolio performance. On a relative performance basis RNP has underperformed its own benchmark in 2008 by 32.3%. It is now extending its losing streak into 2009; its share price is already off 43.3% YTD (3/19/09).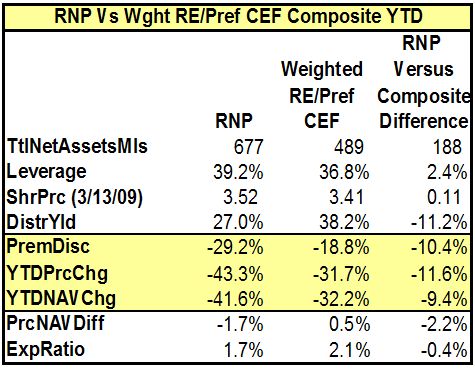 Analysis: For the sake of RNP comparison, a "Composite CEF" was constructed consisting of a weighted average of real estate CEFs (18) and preferred CEFs (20) similar to RNP's portfolio composition. Only those CEFs that utilized leverage were included in CEF Composite. As illustrated in the adjacent table, both RNP's and the Composite CEF's have reasonably comparable leverage.
Components of Performance: If RNP were generating returns equal to the average of real estate CEFs and preferred CEFs, then its returns would be the same as the weighted average CEF Composite as constructed. As the table above illustrates, RNP significantly lagged the Composite CEF YTD on three important CEF criteria: Premium/Discount (10.4% spread), share price change (11.6% spread) and NAV share price change (9.4% spread).
Sources of Performance Difference: A review of RNP's component parts in the table below may provide a better understanding of RNP's recent underperformance YTD. When RNP ("A") is compared to the average of 18 real estate CEFs ("B"), it modestly underperforms the average change in share price and NAV; its discount is also greater (lower valuation) ("C"). This distinction ("E") is more evident when comparing RNP ("A") to the average of the 20 Preferred CEFs ("D").
One can only conclude that the heavier discount attributed to real estate CEFs is being imputed on its preferred holdings; or, RNP's preferred portfolio performance is sub-par. Neither is a happy condition—albeit, the latter may be easier to correct.
click to enlarge image

Fish or Cut Bait: RNP is neither fish nor foul. RNP is classified as a Special Equity Fund within the real estate sector. At the very least, RNP should consider switching the position of "REIT" and "Preferred" in its name and lobby hard to get itself reclassified as a "Preferred Fund" to benefit from the relative favorable historical discount of Preferred CEFs.
Disclosure: Joe Eqcome owns RNP at higher prices.