The market rally has picked up steam and despite yesterday's mild pullback (so far), I expect that we will see continued strength for a time. One of the hallmarks of a bear market rally - or even a legitimate rally off a significant low - is that poor quality stocks can rally just as fast as sound fundamental companies. This is often a function of short covering as managers seek to cut back their short exposure even in the unhealthy stocks.
Blue Nile Inc. (NASDAQ:NILE) is likely one of those poor quality stocks that is being propped up by short covering. Investors have seen a 20% increase in just the last couple of weeks and the stock has broken above $25 which could be considered an important swing point on the chart. Blue Nile could easily become a trap and I want to warn against jumping on the bandwagon.
To begin, let's take a close look at NILE's business. Many amateur investors have claimed that the stock should hold up well because as a diamond distributor, the company likely caters to the wealthy who will be less likely to pull back spending than a "Normal Joe" who has a mortgage and a job in jeopardy.
Unfortunately, nothing could be further from the truth! Blue Nile actually receives the majority of its revenue from purchases less than $5,000. "Normal Joe" is actually the person Blue Nile counts on to be buying engagement rings and other small trinkets for loved ones. Now it's nice to be able to sell a $40,000 piece of rock to a superstar online, but those sales are few and far between. Blue Nile is intricately connected to the everyman's economy and has seen sales slip as consumer spending has declined.
As markets begin to recover, hope abounds that we will see brighter days. While I am an optimist about our broad situation, I think the jewelry business will take much more time to recover. Americans are likely to begin saving so even if the employment situation rebounds sharply, spending will likely not hit this sector for a few quarters if not years. Diamonds truly are a luxury and although couples will still fall in love and get married, engagement rings will likely be purchased with smaller diamonds and more budget constraints. The days of charging the Visa and paying for it later are simply gone (or at least not at the same level as in years past).
Finally, the price of NILE's stock appears to be largely disconnected with reality. The company is expected to make 65 cents per share this year and 82 cents in 2010. Now I'm not sure how anyone can make a worthwhile prediction for diamond purchases in 2010, but let's assume that number is accurate. The stock is still trading at more than 30 times next year's earnings expectations. That's quite a price tag for a company operating in a difficult industry, during a recession, with little forward visibility.
I don't know how long this rally will last. And if you look at previous posts, you will find a number of long ideas for profiting from an increasing market. But I would use higher prices as an opportunity to short this name, or possibly to buy puts. Currently the April 25 puts are trading for $2.20 and could yield quick profits if the stock came back in. In short, I would avoid long positions in this stock and concentrate on opportunities trading at more reasonable prices.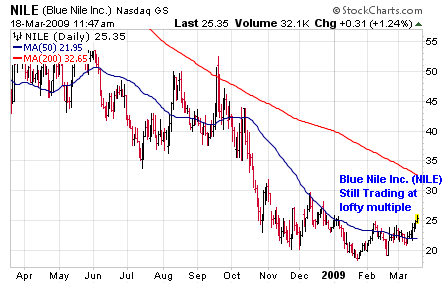 Disclosure: Author does not have a position in NILE.