Despite recent run-ups in many financial stocks, investors still view the sector with caution. There are good reasons for this: regulatory risks, low interest rates, lackluster economic growth and tales of waste, excess, and corruption seem to appear in headlines daily. Yet this common perspective ignores many well-run financial services companies whose business models work and who have stuck with doing what they do best. As such, there are some great values out there for investors willing to stroll through the stock market's clearance section. This is especially the case for the micro-cap bargain bin.
I believe that Nicholas Financial (NASDAQ:NICK) is one of these hidden gems. Its holding company, Nicholas Financial, Inc. is incorporated in British Columbia, while its two wholly owned subsidiaries are Nicholas Financial and Nicholas Data Services, which are based in Florida. Nicholas Data Services provides data and software services for Nicholas Financial as well as other companies, but it has only three employees, brings in less than 1% of total revenue, and does not appear to be poised for growth in the future, so this article will focus on the other subsidiary, Nicholas Financial.
A Well-Run Auto Finance Company
Nicholas Financial buys and services contracts for the purchase of new and used automobiles and trucks. In other words, is buys and holds loan contracts generated by car dealers, although about 2% of the company's loan portfolio consists of loans made directly to consumers. Its specialty is in lending to consumers with poor credit or to finance purchases of older model or higher mileage vehicles. The business model is pretty simple: NICK has a certain amount of capital on its balance sheet, and combines it with a revolving line of credit in order to make loans. At the end of December 2012, it had used about $130 million on its $150 million credit line to help support a portfolio of $246 million in receivables. Currently, total liabilities are about 113% of shareholder equity (leverage ratio of 2.13), which is about average for the company in a post crisis. Since 2008, management has prudently dialed back leverage, which ranged between a leverage ratio of 2.5 to 4 before the crisis, although may increase leverage in the future if the recovery becomes more robust. Historically, NICK has had few problems with increasing and rolling over its line of credit as the business grows. In December, the company once again extended its line of credit through November 2014, using all the assets of the company as collateral and agreeing to pay 30-day LIBOR plus 300 basis points with a 1% LIBOR floor, which currently means 4%.
The company has been around for 27 years and has been publicly traded for the last 25. Its CEO and founder is Peter Vosotas, who continues to hold a significant stake in the business, and I see this arrangement as a signal that management is focused on long-term value creation rather than generating flashy short-term results. Here's how they did in the last decade: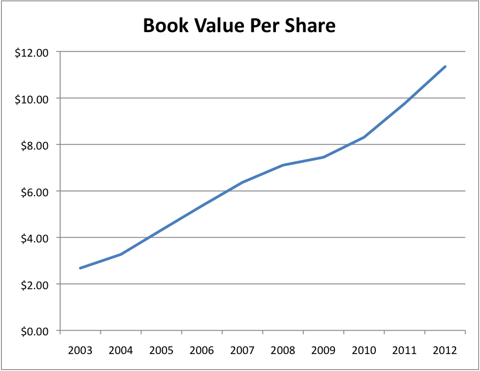 Clearly NICK is doing something right if it has been able to steadily increase book value nearly fourfold in the last 10 years, about 15.5% annualized. This is especially impressive considering the fact that the last ten years include a variety of different operating environments in terms of credit availability, interest rates, industry competition, and economic growth. Not too many companies in the specialty consumer finance industry, let alone the financial sector more generally, can say this. This consistent performance indicates to me that the business model is fundamentally sound and that management knows what it is doing.
Recent Performance
At first glance, NICK's recent earnings performance has been pretty poor (NICK's fiscal years do not line up with calendar years, last quarter was Q3 for fiscal year 2013):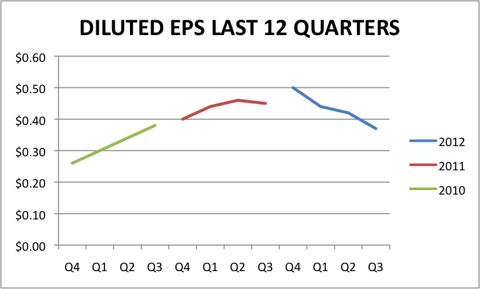 NICK enjoyed good growth in calendar 2010 and decent growth in 2011 as the economy began to recover and credit quality improved. However, from a peak in the first calendar quarter of 2012, EPS has steadily declined. Not a pretty picture. In terms of top line growth, recent performance looks better: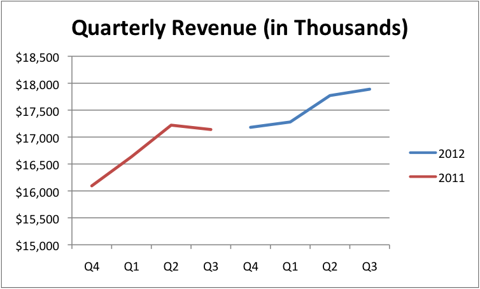 So the key issue here is declining operating margins. Identifying why margins have declined in the last year will help to determine whether NICK's net income slide will continue or reverse. Looking at the income statements for the last three quarters reveals some unusual expenses that have lowered the bottom line.
Like many other companies, NICK gave shareholders a special dividend of $2.00 in December 2012. I don't have a strong opinion about this decision, but doing so incurred more than $1.2 million in dividend taxes due to a U.S.-Canadian tax treaty that affected the parent company compared to $60,000 in the year prior. Management also entered into two interest rate swap deals between June and August that covered a notional value of $50 million in order to partially hedge the risk of its floating rate credit line. I think that this was a good move, because the timing was pretty close to the low point in interest rates, and rates will eventually come back up. However, in fiscal Q1, NICK had to record $200,000 in mark to market losses in these swap positions, and $475,000 in Q2. These paper losses on hedging positions and taxes on special dividends are unconnected to operational performance. Here's what calendar 2012 performance would have looked like without these charges: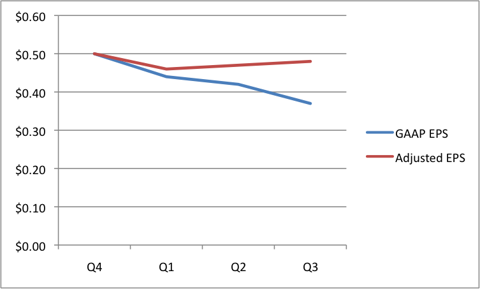 Still nothing to write home about, but EPS stagnation suggests a different picture about the fundamentals than EPS decline.
Future Growth
I believe the unimpressive results of late are temporary, and that management's growth initiative will get the company back on track. Alongside growing loan volume within existing branches, the company has increased the number of branches from 56 at the beginning of FY 2012 to 64 last quarter, a 14% increase. While opening new branches squeezes margins up front because of additional labor, facilities, and marketing costs not immediately offset by new business, as these branches pick up steam they should begin contributing to the bottom line. In the latest 10-Q, management states that it plans on entering new markets when it makes strategic sense, so I expect the top and bottom lines to grow at a moderate clip in the medium term as the company opens a few more branches every year and recently opened branches start pulling their own weight.
Valuation
While Nicholas Financial is a well-run company with decent long-term prospects, its dividend and current valuation are what makes it an extremely attractive investment. It recently traded for $13.34, or a P/E ttm of 7.7 and a P/B of 1.3. This gives NICK an earnings yield of about 13%. If you use a discounted cash flow analysis with a discount rate of 11%, the current price implies that the company will go into irreversible earnings decline. While I have no crystal ball regarding earnings in the next quarter or two, I think that this view is overly pessimistic in the medium to long term. The market has given NICK a very low expectations hurdle to jump over, so even mediocre business outcomes will lead to excellent investor returns. Put another way, NICK's book is like a high-yield bond fund with an equity kicker that yields 17% and which can be purchased at a 30% premium for a net yield of 13% (Based on December 2012 book value per share of 10.22, ttm EPS of 1.74). Its record through the crisis suggests that NICK's book value is no more vulnerable during extreme economic dislocations than a corporate high-yield bond fund, but with double the yield and optionality on future growth. Given this valuation, I think NICK has a good chance of outperforming the small cap and microcap indices in the long run.
Since September 2011, the company has paid quarterly dividends, which were originally $0.10 per quarter but increased 20% to $0.12 in September 2012. Despite the large special dividend of $2.00 paid in December, the board of directors recently declared another quarterly dividend of $0.12 for shareholders of record as of March 22, 2013, which indicates the leadership's confidence in the fundamentals. Management is a little unclear about future dividend policy, but at a 30% payout ratio, I think the dividend is pretty safe and wouldn't be too surprised if it increased again next September. If the quarterly dividend does remain at twelve cents for the next year, at the current price NICK will yield a healthy 3.6%. This dividend is attractive because if NICK's business is in the doldrums for a little while longer, I'll be paid a very reasonable price to wait it out.
Risks to Watch
I always like to consider the bear case for an investment. There are three benefits to this: 1.) Some investments look good from a glass-half-full perspective, which I've given so far, but much less attractive if the glass is really half empty 2.) Identifying rather than explaining away risks forces me to look out for specific issues in future financial filings rather than just the "quarterly numbers" 3.) My risk management plan often consists of selling a holding when the fundamentals deteriorate, but "deteriorate" is a pretty fuzzy concept. Identifying risks up front helps me to differentiate between temporary blips in performance and more serious structural problems.
Regulatory Risk: NICK is primarily engaged in "subprime" lending, which has been subject to increased public and regulatory scrutiny in recent years (appropriately, in my humble opinion). As such, there is the possibility that state-level regulators can impose new regulations such as interest rate caps, and the new Consumer Financial Protection Bureau (CFPB) can impose increased disclosure requirements. It is important to note that the latter is unable to impose interest rate caps, and that NICK successfully operates in many states that already have strict usury laws. Furthermore, while the industry likely has its bad apples just like any other, public and regulatory attention appears to be focused on other credit products, such as payday loans, tax refund loans, credit cards, and home mortgages. My personal explanation for this is that the bigger players in subprime auto finance like NICK are straight shooters. Sure, they charge high interest rates, but nothing like the ridiculous 400%+ APR of some payday loan or tax refund loan operations. Their contracts also do not have a reputation for including 30 pages of gobbledygook (credit cards) or widespread fraud and abuse among both borrowers and underwriters (mortgages). The subprime auto finance market is relatively clean, and is not going away as long as owning a car is more of a necessity than an option, so I expect regulatory energy to be expended primarily in other areas of the credit markets.
Economic Risk: The used car finance business is fragmented and competitive as well as sensitive to overall economic conditions. As a result, profitability is cyclical across two dimensions: 1.) When the economy is doing poorly, credit deteriorates and the value of collateral falls, hurting the bottom line 2.) When credit is easy and the economy is booming, competition heats up, margins deteriorate and many companies relax credit standards, which also ultimately hurts the bottom line. In this way, it is a "goldilocks industry" which thrives when conditions aren't too hot or cold. Because I expect future economic performance to be mediocre, I'm not too worried about broad macro risk affecting NICK's business model. Not everyone agrees with me. SA analyst Bard Luippold has a fantastic article that makes the bear case for CACC), a similar company, which I also like but not at the current price.

Here's my main point of disagreement in terms of macro: I don't anticipate a decline in the demand for used car financing, because I believe stagnant disposable income and the growing number of people with poor credit means that much of the aging car fleet will be replaced by used rather than new vehicles. Regardless of how you fall on this issue, I highly recommend reading his thoughtful article for an alternative viewpoint.
Competition
Industry competition poses a more serious threat. The 2008 crisis took many of the weaker swimmers in this industry out to sea, so conservative, well-managed companies had the water to themselves for several years. This is changing as the risk of a double dip recession fades. In recent quarters, the average discount that dealers charge NICK for their loans (loans are purchased below face value) has slipped from 8.76% in December 2010 to 8.41% in December 2011 to 7.92% in December 2012, reflecting growing demand to purchase such loans. While this is not in the direction that I would prefer, I'm not worried at this point because the magnitude of the change is not too large and NICK's consistent track record of underwriting only profitable loans. Investors should keep an eye on this is metric, however, in case it starts dropping precipitously and because it is an important indicator of the general competitive environment.
Credit Risk
The other major concern is lurking problems on NICK's balance sheet. Allowance for losses was a little under $33 million at the end of December 2012, $3 million lower than in December 2011. Non-performing accounts, defined as an account that is delinquent for more than 61 days, increased during this same period from about $4.2 million to $6.8 million. These accounts are written off when they are 120 days delinquent, so it is likely that a large portion of these accounts will turn into write-offs that will negatively affect next quarter's bottom line. It is hard to say for sure what will happen: there is some seasonality to credit quality, because spring tax refunds often go towards paying down debts. On the other hand, NICK lends to the sorts of folks that may be hardest hit by the payroll tax increase, so wouldn't be too surprised if the results in the next few quarters are pretty disappointing because write-downs might outpace organic growth.
How do I reconcile the real possibility of poor performance in the coming quarters with my bullish position on the stock? I believe that this scenario is already priced in as a certainty and that the sunnier prospects in the years ahead are not. I therefore plan on continuing to hold the stock as a time arbitrage: the market over weights short-term developments but often undervalues the longer-term prospects of steady, boring, but little-known businesses. This approach is not for everyone: more cautious investors may take a wait-and-see approach and let competitive and balance sheet issues clear before jumping in. While this is also a reasonable strategy, it is risky in a different way because good news (and sometimes uncertainty-reducing bad news) can lead to multiple expansion and today's bargain will disappear. Only time will tell which approach is best in this case, but I would advise longs establishing a position now to fully consider the risks.
In conclusion, I believe that NICK is a solid specialty finance company currently trading at a significant discount to its future long-term prospects. In an under-followed segment of the financial sector, NICK's business is unexciting, but I expect it to be profitable and grow for a long time. There are some near-term headwinds that contribute to its low valuation and the next few quarters may be a bit rocky, yet I believe patient investors will be well rewarded.
Although I'm not one to focus on technical factors when making an investment decision, after following the stock for a while, I've noticed a few things that may be of help to potential investors. Like many microcaps, the market for this stock is pretty thin, so investors may want to consider limit rather than market orders when entering and exiting positions. A buy order at 3% or more below the current market price has a non-trivial chance of getting filled within a few days even if the daily opening and closing prices are flat. I'm not an expert in the mechanics of trading myself, but there is an additional alpha opportunity for an investor with thoughtful entry and exit strategies. Similarly, NICK generates a lot of price noise, so this may not be a good investment if your investment plan requires high degrees of liquidity, very large dollar positions, or minimal short-term mark-to-market losses. Accordingly, I hold NICK in my IRA with a medium-to-long term investment horizon.
Disclosure: I am long NICK. I wrote this article myself, and it expresses my own opinions. I am not receiving compensation for it (other than from Seeking Alpha). I have no business relationship with any company whose stock is mentioned in this article.