The U.S. government last month accelerated its plans to fully exit General Motors Co. (NYSE:GM) by March 2014.
In a February report from the US Treasury to Congress, Treasury said it had sold close to $500 million in GM stock last month, accelerating the winding down of its stake in the nation's largest automaker. The price per share has yet to be released, but is estimated to be between $26.2 and $29.36, meaning the government sold around 18 million shares. The exact figure was not revealed.
In December 2008, the three major U.S. auto industry companies -- GM, Chrysler and Ford -- asked the government for a $34 billion bailout to avoid bankruptcy. The Big 3 stated that their demise would trigger 3 million layoffs within a year, plunging the economy further into a deep recession. In December 2008, auto sales had dropped 37% compared to a year earlier, equating to 400,000 fewer vehicles, or the equivalent of two factories' annual output. GM and Chrysler had the worst decline, while Ford's loss was about the same as industry leaders Honda and Toyota. However, many in Congress accused the auto-makers of not operating effectively for years. The companies delayed making alternative energy vehicles, instead reaping profits from sales of SUVs and Hummers, and when sales declined in 2006, they launched 0% financing plans to lure buyers. Union members were paid $70 per hour, on average, while new hires made $26 per hour.
At the time of the bailout, the auto industry contributed 3.6% to total U.S. GDP output. A 30% decline in auto sales translated directly into a 1% decrease in economic output-something that could clearly not be afforded during an already retracting period. To date, the Treasury has recovered approximately $29.8 billion of its $49.5 billion investment in GM as part of the automotive bailout through repayments, sales of stock, dividends, interest, and other income.
In January, Treasury announced a plan to sell the shares by early 2014 and said that it hired JPMorgan Securities and Citigroup Global Markets to conduct the sale. The banks will get one cent for every share they sell, for a fee of up to $3 million. The price needed to break even on the remaining 277 million government shares would be $71- almost 2.5x the current share price. Taxpayers are sure to lose billions of dollars in the deal, even though GM has bounced back from the darkest days of 2008. The government has said it wants to balance its desire to get out of the auto business with the desire to recover money for taxpayers.
So what happens next? Well, although the effect on taxpayers could be substantial in the near future, the direct cost to taxpayers may end up being immaterial compared to the losses to the economy if GM had been allowed to go under. Since the $85 billion auto bailout, which forced GM and Chrysler into a government-backed bankruptcy, the automotive industry in general has continued to drive toward pre-recession levels. GM alone has recorded record profits (12 straight quarters of positive margin), bought back $5.5 billion worth of government shares last year, and announced investments of more than $7.3 billion in the U.S.

With Revenue increasing and jobs being sustained, the stock price has done fairly well in the first few months of 2013. After reaching a low of $26.33 on February 25th, GM has rallied to a current price of $28.33- a 7.5% increase. Even though the Moving Average Convergence Divergence (MACD) is slightly bearish, further technical analysis reveals that the 50 and 200 day moving averages are both indicating bullish signals and continued upward improvement.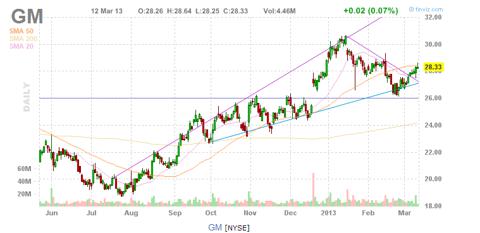 A recent sales forecast reported that U.S. light vehicle sales volume will reach 15.4 million in 2013, up 6.6% from 2012, and global vehicle sales and production should also advance, increasing revenues by nearly 5% in 2013. Profit margins should also benefit from the improved volume, offset by a weaker sales mix and losses in Europe. While large European losses should persist in 2013, analysts estimate they will narrow in 2014.
Although taxpayers may be blinded by an increase in the out flow of their hard-earned money, the benefits of the bailout hold deep indiscernible value. With positive growth, both domestically and globally, an upturn in operational effectiveness, and an improving market - the DOW reached its all-time high in early March - the future for GM and other automotive manufactures continue to show signs antithetical to the ones it showed in 2008. Regardless of arguments of under or over valuation, we should all hope for unremitting growth and show unwavering faith and support in America's team- General Motors.
Disclosure: I have no positions in any stocks mentioned, and no plans to initiate any positions within the next 72 hours. I wrote this article myself, and it expresses my own opinions. I am not receiving compensation for it (other than from Seeking Alpha). I have no business relationship with any company whose stock is mentioned in this article.