Many cigarette stocks have extremely high yields, so it is no surprise that I, as an avid dividend investor, like to invest in cigarette stocks. Today, I am going to present two of my favorite cigarette stocks: Altria (NYSE:MO) and Lorillard (NYSE:LO).
Lorillard
Let's start with Lorillard. The company, which just turned 250 years old in 2010, manufactures and sells cigarettes mainly in the U.S. It offers its products in a variety of different brand names, with the most famous few being Newport, Kent, True, Maverick, and Old Gold. Although cigarette companies have been facing many difficulties around the world nowadays with governments taking action to reduce smoking in the country, Lorillard still looks attractive to me in a few ways:
Firstly, it has invested in new alternatives to traditional cigarettes, like electronic-cigarettes, which is a rapidly growing industry that could fuel Lorillard with tremendous growth going forward. e-Cigarettes have been proven to be more 'healthy' as compared to normal cigarettes, with e-Cigarettes not containing any tobacco at all (only liquid nicotine). This eliminates some of the health damages one gets when smoking normal cigarettes. e-Cigarettes are expected to increase in popularity, especially as smokers get increasingly health-conscious. More benefits of e-Cigarettes, which include social, health and financial benefits, can be found here.
Secondly, it has a growing market share. Its market share has grown from just 12% in 2009 to 14% in 2012, which is an impressive increase in just three years. This could be attributed to the fact that the bulk of Lorillard's products are what are called "value cigarettes." These are cigarettes that are sold at bargain prices, which have attracted many smokers to buy them, and have created growth for the company in return.
Snapshot:
Lorillard Inc.

Market Cap

$14.57B
Stock Price
$38.41
Dividend
5.73%
5-Yr DGR
11.4%
Payout Ratio
73.63%
Latest Yr DGR
6.5%
Years Of Dividend Increases
5
5-Yr EPS Growth
10.8%
As shown in the snapshot above, the company has a $14.57B market cap and pays a really attractive dividend of 5.73% as of its 12.03.2013 closing price of $38.20. The company has increased its dividends every year since its 2008 IPO, this 5 years of consecutive dividend increases, it has attained Dividend Challenger status. Lorillard has a 73.63% payout ratio, which is acceptable considering the fact that the company expects to return 70-75% of its earnings back to shareholders in the long term.
I also like the company's fundamentals. Firstly, it has seen rapid EPS growth over the past 5 years. Its EPS in 2008 was $1.72, as compared to $2.81 in 2012, which represents a 10.8% growth annually over the past 5 years. Secondly, the company has been buying back a considerable amount of shares over the past 5 years, with the number of shares outstanding decreasing 6.2% annually over the past 5 years, from 522M during its IPO to merely 379M at the moment. Shareholders do not own the entire company, therefore, share buybacks will enable shareholders to own a larger share of the company without increasing the number of shares they hold.
In terms of valuation, Lorillard also looks very attractively priced at 13.5X trailing 12-month earnings and 11.3X forward earnings. This valuation, as compared to all its peers, is the lowest of all. I have no problem buying now, although more conservative investor could choose to wait until stock prices hit the $36 support level before taking a position.
For reference, here is a 2-year chart of Lorillard's prices: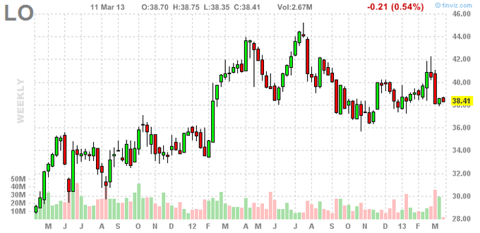 Altria
Altria Group, based in Virginia, manufactures and sells cigarettes, smokeless products, and also wine. I especially like Altria's diversified range of products in its portfolio. The portfolio of traditional cigarettes contains popular brands like Marlboro and Virginia Slims. These brands, especially Marlboro account for quite a lot of market share, and they should become more competitive with many strong products and many other unreleased ones still in their pipelines. In addition, these brands have extensive worldwide presence, which will act as strong competition for its other competitors.
In recent years, it has also diversified its portfolio of just traditional cigarette brands into other smokeless cigarette brands like Copenhagen and Skoal, and even into wine brands, more recently, with one famous wine brand being Chateau Ste. Michelle.
Snapshot:
Altria Group

Market Cap

$68.86B
Stock Price
$34.26
Dividend
5.14%
5-Yr DGR
14.3%
Payout Ratio
82.73%
Latest Yr DGR
7.7%
Years Of Dividend Increases
44
5-Yr EPS Growth
7.0%
As shown in the table above, the company has a $67.94B market cap and pays a 5.26% dividend yield as of 01.03.2013's closing price of $33.53. This dividend aristocrat has increased its dividends for a whooping 44 consecutive years, attaining Dividend Champion status. I like this company's dividend even more as management is extremely shareholder friendly, having a dividend payout target of 80%. Therefore, the company, which is carrying an 83% payout ratio at the moment, can be excused for its higher-than-average payout ratio.
Its fundamentals also look acceptable. Firstly, it has a high ROE number of 121.7%, which is within the top 1% of the entire universe of stocks. This proves that management is using shareholders' investments well and not wasting the money away. Secondly, the company is also buying back shares at a modest pace, with shares outstanding decreasing from 2.11B in 2007 to 2.03B today, which represents a 0.8% decrease in shares outstanding annually. Lastly, the company's EPS numbers have been increasing over the past 5 years - from $1.48 in 2008 to $2.07 in 2012, representing a reasonable 7% growth in EPS over the past 5 years.
In terms of valuations, Altria looks fairly priced at its current valuation of 16.3X trailing 12-month earnings and 13X forward 12-month earnings. With its high (and increasing) dividend, I have no problems buying at today's prices, although value investors would consider waiting until the stock price hits the crucial $30 support level.
Here is Altria's 2-year chart: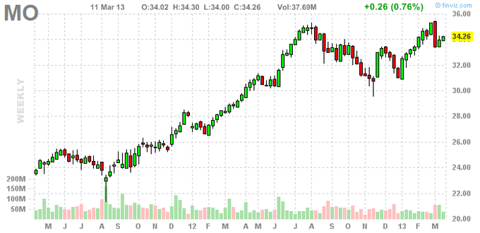 Some Caveats
1. Both Companies Have A High Amount Of Debt
Firstly, both Lorillard and Altria have quite a lot of debt.
Lorillard has borrowed a lot of funds over the past 3 years, with its amount of debt increasing from zero five years ago to $3B at the moment. This is one of the main contributing factors to its negative equity (book value: -$4.65), which may cause some investors to avoid the company.
Altria, on the other hand, have also been borrowing more money over the past 5 years, with total debt increasing from $7.3B 5 years ago to $12.4B at the moment. This number is astronomical, when one compares it to the company's equity of $3.2B and its earnings of $4.18B.
2. Regulations By Governments All Over The Globe
This risk is a classic risk that faces all cigarette companies - governments all over the world are regulating cigarettes, knowing their negative impact on people's health. Some countries have even increased the retail price of cigarettes countrywide to prevent smokers from buying too many cigarettes. This might reduce the company's revenues as consumers buy less cigarettes.
Even in USA itself, the Federal Drug Administration (FDA) has also taken steps to cut down the number of smokers. One classic method it has used is to force cigarette companies to put horrible pictures onto cigarette packages, to try to convince smokers to smoke less.
In addition (this is specific to Lorillard), the FDA is considering to ban menthol cigarettes, as these cigarettes may harm smokers more than normal cigarettes. As a large part of Lorillard's revenues come from Newport, a brand famous for its menthol cigarettes, Lorillard's revenues will undoubtedly get hit badly if the FDA bans such cigarettes. There is still a lot of uncertainty over this issue - that could be the main reason why LO's price have been trading sideways for quite a while now, and I strongly discourage investors to buy if they seriously worry about this issue. Only buy what you are comfortable with owning.
Conclusion
Lorillard and Altria have enticing dividends that shareholders love, and with the range of qualities they have, I rate the two companies buys. But, before buying, please get familiar with the many risks that are involved when one buys shares in cigarette companies.
Disclosure: I am long MO. I wrote this article myself, and it expresses my own opinions. I am not receiving compensation for it (other than from Seeking Alpha). I have no business relationship with any company whose stock is mentioned in this article.