Introduction
This is an update to my last Green Innovations Ltd report (OTCPK:GNIN) where I outlined the reasons why I believed the stock would collapse by 70% or more.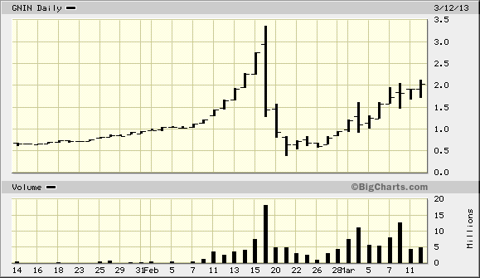 Yahoo Finance Ticker: (OTCPK:GNIN)
The stock went as low as $0.36 cents after trading as high as $3.35 (a decline of almost 90% in three days, a quick collapse like I warned). However, the stock promoters didn't give up and continued to promote the stock (type GNIN on the search, there is no direct link), this helped to pop the stock all the way back above $2 as new buyers found out about the "history" through the promotion.
Since then the company has released a significant amount of press releases touting its ability to generate operational results. In this report we are going to refute the latest PR and explain why this is a major red flag for the company.
Thesis
Since my first report, the company has released 14 press releases, this is an amazing number given that it had exactly 14 trading days since them. The company had a PR before every trading day since its stock collapsed and almost every single day since the stock promotion started. This is a quite curious "coincidence" to say the least.
The latest PR is some claim that it has some kind of partnership with Target (NYSE:TGT) "Green Innovations Receives Vendor Number from Target Brands".
What the CEO Bruce Harmon did not tell you is that it's extremely unlikely that his company would qualify to work with Target. What he called "Vendor Number" is likely to be the an application number not the actual approval from Target. If you look at the criteria by which Target decides to accept partners, Green Innovations doesn't even come close to qualifying: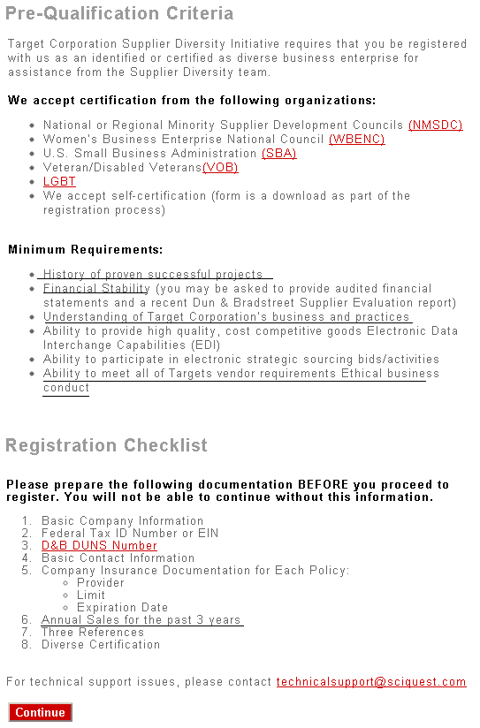 Click to enlarge
I've highlighted the most important parts. Let's break each one of them down:
1 - History of successful projects. The company has no history of successful projects because it started in August of 2012 when there was a change of control, name and business plan. The CEO, as outlined in my first report, has an history of total shareholder value destruction with stock declines ranging from 50% to 90%. That is hard to achieve without significant operational failures.
2 - Financial Stability. The company's latest audited financial statements show $13,000 in cash against $61,000 in current liabilities, with a current ratio of 0.21, it is essentially in a liquidity crisis. As a matter of fact its own auditors doubt it can continue as a going concern:
"These factors raise substantial doubt about the ability of the Company to continue as a going concern for a reasonable period of time" - Latest 10-Q
3 - Annual Sales of the past 3 years. The company has $0 in audited sales, it does have big claims of "sales" (unaudited). Notice that in the financial stability requirement Target mentioned audited financials so the company's claims of sales won't cut, it will have to be fully audited. Even in the case that all of those sales are real (which I doubt), Target demands some kind of track record (3 year requirement) not just one quarter worth of sales
4 - Ability to meet all of Target's requirements and ethical business conduct. Clearly, it fails in a number of requirements plus the CEO has worked with a number of companies that were subject to SEC investigations and enforcement actions as explained in my first report.
5 - Understanding of Target's business and practices. Clearly the CEO doesn't understand Target's practices because he completely ignored the financial stability and sales requirement. To submit an application with a going concern section in its 10-Q and no audited revenues is almost comical and a waste of time for the Target employee who will take a look at the application.
Conclusion:
I re-shorted the stock and have no reason to believe this company has much of a chance of success, given its misleading PR's, terrible CEO track record, involvement with stock promoters among other red flags. I believe investors ought to get out before the stock collapses in a short period of time like it happened in the last time. Trusting you can get out before others can be extremely expensive as the investors who were speculating in the last rally found out. My fair value estimate still stands at 20 cents a share and the history of value destruction by the management make me confident it will be reached.
Disclosure: I am short OTCPK:GNIN. I wrote this article myself, and it expresses my own opinions. I am not receiving compensation for it (other than from Seeking Alpha). I have no business relationship with any company whose stock is mentioned in this article.