There is no shortage of gold (NYSEARCA:GLD), silver (NYSEARCA:SLV) and mining stock bulls. For years now the only type of articles I ever read pertaining to precious metals are bullish articles. I have yet to read a newsletter analyst saying it's not a good time to buy gold, silver or mining stocks. I mean I am sure there is someone out there who is bearish, I just haven't come across them yet.
There is one problem with the mining business and mining stocks. No matter how great of a company you might be, no matter how well you are organized and how well you perform, sometimes it's not up to you if you end up making money or not. Call it an act of god or a chance of faith - or simply call it the price of spot gold.
The list of stocks below are probably some of the worst stocks anyone could have bought over the past decade. While these stocks blow (data from Yahoo) look fairly valued, nevertheless they have not performed for investors.
| | | | | | | | | |
| --- | --- | --- | --- | --- | --- | --- | --- | --- |
| | P/E | Forward P/E | Price/Sales | Price/Book | Operating Margin | Profit Margin | Return on Equity | Dividend Yield |
| Barrick Gold (NYSE:ABX) | N/A | 6.61 | 2 | 1.36 | -5.61% | -4.57% | -2.71% | 2.70% |
| Gold Fields Ltd. (NYSE:GFI) | 9 | 5.6 | 1.76 | 1 | 29.00% | 19.50% | 5.49% | 3.00% |
| Newmont Mining (NYSE:NEM) | 11 | 7.9 | 1.96 | 1.4 | 33.00% | 7.28% | 13.40% | 4.70% |
| AngloGold Ashanti (NYSE:AU) | | 5 | | | 23.00% | 13.00% | 16.00% | 1.2 |
| Harmony Gold (NYSE:HMY) | 10.4 | 5.82 | 1.52 | 0.7 | 11.00% | 15.00% | 5.50% | 1.80% |
Please take a look at the charts below (monthly scale):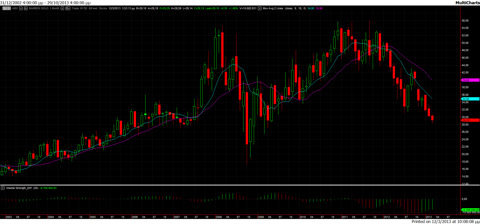 Click to enlarge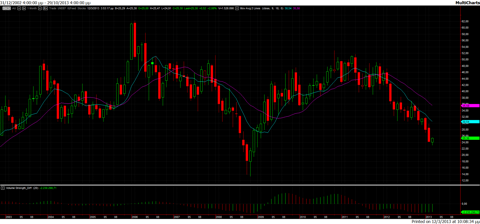 Click to enlarge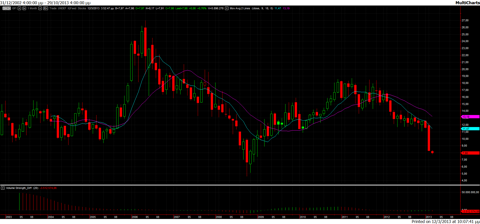 Click to enlarge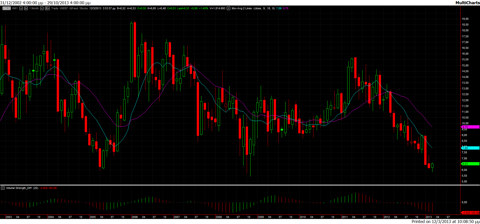 Click to enlarge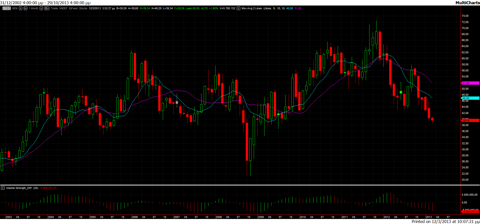 Click to enlarge
As you can see from the charts, shareholders of these stocks are more or less the same where they were 10 years ago. If investors have traded these stocks up and down they have not made any money for the past decade, with the exception of whatever dividends they received.
These stocks are not expensive, however ask yourself two questions:
1) If these stocks haven't performed over the past decade, when gold went from the mid $300s to just shy of $2.000, when will they perform?
2) What will happen to these stocks if the price of gold dips to $1.300?
And the reason I bring up the issue of gold dipping to $1.300 is because that's where I think gold will go looking forward.
The reasons are outlined in the previous articles I wrote on gold here, here and here.
And while the price of spot gold logically should have benefited junior gold producers the most, anyone who bought the Market Vectors Junior Gold Miners ETF (NYSEARCA:GDXJ) over the past couple of years is losing quite a bit.
Bottom line
I personally think gold is going down and the same with silver. Many gold and silver stocks have not been able to benefit investors during the past decade, even when gold went up by a factor of 6.
If gold does correct - as I think it will - holders of the above mining stocks better decide what these companies might be worth, if gold trades for a considerable period of time 20%-30% lower from current levels, as I think it will.
My take: if gold does dip, the above stocks will double dip.
Disclosure: I have no positions in any stocks mentioned, and no plans to initiate any positions within the next 72 hours. I wrote this article myself, and it expresses my own opinions. I am not receiving compensation for it (other than from Seeking Alpha). I have no business relationship with any company whose stock is mentioned in this article.