As we have pointed out, by setting up Spain's "bad bank" SAREB, Spain has managed to at least create the illusion that the growth rate of non-performing loans in the system has topped out. As we have discussed, if one makes the effort of adding back the assets shipped over to SAREB, it becomes obvious that the percentage of bad loans in the system actually continues to grow, even though this is no longer visible in the official aggregated data (which leave the assets held by SAREB out).
The point of this introductory comment is to remind everyone that the problems faced by Spain's banking system are far from over. Of course it is clear that there are now at least serious efforts underway to deal with the problem, which is a refreshing contrast to the previous policy of denial. The main question is now whether they will be sufficient. Among recent events, we have actually neglected to mention one particular news item that seems worth pointing out in this context, namely the most recent quarterly loss announced by Bankia. As readers may recall, Bankia is the result of the merger of several cajas. One could say in this case that by merging a number of insolvent banks, an especially large and especially unhealthy bank has been created.
Bankia's growing losses were in fact the trigger event that has set the EU's banking system bailout scheme for Spain in motion last year. The ESM has pledged €100 billion to help get the banks back on their feet. Since Spain's government decided to bail Bankia out, it worsened the standing of its own debt in the markets, very similar to what happened to the Irish government way back when. Hence the EU's decision to intervene.
The MoU (memorandum of understanding) accompanying this EU bailout scheme is fairly strict, so at least shareholders and holders of subordinate debt will take losses. However, holders of senior bonds were once again spared. Moreover, many of Spain's banks, Bankia among them, put their own customers into harm's way by persuading them to buy hybrid securities and equity in previous recapitalization efforts, which are now worthless. Given that the sales tactics they employed were highly questionable -- most of the small savers that ended up losing their investments were not properly informed of the risks -- there may still be liabilities arising from future legal challenges of these recaps.
Bankia's most recent loss (Q4 of 2012) amounted to €12.0 billion. With that, the bank's annual loss for 2012 has the honor of being the biggest corporate loss in Spain's history, at € 19.1 billion (approximately $25 billion). This is about 2% of Spain's GDP, so in relative terms it actually dwarfs the spectacular losses reported by companies like AIG or AOL. The excellent and always entertaining bank analyst of Exane/BNP Paribas, Santiago Lopez Diaz (aka "Santi") had a few choice comments on Bankia's loss as well as some interesting information on the current state of the bank and whether eventually, an investment case could be made for it:
Losses were EUR1.0bn short of our expectations, so what are we supposed to say? Better than expected numbers? The fact that the results had been partly anticipated doesn't mask the drama of the figures.

[...]

The company transferred during December EUR16.4bn of net loans to SAREB (approx. EUR32bn gross) which improved (albeit marginally) the NPL ratio to 12.9% (from 13.4% in the previous quarter). Provisions were also transferred so the coverage ratio declined from 71% to 62%. According to the company real estate developer loans are now covered at 45%, SMEs at 14.8% and individual retail loans at 3.3%. The company closed 2012 with a core capital ratio of 5.2% (which might increase to 9.8% after hybrid instruments are converted into equity)

[…]

If we check the unofficial press release (and by that we mean the information published in the press) the company could see its number of shares increase to 1.5bn in the short term, when the recapitalisation is completed. Savvy investors might deduce that this is a lower number than they had previously estimated. Unfortunately they could be dead wrong. Being Spanish does not add anything to our analytical abilities, but it is important to understand the subtleties of the language. A Billion in English contains nine zeros. A Spanish Billion contains twelve zeros (it is equivalent to 1 trillion in English standards) not nine. Bankia could establish another new world record as the company with the highest number of shares. That is not a problem. A 1bn to 1 reverse split and we would be talking about a more manageable number of zeros.

According to the unofficial press release (again, the press) the FROB is likely to convert its bail out money in Bankia shares valued at 1cent per share (EUR0.01 per share, not EUR1 per share…you have to be careful with the zeros and the decimals), which implies a 99.7% loss in the value of shares in one year and a half. Preferred and subordinated shareholders are likely to lose a material part of their investment.

Going forward the company will need to convert EUR4.8bn of preferred and subordinated debt into equity and EUR10.7bn of convertible bonds injected by the FROB. If the EUR15.5bn grand total is converted at 1 cent per share we would be talking about 1.5trn shares. Yes, you read it right; 1.5trn shares (English style). We know it is difficult to grasp the concept so let us help you with all the zeros. We are talking about 1,550,000,000,000 shares…800x the current number of shares (800 times not 800%) (emphasis added)
Not surprisingly, Santi concludes that "on a per share basis, the stock appears to offer no upside." We are actually more interested in the fact that even after transferring €16 billion in NPLs to SAREB, the bank still sports an NPL ratio of 12.9% -- especially in light of the fact that it seems highly likely that we haven't yet seen the end of NPL growth in Spain. Bankia will probably remain a fount of bad news for a while yet.
Bankia's new shares issued after the 2012 recap are well on their way to strong lateral support at the zero level.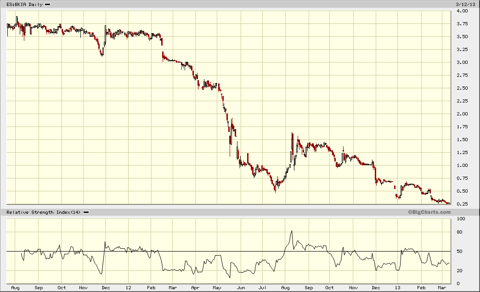 FROB Has a Problem

Recently a new problem has cropped up, as FROB – the governments arm dealing with the banking mess – finds it cannot get rid of the banks it has taken over and already 'fixed'. As the WSJ reports, FROB has failed to sell Catalunya Bank in an auction last week. The putative bidders insisted on a loan loss guarantee before they would commit to a purchase. Now FROB is seeking advice from investment banks on what to do next:
Spain's bank-bailout fund is seeking to hire advisers to help shape a long-term strategy for dealing with its portfolio of nationalized lenders, a week after calling off an auction of one of the most troubled banks.


People briefed about the plan said the fund, known by its Spanish acronym FROB, will make contact with strategic consultants, and possibly with investment banks, once the plan has been approved by the fund's board of directors.

Spain has made progress in cleaning up its troubled banking sector since last year, but the country suffered a setback on March 4 when a plan to auction off medium-size lender Catalunya Banc SA foundered. Several Spanish banks balked at buying Catalunya Banc without loss guarantees. (emphasis added)
Ratings agency Moody's immediately came to the correct conclusion about the failure of this auction: it is actually a very bad sign for the banking system as a whole, especially when considering that Catalunya Bank has already been propped up with € 9 billion in government money. The question is obviously why this was not thought to be enough by its competitors. The only answer that makes sense is that they expect bad loans in the system to grow appreciably further. This indirectly tells us something about how they see their own situation as well.
The lack of viable bids for the bank was surprising because the state had already injected €9.08 billion ($11.81 billion) to clean up the unprofitable institution and transferred its most problematic real-estate assets to a government-owned "bad bank" known by the acronym SAREB.





Moody's Investors Service said Monday that last week's botched auction was 'credit negative for the entire Spanish banking system because it can be interpreted as the private sector's lack of confidence in the success of the restructuring and cleanup of weaker banks.'

Catalunya Banc received almost a quarter of the €41.4 billion bailout loan Spain got from the European Union last year to recapitalize several weak lenders. FROB is jointly controlled by the government and the Bank of Spain, and owns majority stakes in four lenders that together have underwritten more than 15% of the country's loans. It is also the biggest shareholder in SAREB, the bad bank that houses the troubled assets of lenders that have received bailout money. (emphasis added)
Among the options FROB is considering, one is reportedly to "merge Catalunya Banc and Novagalicia, a move bankers say could increase the potential for cost cutting." That strategy sure didn't work with Bankia, but we may concede that such a merger could offer opportunities to cut costs. However, the bank's operating costs don't appear to be the main problem.
The problem is that the vast credit expansion of the boom period has created huge deposit liabilities and a mountain of loans that are now becoming worthless at a rapid pace. The deposit liabilities are largely uncovered money substitutes, which would normally go to money heaven along with the loans and the banking institutions that have created them. 'Normally' meaning: in the system known as capitalism. There would have been a large deflation of the broad money supply in Spain, and with it, in the euro area as a whole. Europe's citizens may eventually actually have experienced an all too rare encounter with falling prices for everyday goods.
In the modern-day interventionist system, such unmitigated horrors are not to be visited upon depositors and citizens. Nor on the holders of senior bank debt, 'ere we forget. The EU therefore seems likely to continue to provide bailout funds to Spain's banks, even if the amount originally pledged should in due course turn out to be too small. In old times, the Bank of Spain would have printed wagon loads of pesetas to ward off the deflation threat posed by the bust, but this is no longer possible. On the other hand, the ECB has not been shy to provide both official support via LTROs and ELA, as well as back-door support in the form of growing TARGET-2 imbalances, so for Spain's banks the lack of an independent monetary policy by the Bank of Spain has not really mattered all that much. In fact, they have enjoyed the help of a far bigger and more robust lender of last resort.
In any case, the news of the failed FROB auction of Catalunya Bank has failed to rattle the markets, as a quick look at Spanish government bond yields and the IBEX reveals.
Spain's 10-year government bond yield: still trending lower.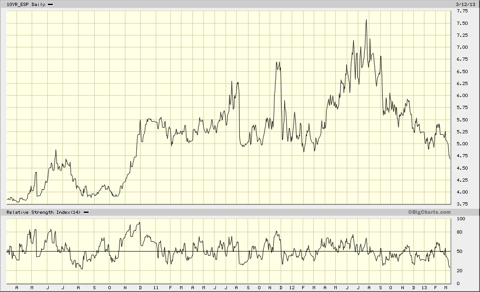 The IBEX index in Madrid: after a brief wobble, it has almost regained its recent interim highs.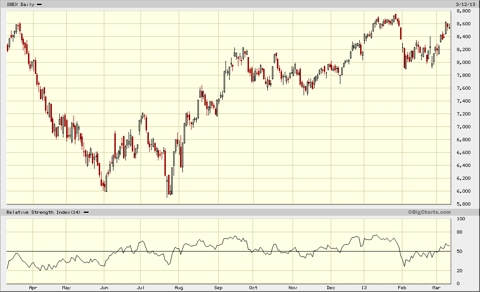 It is not the news that move markets, it is the other way around: the markets are writing the news. That does however not mean that one should ignore such developments, as there is always a good chance that they will matter again at some later point in time. The fact that FROB will have to hang on a while longer to the bank may complicate its exit strategy and also means that any thoughts of tax payers recouping funds will have to be shelved for now.
However, in this particular case it is what the failed auction tells us about the expectations of Spain's bankers that is the most relevant aspect. It appears they continue take a very dim view of the future and expect loan losses to keep piling up at weak banks such as Catalunya Bank, which have large exposure to real estate developer and mortgage loans.
The latter category of loans has so far seen the smallest increase in defaults, for two reasons: for one thing, various extend and pretend measures were enacted to keep wobbly loans officially current. For another, borrowers have a very strong incentive to avoid default, since these loans are full recourse in Spain (a fact that is creating a growing number of life-long debt slaves without any assets to their name). We suspect that it is this particular category of loans that Spain's bankers are worried about the most. Not only are NPLs in this segment likely to grow, but mortgage loans also represent a political minefield. In fact, it seems highly likely that politicians will eventually feel compelled to tinker with the full recourse feature.
To be sure, the markets also continue to take a benign view of European banks more generally. The brief uptick in our bank CDS index earlier this year has already given way to a new dip.
Our proprietary unweighted index of five-year CDS on the senior debt of eight major European banks -- the white line (BBVA, Banca Monte dei Paschi di Siena, Societe Generale, BNP Paribas, Deutsche Bank, UBS, Intesa Sanpaolo and Unicredito), compared to 5 year CDS on the senior debt of Goldman Sachs (orange), Morgan Stanley (red), Citigroup (green) and Credit Suisse (yellow), going lower again.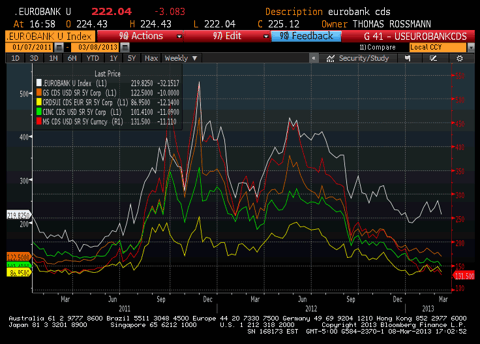 Conclusion: In spite of the market's current nonchalance, it seems that more trouble is on its way.