Alexco ((NYSEMKT:AXU)) is currently Canada's only primary silver producer, operating in the Yukon, with a focus on the Keno Hill District. It has several unique characteristics which set it apart from most silver mining companies. Aside from being Canada's only primary silver producer, Alexco has extremely high grades, with Keno Hill possibly having the highest average grade of any silver district in the world (only time will tell if that's the case). Alexco also has a very exciting pipeline of deposits, ranging from ready to produce (awaiting final permits) to exploration stage. While the previous statement was rather vague, the chart below shows just how robust its development pipeline really is and will continue to remain so even as new mines are brought on-stream. Bellekeno is currently producing, with Onek and Lucky Queen set to commence production once the last permit is received. This is expected to be sometime this month (Mar. 2013).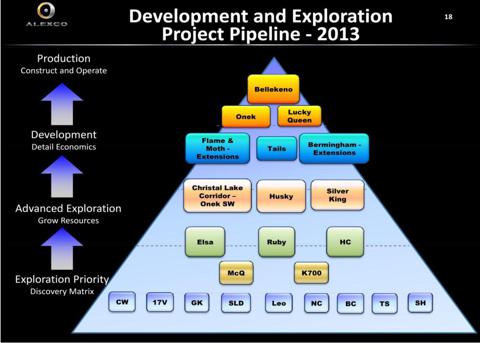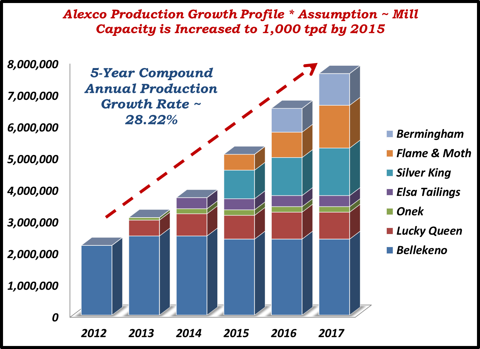 Bellekeno, Lucky Queen, and Silver King are some of the world's highest-grade silver mines. These three mines have an average resource and reserve grade of 900 g/t, 1,200 g/t, and a whopping 1,350 g/t, respectively. Bellekeno began production in 2011, producing 2m oz. Ag and approximately 2.2m oz.in 2012. This growth will be augmented by the aforementioned new mine production from Onek and Lucky Queen, which will also serve to lower cash costs/oz. due to the fact Onek is zinc rich, having an average resource grade of 13.7%. It also happens that we think zinc will be the best performing base metal over the next five years due to some of the world's largest primary zinc mines being depleted. The Century Mine, Brunswick 12, Lisheen, Perseverance, and several others will become depleted within the next one to three years, while several will see their production contract, including but not confined to the Antamina Mine, Red Dog, San Cristobal, LaRonde, and Mt. Gamet mines. It is projected that zinc will enter a deficit in 2015 (meaning demand will outstrip that year's mine production), that increases until at least 2018.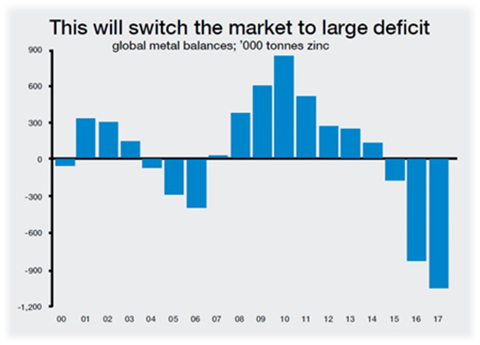 Instead of financing the development of Bellekeno in 2009 with equity and/or debt, Alexco chose to sell a 25% stream to Silver Wheaton. In exchange for an upfront $50m payment, Alexco gave Silver Wheaton the right to purchase 25% of annual silver production for $4/oz., with an inflation adjustment of 1% per annum. It is highly unlikely Alexco would have chosen to sell a stream under normal circumstances; however, it needed capital for PPE and working capital during the period of the financial crisis, where both the equity and debt markets were frozen. It is nearly impossible to tell whether this was a smart move or not but on the bright side, Alexco was able to keep its tight share structure of just 65m fully diluted shares. Alexco's objective is to identify 100 million ounces of silver in the district and eventually become a senior primary silver producer (that being producing 10m oz. per annum). It is our opinion that Alexco will end up discovering several hundred million oz. of silver by the end of the decade. It has already identified more than 50m oz. including a recent discovery at its Flame & Moth deposit,increasing total resources at the location to 22m oz. Ag. Alexco has several mines coming on stream over the next three to five years and we think the largest (in terms of future production) will be Flame & Moth followed by Silver King or Bermingham.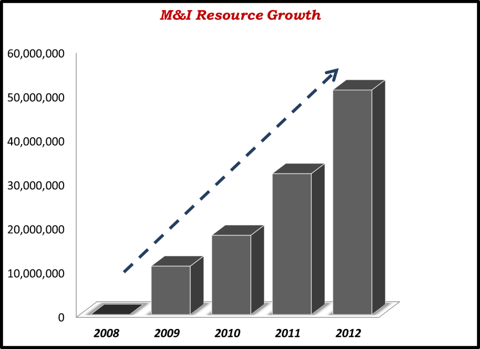 Due to recent weakness in the mining industry as a whole, Alexco's stock has gone down so much that we consider its stock to be a deep value investment. Having recorded a disappointing third quarter 2012 is also one of the reasons it has gotten so attractively priced. But this has already begun to change, as its team has focused and continues to focus on mill optimization and other catalysts to drive the stock higher. Fourth quarter production results have been released, showing that Bellekeno had achieved record throughput in a single quarter over the last two years but was slightly negated by lower average grades. 2013 is looking to be a transformation year for the company as it becomes a multi-mine producer and further advances some of its larger and highest grade deposits. The following is a list of potential catalysts to watch out for in 2013:
•Commence production at Lucky Queen-another extremely high-grade deposit, having an average resource grade 25% higher than Bellekeno or > 1,200 g/t (> 35 oz.).
•Commence production at Onek, a high-grade zinc deposit (13.7%).
•Update Flame & Moth resource estimate. One update has already been released (with another possibly coming later in the year), increasing the resource base to 22m oz.
•Update Bermingham resource estimate.
•Recalculate Bellekeno resource.
•Begin development of its tailings project, Elsa Tailings.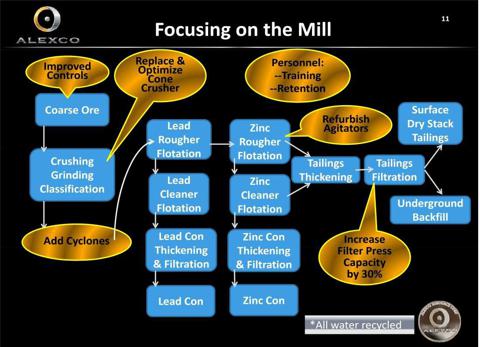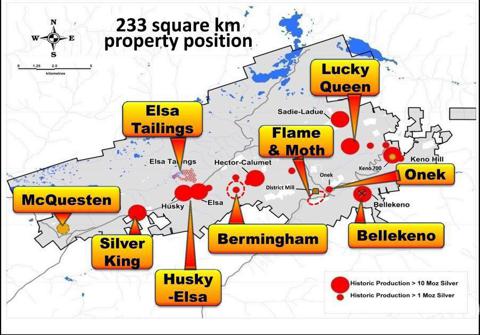 Alexco is in great financial shape, as you can see via the Solvency and Liquidity ratios. More importantly, its liquidity, solvency, and capital structure ratios are sequentially improving and should continue to with Lucky Queen and Onek providing additional cash flow as well and decreasing overall company wide cash cost per ounce. It is very prudent in how it deploys cash, currently having over $20m in cash and no long-term debt. Alexco will be able to spend more on exploration as well as mine and mill optimizations in mid-late 2013 as cash flow from operations increases substantially from the aforementioned increase in silver production by 30%or greater and cash costs decline from approximately $10.50/oz.in 2012 to between $8.50 and $9.50/oz. sometime in 2013/2014 as Onek ramps up. Alexco is not only a great addition to one's portfolio, given the vast potential that exists, but one's portfolio that specifically holds a handful of precious metal miners. Alexco is the only major primary silver producer in Canada, which provides excellent geographical diversity especially for silver companies, as most operate in South America, Mexico, and some production from the U.S., primarily Nevada. It also helps that Alexco has an environmental arm that has excellent relations with First Nations and the Canadian government. It is also in great position to move its portfolio of properties forward. We should see a material transformation of Alexco from a junior producer to a premier emerging mid-tier producer. Going forward, we suspect Alexco could trade at a premium to other silver operators due to several factors, including being the lone primary silver producer in Canada, having several years of sequential growth and because of the exceptionally high grades its boasts. It owns a historically prolific land package and will have the cash flow of a mid-tier producer with exploration upside commensurate with that of an exploration company. Alexco's resource base and to a lesser extent reserve base should continue to grow, as mentioned in the beginning of this report. This will then command a higher valuation based on its peers increasing its resource base. Due to the nature of narrow vein mining, it is expected that Alexco would have little to no proven and probable reserves, rather, just measured and indicated. We think the market doesn't understand this fact and that is just another reason why we think the stock has been absolutely pummeled.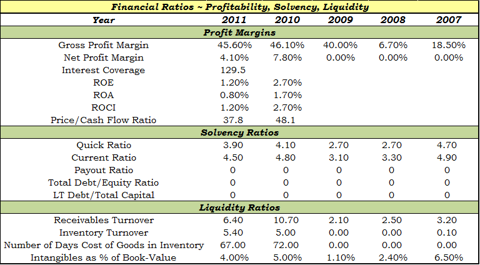 Alexco is also unique in the sense that it has an environmental arm, which helps greatly with relations between Alexco and both the government and First Nations. In our view this makes attainment of all the permits it will need for each mine much easier and also timelier. Through its Alexco Environmental Group [AEG], a rapidly growing and profitable environmental services business, Alexco holds the contract to remediate environmental impacts from past mining in the Keno Hill District, in partnership with the Canadian government and the First Nations. This unique business model allowed Alexco to obtain the mineral and mining rights to the entire Keno Hill area and identify the best prospects for future production, while simultaneously enabling it to responsibly manage the reclamation of this historical mining district. AEG supplies mine-related environmental services to government and industry clients in Canada, the U.S., and elsewhere throughout North and South America and overseas.
Permitting & Regulatory Management~ AEG provides permitting and
regulatory services to clients in several sectors, including mining and oil and gas. These services include water licenses, production licenses, land use permits, operating plans, mining land use licenses, First Nation liaison and consultation, fisheries authorization, geoscience exploration licenses, and regulatory management.
Reclamation & Closure Services~ Reclamation and closure services are a key component of Alexco's business model, and include preparation, permitting, and execution of mine reclamation and closure plans. Alexco's expertise in environmental and technical management allows the company to better manage risk at remediation and development projects, and provides a competitive advantage on property and business development opportunities that fit the company's business model. Alexco has demonstrated its business model of unlocking value in the field of mine reclamation and closure through innovative and value added services, including marketing remaining assets, dismantling process plants, and construction, and commissioning these facilities at other operations. Alexco is unique in the mine reclamation and closure business as it provides the full cycle of closure project services, including technical closure studies, plan development, permitting, regulatory management, execution, and long-term monitoring.
Environmental Reclamation Technologies~ Alexco owns six patents and has additional U.S. patents allowed and pending for thein-situ use of nutrients in earthen materials. Alexco's technologies and patents provide in-situ encapsulation technologies whereby soluble toxic metals including arsenic, zinc, selenium, nitrate are geochemically encapsulated by more benign minerals within the groundwater aquifer or within and down gradient of sources of contamination, such as within a pit lake, tailings impoundment, heap leach pad, or waste storage area. Alexco is the industry leader for pit lake and underground mine pool treatment, and its technologies and professionals have successfully treated billion-gallon pit lakes for contaminants including selenium, zinc, uranium, and nitrate. Alexco's technologies have been successfully applied at numerous sites and locations and have demonstrated successful remediation for contaminants while at the same time unlocking property value and development opportunity that was previously restrained with environmental liability.
Alexco Patents
§Patent 5,710,361: "In-Situ Treatment of Waste Stacks, Soils or Earth Materials to Immobilize Metals Contained Therein"
§Patent 6,196,765: "Inhibiting Acid Mine Drainage by Displacing Oxygen in Rock Heap"
§Patent 5,632,715: "In-Situ Immobilization of Metals In Waste Stacks and Waste Stack Affected Zones"
§Patent 6,350,380: "In-Situ Immobilization of Metals In Density-Variant Water Bodies"
§Patent 6,435,769: "Gas Phase Modifications" .. . to inhibit acid rock drainage and to treat potentially mobile contaminants
§Patent 7,011,756: "In-Situ Immobilization of Heavy Metals In Density-Variant Water Bodies" Pit Lakes and Underground Mine Pool
Although Alexco has been rapidly adding to its silver resource, boasting a 52% increase over 2011, chances are that its ability to convert a large amount of resource to 2p reserves is small because of the narrow veins of many of the deposits in Keno Hill. Alexco is in the very mining-friendly Yukon with very good infrastructure, being on the power grid and having all-weather roads. As previously mentioned, several of the deposits in Keno Hill are extraordinarily high grade. All these attributes combined with a very savvy and experienced management team are the recipe to make Alexco a premier, profitable silver producer. Alexco has a huge competitive advantage in the sense that it has the ability bring one or more of the numerous deposits in the district into production in an extremely timely manner. Because of this, two mines (Lucky Queen and Onek)are expected to come online by the end Q1 2013, followed by Elsa Tailings in 2014 and Silver King and Flame & Moth in 2015/2016.

Keno Hill ~ The High Grade District
Alexco's business model is excellent, as the capital investment needed to bring these mines into production is minimal (relatively speaking), and that, combined with being able to do it in a timely manner (three years from discovery to production for the Bellekeno Mine) should make it a market darling for years to come. All of the above mines will likely be in production within the next five years. To boot, Alexco is advancing several additional properties to advanced exploration: Christal Lake, Elsa, Husky, and Ruby. Furthermore an additional eleven targets are in early exploration. Summing it up, Alexco has significant production growth across the entire spectrum from immediate --> (Onek, Lucky Queen) --> near term (Elsa Tails) and medium term (Flame & Moth, Bermingham, and Silver King) --> long term (Christal Lake, Elsa, Husky, and Ruby). Alexco has added silver resources at a furious pace, going from no M&I resource in 2008 to 50m in 2012. This is more than likely to keep pace into 2013 as updated resource estimates for Flame & Moth, Bermingham, and Bellekeno are conducted.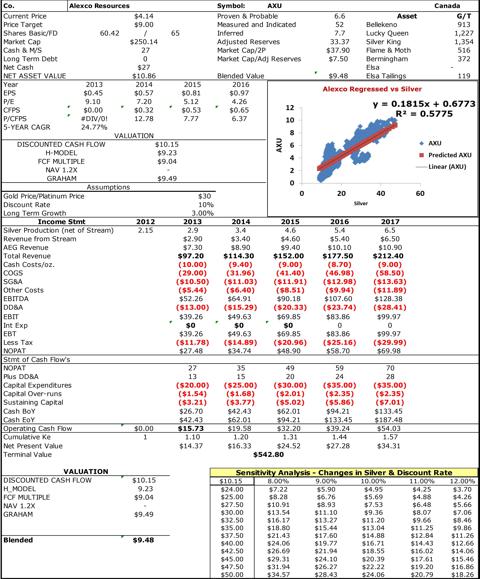 Disclosure: I am long AXU. I wrote this article myself, and it expresses my own opinions. I am not receiving compensation for it (other than from Seeking Alpha). I have no business relationship with any company whose stock is mentioned in this article.