(Note: This article has been corrected to reflect the date SYNERGY trial data are expected.)
OncoGenex (OGXI) is a development-stage biopharmaceutical company focused on new cancer therapies to address treatment resistance in cancer patients. OncoGenex's lead compound, custirsen (OGX-011), is a second-generation antisense compound targeting clusterin. Custirsen is currently in Phase 3 clinical development as a treatment in men with metastatic castrate-resistant prostate cancer (mCRPC) and in patients with advanced, unresectable non-small cell lung cancer (NSCLC). The compound is partnered with Teva Pharmaceuticals (NASDAQ:TEVA) for development and commercialization.
The key catalyst for OncoGenex shares will be the top-line release of the Phase 3 SYNERGY trial, evaluating a survival benefit for custirsen in combination with first-line docetaxel treatment (Taxotere) in approximately 800 men with mCRPC. The study completed accrual in November 2012, and top-line results from the study are expected around year-end 2013.
For the time being, all other Phase 3 studies in the Taxotere-combo setting in metastatic castration-resistant prostate cancer (mCRPC) have failed, including GVAX, Avastin, Atrasentan, zibotentan, Revlimid, Zaltrap, and Dasatinib. Most agents demonstrated no significant difference in combination with Taxotere compared with Taxotere alone. For example, data from the Phase 3 READY study evaluating Bristol-Myers Squibb's (NYSE:BMY) Dasatinib in combination with Taxotere and prednisone versus the combination of Taxotere and prednisone alone, demonstrated no difference in median OS (overall survival) between the two arms - 21.5 months versus 21.2 months, respectively. However, for Celgene's Revlimid, the combination significantly worsened OS as compared with Taxotere alone.
With that said, custirsen has perhaps the highest chance for success compared with the targeted therapies for the following reasons:
Different mechanism - Custirsen is an antisense agent targeting clusterin, a cell survival protein that is overexpressed when cells are exposed to stressors such as chemotherapy. Overexpression of clusterin leads to resistance to chemo therapies and limits their efficacy. Custirsen potently inhibits clusterin expression and has been shown to improve efficacy of chemotherapy in vitro, in vivo, and in clinical studies. Clusterin is a difficult target for small-molecule or antibody therapeutics, and custirsen is an antisense approach to abolish clusterin mRNA, thereby lowering clusterin protein levels and overcoming resistance to chemotherapy.
Overall survival - Custirsen is the only agent that has demonstrated OS benefit in a randomized Phase 2 study. The final analysis of the Phase 2 study showed that the combination arm achieved a median OS of 23.8 months compared with 16.9 months with the Taxotere arm.
In addition, besides SYNERGY study, custirsen Phase 3 development program includes AFFINITY study - custirsen in combination with cabazitaxel (Jevtana) in second-line chemo setting in mCRPC, and ENSPIRIT study - custirsen in combination with docetaxel in second-line NSCLC. Both studies could generate top-line data in the 2015-2016 time frame.
Analysts at William Blair estimate peak worldwide sales of custirsen in the chemo-combo setting for mCRPC at $500 million with a probability of success at 60%. They assume peak market penetration for custirsen of 33% and 25% in the U.S. and Europe, respectively, in the frontline chemo therapy setting. The analysts expect 50-50 profit sharing with partner Teva in the U.S., and a blended 15% net royalty to OncoGenex for sales outside the U.S. Additionally, the firm set an "Outperform" rating and a $21 price target on OGXI, which is based solely on OncoGenex's lead candidate, custirsen, in the treatment of mCRPC and NSCLC.
Final Conclusion
The SYNERGY trial reached full enrollment in November 2012 and data is expected in the first half of 2014. As we move closer to that key milestone, investor interest should steadily ramp up. While the prostate cancer field rapidly evolves, combination therapy with custirsen could play an important role. Recall, the FDA has stated that the SYNERGY trial alone would be sufficient for approval and represents a major transition event for the shares.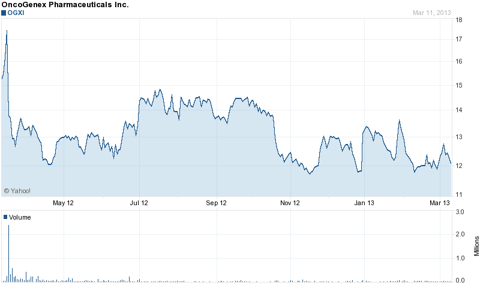 Disclosure: I have no positions in any stocks mentioned, and no plans to initiate any positions within the next 72 hours. I wrote this article myself, and it expresses my own opinions. I am not receiving compensation for it (other than from Seeking Alpha). I have no business relationship with any company whose stock is mentioned in this article.
Additional disclosure: Biomed Group is a group of investment professionals and writers. This article was written by Amit Cohen. We did not receive compensation for this article, and we have no business relationship with any company whose stock is mentioned in this article. This information is not to be construed as an offer to buy or sell any security mentioned on this article.