Visa Inc. (NYSE:V) continues to benefit from the global consumer shift from cash to plastic payments. The company expects to continue to deliver above average growth levels in the future. Its initiatives include organic growth, growth through acquisitions and giving back value to shareholders through dividends and share repurchases. And given the slow economic recovery, the growth levels Visa is achieving are extraordinary.
Recent developments
Visa reported earnings in early February, slightly beating analyst estimates. Adjusted earnings were up 22% over the same period last year, and revenue rose 10.7%. These growth levels are in line with previous growth levels. Analysts expect earnings and revenue to rise 13% and 10.5% respectively in the next quarter. The expected five year earnings growth level stands at 18.33%.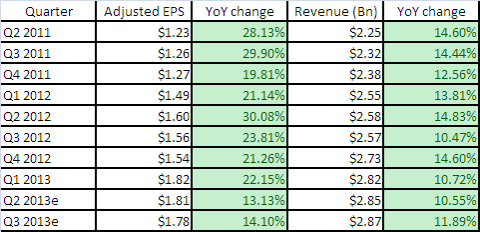 Source for data: Earnings.com, Ycharts
Important notes from the first quarter earnings report and conference call:
1. Strong growth was broad-based, with strong credit and debit growth in the U.S. and the rest of the world, together with a return to positive growth in the worldwide debit business.
2. The company announced a new $1.75 billion share repurchase program. During the quarter, Visa repurchased 9 million shares at an average price of about $145. With the remaining authorization of $1.1 billion, the repurchase program stands at $2.85 billion.
3. Data processing revenue was up 17%, based on solid growth rates of processed transactions outside the U.S., strong CyberSource transaction growth and strategic pricing actions related to the restructuring of pricing in the U.S. debit market. CyberSource reported 1.6 billion transactions for the period, a 28% increase over the prior period.
4. Operating margin for the quarter was 63%, above the full year guidance. The management expects the margin level to be around 60%.
5. The company sees strong momentum with its electronic wallet - V.me. So far, 12 out of 25 of the top 25 U.S. banks and 51 regional banks have integrated V.me into their online banking websites. V.me makes online payments easier, whether you use a computer, tablet or mobile phone.
With the expected continuation of the strong secular growth of plastic payments, especially with online and mobile payments growth, Visa should continue to grow at least in the same range as in previous quarters for years to come. Visa also has enormous potential for further international expansion. Recent examples are:
1. Saral Money, a partnership with five leading clients, the Delhi state government and the Indian national identity system, which provides a paperless process to open a bank account and issue a Visa debit or prepaid card instantly.
2. Strategic agreement with QIWI, Russia's leading payment services provider. They provide digital wallet services to more than 9 million Russian customers who use them at more than a hundred thousand cash kiosks.
3. Visa launched a mobile managed service. Aircel and ICICI bank in India are among the first clients to offer a mobile money program hosted and managed by Visa's cards.
Valuation and competition
Visa has an adjusted PE of 24.7; forward PE is 18.91, and the PEG ratio is 1.19 with a 5 year expected growth rate of 18.33%. This suggests a slight premium, which is my view normal for an investor to pay to get a hold of a good growth story.
MasterCard Inc. (NYSE:MA) has a similar valuation, with an adjusted PE of 24.1, forward PE of 17.57, and the PEG ratio is 1.17. MasterCard has achieved similar growth rates as Visa in the past, and has the same expected growth levels.
At the same time, new competitors are emerging, as noted in my previous article on Visa:
"eBay (EBAY) has entered the point-of-sale transactions business, signing agreements with big U.S. retailers, and taking on Visa and MasterCard.
Mobile payments field is getting more crowded by the minute. Wal-Mart (WMT), Target (TGT) and other big U.S. retailers unveiled a joint-venture called the Merchant Customer Exchange, as they want to take advantage of mobile payments. Bank Of America (BAC) started a pilot program, with a technology that allows a customer to pay at the store by scanning an image with a smartphone, such as Apple's (AAPL) iPhone or Google's (GOOG) android devices."
Growing competition and a significant slowdown of earnings and revenue growth are the main concerns for Visa's long term picture. However, there are no signs at the moment of either competition taking serious share of the market or a significant slowdown in earnings and revenue. The secular growth trend is bound to continue, and Visa's management says that their main enemy is cash, not the competing companies themselves, and they view competition as healthy, as they make them work harder and make better and more competitive products for their clients.
Price action
Visa's share price has been in a consolidation after reaching new all-time highs in early January. It is now near its all-time highs, after getting support at the 50 day moving average line. There are two potential entry points: a breakout to new all-time highs in above average volume, and another rebound of the 50 day moving average line.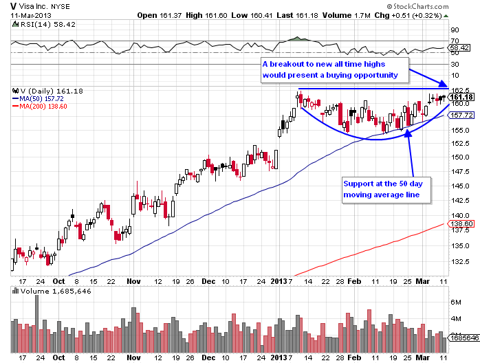 Source: Stockcharts
Conclusion
Strong secular growth, healthy earnings and revenue growth levels, new online and mobile initiatives and international expansion present a great opportunity for the company and the for the long term investor. On the other hand, a breakout to new all-time highs from this two month consolidation can provide further upside momentum in the short term.
Disclosure: I have no positions in any stocks mentioned, but may initiate a long position in V over the next 72 hours. I wrote this article myself, and it expresses my own opinions. I am not receiving compensation for it (other than from Seeking Alpha). I have no business relationship with any company whose stock is mentioned in this article.
Additional disclosure: This writing represents my personal opinion, and is for informational purposes only.