If you've been paying attention to Canadian oil and gas producers lately, you'll know that the situation has turned into a mess. Take a look at some of the most recent news: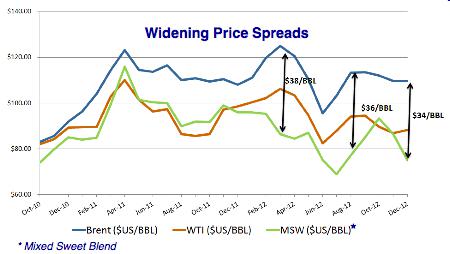 MSW Mixed Sweet Blend Represents Canadian Crude Prices
Source: 2012 CAPP Crude Oil Forecast, Chart displayed on Kinder Morgan Analyst Day, Kinder Morgan Canada Presentation
Many operators in the oil sands are currently unable to show much of a profit due to perilously low domestic crude prices: differentials between Canadian Crude and international Brent Crude prices are at an all time high. It is much higher than even the spread between West Texas Intermediate and Brent.
How did this happen? Canadian energy companies feverishly built production capacity upon inadequate infrastructure. What little export infrastructure does exist is badly bottlenecked. To make matters worse, Canadian Crude oil must now compete with Crude from the Bakken for space in the largest pipeline to US refineries.
As long as the infrastructure to transport Canadian oil to the more lucrative international markets remains as it is, the fortunes of oil sands producers will continue to flounder. The funding gaps will remain. Canadian energy companies will have to continue diversifying out of Crude or make deals with the cash rich Chinese state-owned firms.
Those who don't want to enter the fray of upstream oil sands producers can hardly be blamed. But where there is a glut of oil supply there is also a scarcity of pipeline capacity and terminal space. It's unclear which of the many upstream producers will come out on top. However, the few midstream transporters, with high barriers to entry, are the ones whom will profit during this uncertainty.
To be sure, there are a few midstream players in western Canada. Atlas Energy Partners operates the Express-Platte Pipeline: the dominant cross-border system which delivers oil sands Crude to the US Rocky Mountain and Wood River refinery systems. There's Enbridge, which exclusively owns the pipeline from Edmonton to Hardisty, the "bridge" between west coast terminals and the Express-Platte system.
But Canada's biggest challenge is not to bring its Crude into the states. After all, West Texas Intermediate oil is also trading at a discount to international Brent. The highest profit margins, then, will come from getting oil to the Pacific coast and shipping it to Asia where it will realize Brent prices. The only pipeline currently able to do that is owned and operated by Kinder Morgan Energy Transfer Partners.
Overview
Kinder Morgan Energy Partners (NYSE:KMP), is a pipeline transportation and energy storage company in North America.

Kinder Morgan operates in five segments: Products Pipelines, Natural Gas Pipelines, a CO2 business, Terminals and Kinder Morgan Canada. They own about 75,000 miles of pipelines and 180 terminals.
Think of Kinder Morgan as a giant toll road. They receive fees for their transportation services and generally avoid commodity risk. The customer base is diversified: including major oil companies, producers, shippers, local distribution companies and businesses across many industries. The total market cap is about $112 billion.
Kinder Morgan operates under two different entities and three ticker symbols. The oldest is KMP, the Master Limited Partnership (MLP). KMP pays the highest distribution of the three and currently yields a little over 6 percent. When speaking about finances in this article I will be referring to KMP.
The second ticker symbol is (NYSE:KMR). KMR is KMP. But instead of paying distributions in cash, they issue additional stock to shareholders. This provides a tax-free alternative because shareholders do not recieve any distributions.
The third ticker symbol and second entity is Kinder Morgan Inc. (NYSE:KMI). KMI pays a lower distribution yield but offers more distribution growth than KMP. It owns the general partner interest in KMP.
Trans Mountain Pipeline System
Kinder Morgan owns and operates the Trans Mountain Pipeline, currently the only system to move oil sands Crude to a west coast terminal. There's only one Canadian terminal and Kinder Morgan operates that, too. Kinder Morgan is

taking a two-pronged approach to building the capacity to meet oil transportation demand in Canada. First, they are increasing storage capacity in Alberta while also proposing a massive expansion of the Trans Mountain Pipeline from 300,000 barrels a day to 890,000.
Canadian Crude supply is already overtaking existing capacity. This trend is not something that will go away. Supply is forecasted by CAPP to steadily grow and double to 8 million barrels per day by 2030 on growth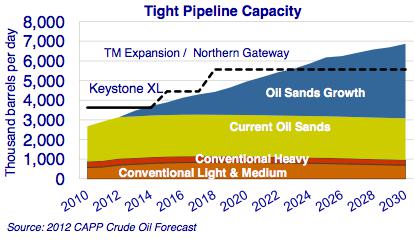 from the oil sands. There are currently two major west coast pipelines in the regulatory application process: Enbridge's (NYSE:ENB) Northern Gateway and the Trans Mountain expansion by Kinder Morgan. Even if both get approved, pipeline capacity will still be tight. Demand for the oil that Canada supplies is only going to increase as the Chinese economy grows, which will keep upward pressure on Canadian producers.
Meanwhile, it is estimated that the gap between Western Canada Select and Brent Crude is costing the country some $30 billion per year in lost revenues. The confluence of lost revenues and increasing demand will ensure that Canada eventually does the right thing and builds out its export infrastructure in the most economical form: pipelines.
Competition
The other major west coast pipeline being proposed by Enbridge (NYSE:EEP), which has a proposed capacity of 500,000 barrels per day, doesn't seem to be a big concern to Kinder Morgan. As the graphic above illustrates, Canada probably needs both the Northern Gateway and the Trans Mountain pipeline systems and both will likely operate near full capacity for a long time. Both are slated to be ready by 2017.
That being said, the Trans Mountain expansion faces less resistance and is more likely to get approval in my opinion. Much of this is because the Trans Mountain project is only an expansion of a pipeline system that already exists while the proposed Northern Gateway would be completely new and go through fresh First Nations land.
Kinder Morgan has taken a non-traditional approach in its public campaign: they've openly named the thirteen upstream companies whom will lock in 15-20 year contracts if the pipeline is completed. Many of these are the largest energy firms in Canada. What effect this has remains to be seen until the middle of this year when regulatory decisions will be made.
While the upstream situation in Canada's oil sands is fluid and perilous, that of the midstream "toll roads" is decidedly not. They will be the centerpiece of a new, stable Canadian oil sands complex which ultimately exports lots of Crude to thirsty Asian markets. With a proposed plan to have nearly double the capacity of its only other competitor, Kinder Morgan and the Trans Mountain Pipeline will be that most important piece.
Investment Thesis
Kinder Morgan may not be a pure play on Canada's oil sands, but it is the safest one. Kinder Morgan is also:
The largest midstream and third largest overall energy company in North America
The largest transporter of natural gas in the US, perfectly positioned to take advantage of America's shift to this cheap, abundant fuel source. They are connected to every major US natural gas play: the Eagle Ford, Marcellus, Fayetteville, Barnett, Utica and others
The most important pipeline operator in the emerging US oil production scene.
The Basics: Debt & Distribution Coverage
KMP's debt to earnings before interest, taxes, depreciation and amortization (debt/EBITDA) has stayed constant between 3.6 and 3.8 times since 2009. While other companies used low interest rates to load up on debt, Kinder Morgan conservatively stayed the course.
The relevant distribution coverage ratio for KMP,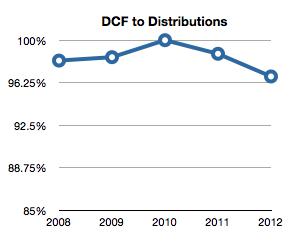 distributions/distributable cash flow (DCF), is near 100% and does not leave much room for error. Because Kinder Morgan's contracts tend to be long-term, however, the cash flow is very predictable as well as diversified. Management has fulfilled its distribution promises for many years and we have every reason to believe this will continue.
Strategy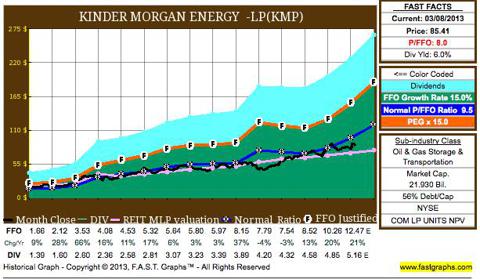 Judging from FAST Graphs, Kinder Morgan is above its dividend income valuation line in pink, but still a bit below the Normal Price to Funds From Operations in blue. I personally only buy KMP shares when the dividend yield is at or above 6.5%. There have only been a couple of those opportunities over the years, but I've always taken advantage of them when they've come around. With a yield just above 6%, now would be an OK time to buy if you must, but I won't be doing so just yet.
Conclusion
Betting which sides will win an uncertain war is a risky venture. Why not pick the biggest arms dealer? This is the metaphor which best describes the situation in the Canadian oil sands right now. While the upstream companies must make deals, sell assets and diversify to stay afloat, Kinder Morgan represents the safest and most predictable way to be involved.
Additional Sources:
"Tight Pipeline Capacity" graphic data by CAPP 2012 Crude Oil Forcast, Chart displayed on Kinder Morgan Analyst Day, Kinder Morgan Canada Presentation
DCF to Distributions chart by author, data by 2009-2012 Analyst Day Financial Reviews
Disclosure: I am long KMP. I wrote this article myself, and it expresses my own opinions. I am not receiving compensation for it (other than from Seeking Alpha). I have no business relationship with any company whose stock is mentioned in this article.