Introduction
Facebook (NASDAQ:FB) has been surrounded with a lot of rumors and negative sentiments lately, but the social media monopolist has survived so far. The company has been changing strategies in order to mount its revenue, which has been a great concern over the last few months. The recent news on Facebook buying Atlas Ad business from Microsoft (NASDAQ:MSFT) has surfaced and eliminated concerns about the company's revenue sustainability.
In an earlier article, we discussed Facebook's picture of prospects, finances and faith from investors in comparison with both Yahoo! (NASDAQ:YHOO) and Google (NASDAQ:GOOG). This article digs deep into the effects of the recent announcement on Facebook's revenues and on its stock behavior.
Facebook's Rough Journey
Facebook is not one of Wall Street's favorites. Facebook's share price witnessed significant volatility since its IPO. On January 28, 2013, Facebook hit a high of $32.51 and later at the earnings announcement on January 30, 2013, the negative investor sentiments worsened and dragged down the stock price to $27.96 by March 8, 2013. With the recent acquisition announcement at hand and its foreseen impact on the stock price, Facebook may rebound from the hopeless earning shock it incurred a month back. The next quarter earnings announcement will prove to be an altering event for Facebook. The fate Atlas will bring to Facebook will be brought into the limelight over a short time span and may change the position of Facebook for the coming years. Let us examine various aspects of this stock to check whether it is worth the money spent on purchasing it or not.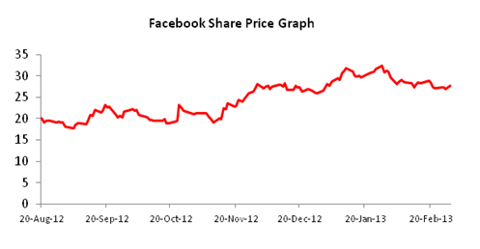 Facebook's Strategies
Facebook has come up with a number of strategic changes to profit from its ever-mounting customer base. Active usage is increasing and mobile usage is skyrocketing as never before. It seems the Smartphone success is piling into the pockets of Facebook as well. In the recent release of Facebook's 4th quarter earnings it disclosed that over the period of a year, the mobile MAUs have hit a growth of 57% and reached a number of 680 million. The daily active users grew by 28% year-over-year and monthly active users grew by a rate of 25% over a period of 1 year. As quoted in the annual report:
We expect mobile usage to increase at a faster rate than usage through personal computers for the foreseeable future, particularly in developed markets, and our success in ramping up mobile monetization will likely have a material impact on our financial performance.
Source: Facebook
With the recent addition of Graph search, the user base is expected to pile up even further. Facebook revealed a new 'News Feed' design at an event at its Menlo Park headquarters on March 7, 2013. I do not believe that these new ideas and strategies are all going to be revenue - boosting tactics for the company as Facebook Timeline has not been a very favorable change for this company. But I do think that in this hit-and-trial, Facebook may tumble upon a million-dollar strategy that might be a scenario changing event for it.
Atlas Marketing Tool
Atlas was acquired by Microsoft as a part of its acquisition of aQuantive for $6.3 billion in 2007. The acquired company didn't bring Microsoft much revenue. That was a reason that a part of MSFT was sold to Facebook at an undisclosed, non-substantial price. Given Facebook's identification of users' interest in targeting the audience using the FB platform, the company believes that the acquisition will be fruitful for Facebook in generating revenues.
Facebook's major segment of revenue has been coming from its marketing segment. Let's take a look.

Extracting the advertising revenue growth rate from the company's financials, we stumble over the fact that the ad revenue consisted of 94.6% of the total revenue of the firm in 2011 and 84% in 2012. Though the percentage is shocking, it is displaying a growth rate of 69% from the 2010-2011 periods and 40% from 2011-2012. As a major chunk of Facebook's revenue is coming from advertisement, forecasting Facebook's revenue will provide a brief insight of how the company will fare in future.
I remained conservative in my analysis and cut-down the historical growth rates for monthly active users. As you can see in the table below, major portion of new user growth will come from Asia.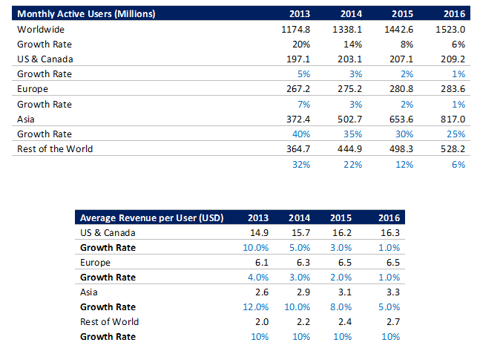 The United States, Canada and Europe are saturated markets for Facebook and I don't see major growth in average revenue per user coming from these markets. However, Asia and the rest of the world are the major markets from which the majority of the revenue growth will come in the future. I assume that going forward the net profit margin of the company will increase due to economies of scale.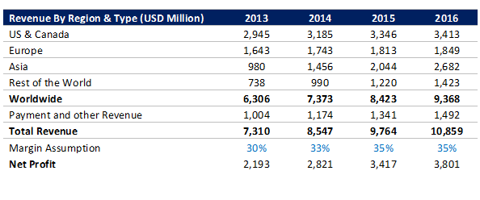 Despite applying conservative assumptions of monthly average user growth and average revenue per user growth, Facebook's revenue does not seem to erode in the future.
High Risk & High Gain Potential
The social media networking stock is a risky one without any doubt. However, there is quite a huge hidden profit potential in it as hedge funds have also started to bet on its profit reaping abilities. The number of funds owning shares in the social networking company has increased by 19 funds - from 48 to 67 hedge funds. Billionaire Steve Cohen and his investment team at SAC Capital Advisors had a small position at the beginning of October and built it up to a total of 8.5 million shares by the end of February, 2013.
Final Verdict
Facebook controls the social media networking front, undoubtedly, and there seems no other social network emerging in the near future that can snatch away the throne from Facebook and take over the social networking front the way Facebook did. The rallying stock, despite the uncertainties surrounding it, has not left hope and is implementing new ideas in an effort to regain the stock market position it hoped for while opting for the IPO. From the Facebook Graph Search and the acquisition of the Atlas Ad business, it is evident that the company does not aim to halt its efforts to innovate and the innovations will remain a priority for the social giant.
I wouldn't suggest that the stock will reap a short-term profit or attain the blue-chip stock position overnight, but I do believe that the company is here to stay. With its obvious efforts to fly sky-high, it will leave its investors with satisfied pockets at the end of the day when the results of the revenue-boosting operational efforts trickle down to its financials. Therefore, I would recommend a long-term buy rating on Facebook stock.
Disclosure: I have no positions in any stocks mentioned, and no plans to initiate any positions within the next 72 hours. I wrote this article myself, and it expresses my own opinions. I am not receiving compensation for it (other than from Seeking Alpha). I have no business relationship with any company whose stock is mentioned in this article.