Do We Need To Change The Rules of the Road?
Americans, from the country's founding, have always cherished liberty over dependency. Personal responsibility and self reliance had forever been the hallmarks of the American population. Since 1913 when the Federal Reserve was created and the Federal income tax was implemented, Americans have been slowly and insidiously made dependent upon the government and criminal bankers running this country. Government has taxed and borrowed to implement policies and programs that make people more dependent on them and increased government's control over our lives. Bankers have marketed debt as the way for Americans to live the good life. Americans have become serfs, ever indebted to the lords of the manor in Washington DC and on Wall Street. Until Americans decide to choose liberty and freedom over relying on government to solve all our problems, the country will continue on its path to socialism and bankruptcy.

Since the start of this financial crisis, government bureaucrats, Congressmen, Federal Reserve chairmen and have tried to hide the debris of our economic system in the woods. Nothing has worked. Bad mortgage loans, bad car loans, bad commercial loans, and bad credit card debt cannot be hidden. They must be written off. Letting banks pretend it isn't bad debt has just led to more uncertainty in the markets. The smoke and mirrors that Treasury and the Federal Reserve have used to fool the public into trusting the banking system have not worked. Now they want to change the rules of the road.
All attempts to change the rules have backfired. The SEC outlawed short selling to stop the stock market from going down. The market accelerated downward, with no possibility for short covering to stop the fall. Hank Paulson forced banks to take billions of taxpayer dollars whether they wanted it or not. This was supposed to bring confidence in the system back. It didn't. The government took over AIG, Fannie Mae (FNM), and Freddie Mac (FRE), deciding they could run them better than the existing horrible managements. These moves have already cost the American taxpayer a quarter trillion dollars. With many more billions to be poured down these rat holes.

The financial system is gridlocked. Four lanes have suddenly converged into two lanes and the drivers are angry. The AIGs of the world went from selling plain vanilla insurance to making bets with every major bank in the world along with guaranteeing risky bets by these same banks. Fannie Mae and Freddie Mac went from providing liquidity to the mortgage markets so that average Americans could buy a house to a Democratic Party tool used to provide mortgage loans to poor Democratic constituents so they could win more votes in the next election. Investment banks went from investing in productive business ventures to creating fake credit instruments designed solely to generate monstrous fees and bonuses for executives.
The rating agencies Moody's and S&P went from the boring business of rating corporate bonds and generating 10 percent annual growth to giving AAA ratings to indecipherable derivative products that were then sold to pension plans and schools. Mortgage brokers went from helping match worthy borrowers with the best mortgage to criminals pushing no doc stated income adjustable rate mortgages on people who could never possibly afford a home. Consumers went from utilizing credit for just home purchases with 20% down to utilizing credit for multiple home purchases with nothing down, utilizing credit for car purchases with nothing down, and utilizing credit to buy every electronic gadget, kitchen appliance, and other toys flaunted by neighbors. The rules of the road were changed during rush hour causing chaos and confusion. Until honesty, integrity, and morality are again restored to our financial and governmental systems, gridlock and distrust will reign.
Where's My Net Worth, Dude?
Americans are wondering where their net worth went. They can't find it anywhere. It dissipated into thin air. It never really existed. Does that make you feel better? American households lost $11.2 trillion of net worth in 2008, and net worth is now below 2004 levels. The 17.9% drop in net worth during 2008 is mind boggling and will have a drastic impact on the future trajectory of household consumption and saving. Nearly 25% of the loss in net worth was from real estate, and equities and mutual fund shares made up 50% of the loss.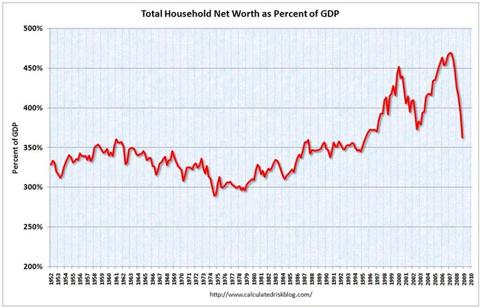 The dramatic rise in net worth coincided with the biggest debt bubble in history. Home ownership reached an all-time high of 68% in 2005. Stock ownership is still in the 50% range, so the downturn in housing values is affecting many more people than the 2000-2001 dot.com collapse. As you can see, home values fall but the debt remains the same. With at least another year of falling home prices, the number of people underwater on their home mortgages will reach 25 million, or one-third of all the houses in the United States. You won't hear Mustard Seed Kudlow or Mad Money Cramer telling you this.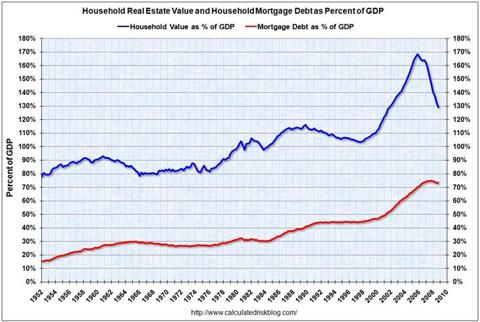 President Obama and Democrats in Congress passed a $787 billion pork filled calamity that will contribute to an explosion of our financial system. Very little of this socialist's dream will help the U.S. economy in 2009. Vast sums will be allocated to unnecessary make work projects throughout the country. Picture thousands of Ralphs taking their time on construction projects while six guys stand around watching one guy using a jackhammer. Every construction project in the country will be a union job. This means 40% more expensive and a 40% longer timeline. When the majority of this stimulus hits in 2010 and 2011, along with Bernanke's humongous printing of dollars we will hear a rumble before inflation erupts across the globe.
Oh The Humanity!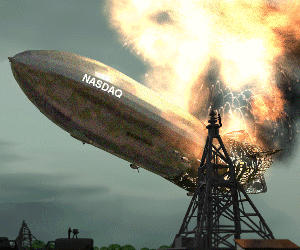 The American economy hit debris in the road years ago. Instead of pulling over and taking care of the problems before they became a crisis, our leaders ignored the problems. Government overspending, ignoring $56 trillion of unfunded liabilities, funding over-expenditures with money borrowed from foreigners, not addressing crumbling infrastructure, not creating a cohesive energy policy, and over-reaching in empire building were the fuel that led to our economy bursting into flames before our very eyes. President Obama and his minions in Congress scream, "Oh the humanity", and take your hard earned money and redistribute it to the fools who created the tragedy.

It's My Life
Tomorrow's getting harder make no mistake
Luck ain't even lucky
Got to make your own breaks

It's my life
And it's now or never
I ain't gonna live forever
I just want to live while I'm alive
(It's my life)
My heart is like an open highway
Like Frankie said
I did it my way
I just want to live while I'm alive
'Cause it's my life

Better stand tall when they're calling you out
Don't bend, don't break, baby, don't back down

--It's My Life – Bon Jovi
The American people are at a crossroads. It's our lives, not the governments. The country is headed on a path toward government running everything in our lives. Now is the time to stand tall. Barack Obama, Ben Bernanke, and Nancy Pelosi can not make us spend money we don't have. We can force the painful restructuring of our economy on our politician leaders. They can stimulate, print, and urge you to spend, but we don't have to listen. We can throw them out of office in 2012. If the new set of clueless morons doesn't do what is right, we can throw them out too. We must heed the warning of Founding Father Thomas Jefferson.
A government big enough to give you everything you want, is strong enough to take everything you have.