Back in July, I wrote an article entitled "Apple Decoded: Charting the Rise of the World's Wealthiest Company." Given the roller coaster ride that Apple (NASDAQ:AAPL) has taken in Mr. Market's affections over the last eight months, I thought it might be good time to give readers an update. In this article, we will take a visual guided tour of data derived from the quarterly reports of Apple and six of its major competitors, in order to gain a broader perspective of Apple's prospects in the near to mid term.
A Note On the Data: Apple adopted the FASVB's amended accounting principles on a retrospective basis during the first quarter of 2010. The new accounting principles significantly change how Apple accounts for certain items, particularly sales of the iPhone. I have adjusted the chart values accordingly. Also note that the iPod was released in Q1/02 but Apple declared unit sales and revenues beginning with Q4/02. The first three quarters are therefore based on reconstructed values.
China Matters, but the Americas still matter more. European sales by operating segment are rising on an absolute basis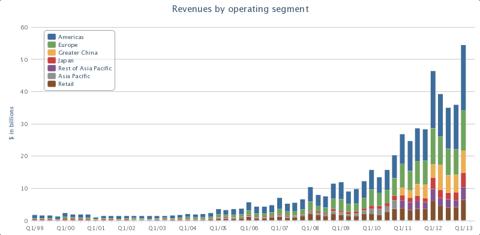 …while declining as a % of revenues...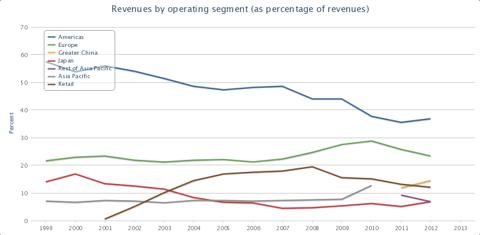 How do we account for this discrepancy? Simple: As fast as European sales grew, North American, Japanese, Chinese and Asia-Pacific sales grew faster.
It Takes Money to Make Money. Rising cost of sales and administrative expenses are taking a big bite out of Apple's gross profit margin. These higher input costs are historically associated with new product releases.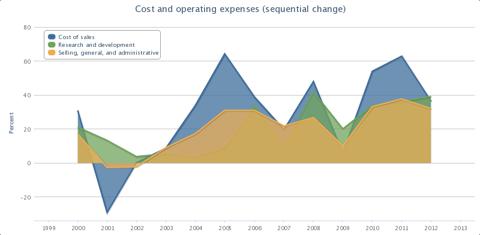 Location, Location, Location. Apple's investments in both real estate and infrastructure were rarely if ever taken into account when the stock was at $700. Nevertheless, they are considerable.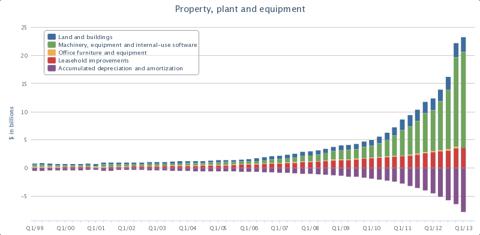 Damn the Torpedoes! Apple is pumping a huge amount of money into R&D. In the past, increased R&D spend has coincided with new product releases.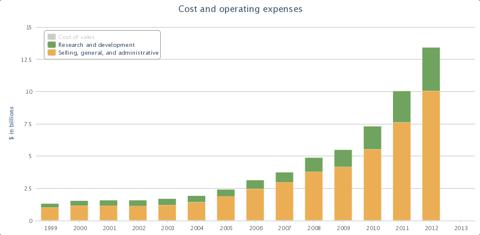 Customer is King. Apple employees are spending more time with each customer. Is that because a) Apple has more retail employees assisting customers, or b) Apple has less customers requiring assistance?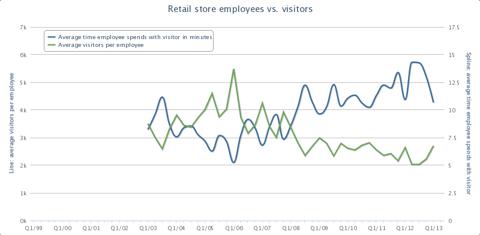 The data-driven answer appears to be "a": Apple has more retail employees assisting customers.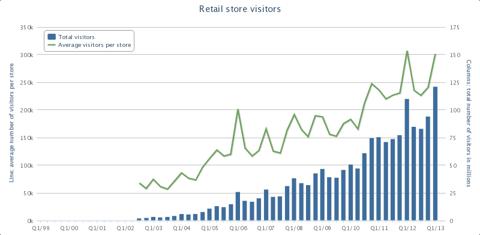 Disruptive Technology. Unit sales, broken down by quarter. The spikes indicate new product releases. The steady, tapering decline of iPod units sales due to iPhone cannibalization gives little sign of the swift collapse we hear about in the business press.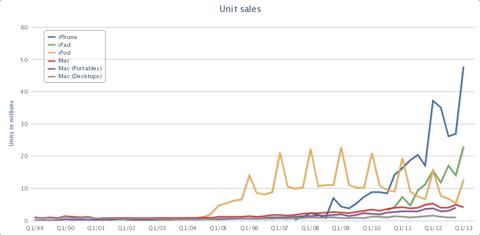 Leader Of The Pack. Here we see Apple's arc of domination going into Q1 2013.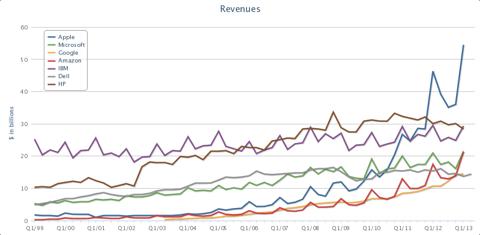 Peak Apple? One of the reasons analysts are frothing at the mouth is the fact that Apple's revenues are still being driven by iPhone sales, a device which many prognosticators no longer consider to be as "scarce" or unique as it once was. (See: "Disruptive Technology" above.) Have we reached Peak Apple?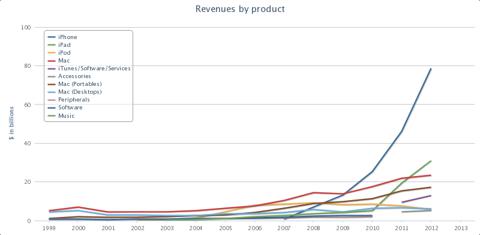 The Treasure Trove. Here's the chart that made David Einhorn lay siege to Cupertino. Apple is hoarding cash, for reasons unknown. Apple's cost of equity capital is roughly 9.9%, which is extremely wasteful. With a return on equity capital of probably around 0.5% and the stock down roughly 40% from its September peak, more investors are asking why.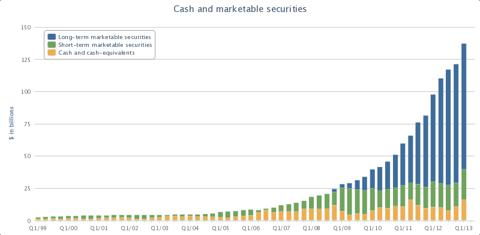 Conclusion
Markets are forward-looking. However, as a practical matter, investors must extrapolate from the past. The problem with that approach is that past performance is no guarantee of future results.
This awkward state of affairs tends to generate excessively passionate opinions about what the future holds. However, the short-term success and/or failures of a large enterprise is theoretically reversible in most instances, these opinions tend to become more entrenched and extreme with time, as both sides are convinced that they will be vindicated over a long enough timeline.
Nevertheless, I would advise bears to practice caution here for two reasons:
1) If Apple's cost of sales and R&D spend follow the historical pattern, shorts could be crushed between falling input costs and a surge in sales due to new product releases.
2) With Greenlight's recent challenge still fresh in investors' minds, Tim Cook has every incentive to get the stock up in the near term and virtually unlimited funds to conduct a shock and awe buyback campaign. The high probability outcome in such an event is that Cook can stay long AAPL longer than short sellers can stay solvent.
Disclosure: I have no positions in any stocks mentioned, and no plans to initiate any positions within the next 72 hours. I wrote this article myself, and it expresses my own opinions. I am not receiving compensation for it (other than from Seeking Alpha). I have no business relationship with any company whose stock is mentioned in this article.