A couple of days ago, I read this article here on SeekingAlpha, on Walgreen's (WAG) plans to build a net zero energy store. This inspired me to take a closer look at the company.
Note: All financial data was found on Walgreen's investor relations website here. Price-to-earnings ratios are from Morningstar's website, while the numbers for total pharmacy sales are from the U.S. Census Bureau. The graphs were all made by me, using Microsoft Excel.
Founded in 1901, Walgreen is the leader in its segment, pharmacies. Its total store count is just over 8000, with 240.000 employees to serve the 6.3 million customers per day. WAG has gone from just 4224 stores in 2003 to 8061 at the end of 2012. This means it's added an average of just over 1 store per day.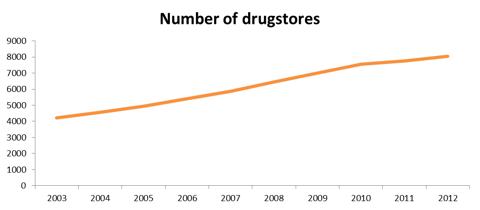 Click to enlarge
Opening this many new stores has boosted the sales, as can be seen in the next graph. In 2008, total sales were at $59.0 billion. This has increased by 21%, reaching $71.6 billion in 2012. Net income peaked in 2011 at $2.71 billion, and dropped to $2.13 billion in 2012. This is a decline of over 20%. However, earnings per share were somewhat protected by the large amount of shares bought back by the company. The total number of shares went from 995.5 million in 2008 to 880.1 in 2012.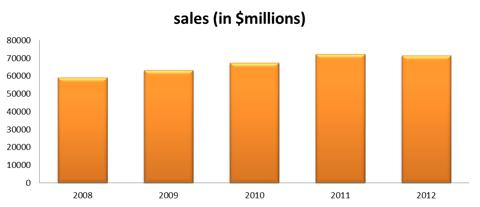 Click to enlarge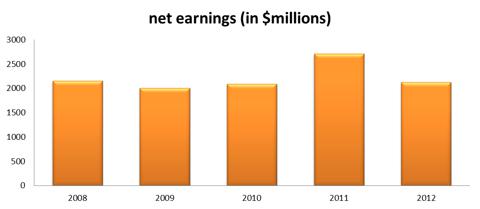 Click to enlarge
WAG's dividend has gone from $0.3975 in 2008 to $0.95 in 2012. That's an annual compounded growth rate of 24%, which is amazing. But is it sustainable?
Earnings per share have gone from $2.17 in 2008 to $2.42 in 2012, for an annual compounded growth rate of 2.7%. This has caused the payout ratio to go up from 18.3% in 2008, to 39.3% in 2012.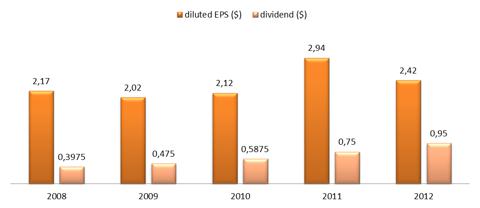 Click to enlarge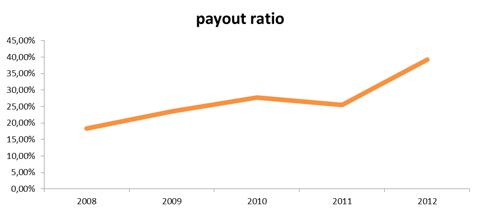 Click to enlarge
I don't think Walgreen will be able to keep the dividend growing at the double-digit rates it has had over the last couple of years. However, Walgreen is a great company and I'm convinced it will grow. For FY 2013, WAG plans to grow its store base by 1.5-2.5%. I believe this may increase income. The total market for pharmacies and drugstores is increasing at a very fast rate, which should boost revenues even further.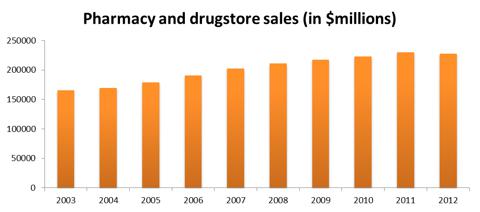 Click to enlarge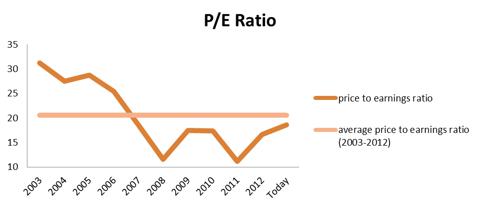 Click to enlarge
Now, even though I believe WAG will grow, to determine if it would be a good investment, we'll have to look at the valuation. The 10-year average price-to-earnings ratio for WAG is 20.6. Today, it's trading at 18.6 times earnings, which is slightly lower than the 10-year average. The industry average is at 18.2.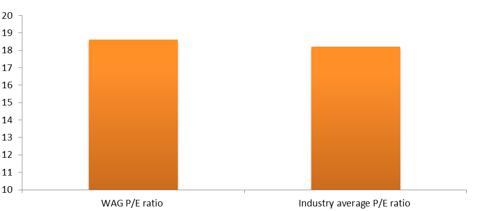 Click to enlarge
Conclusion
WAG will probably not be able to continue increasing its dividend by the high rate it has over the past couple of years. WAG is valued close to the industry average, which seems fair at this point, considering the slow increase in earnings. However, the number of stores is still constantly increasing, and the total market for drugstores is growing. I believe this will ensure steady growth for WAG, which leads me to believe this would be a very good investment for a dividend-growth investor like myself.
I'd love to get some feedback on this, so please leave a comment below!
Disclosure: I have no positions in any stocks mentioned, but may initiate a long position in WAG over the next 72 hours. I wrote this article myself, and it expresses my own opinions. I am not receiving compensation for it (other than from Seeking Alpha). I have no business relationship with any company whose stock is mentioned in this article.