After taking a position in cardboard box maker Packaging Corporation of America (NYSE: PKG), a few things happened that surprised us. The first was a fast turnaround in management's decision concerning the dividend. We saw the balance sheet was so-so, but over the years the firm told shareholders they were careful in targeting a sustainable dividend payout. In the January conference call, management was grilled on the subject and they expressed commitment to the dividend unless there was evidence that their business would see a multi-year contraction.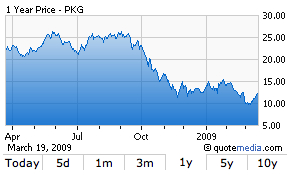 Ok, so we may be in a multi-year mess in terms of the economy, but from our analysis, the cut in dividend would do very little to shore up the balance sheet. So, we have to ask what the thinking might be behind this decision. Clearly, it is not good. Management is sending a signal that the longer-term prospects of the firm are not as rosy as a month ago.
Take a step back and work through the psychology on this one. First, management convinces us that the dividend represents the confidence that the business will come out of this recession in one piece. Second, the dividend is not a huge cash flow killer right now. This was different than GE's dividend cut that raised 9 billion to keep the books looking good.
If PKG really needed to cut the dividend, we have to assume one of two things have happened. Either the balance sheet is not as strong as it appears, or the long-term prospects have dramatically changed. While there has been chatter about cost advantages from wastepaper disappearing and continued weak demand, it all comes down to management.
Here is what Paul T. Stecko said about the dividend policy when asked by Richard Skidmore of Goldman Sachs in the Q4 2008 earnings call transcript:
Richard Skidmore:

"Would you be willing Paul, if for whatever reason your cash earnings in a given year were less than a dividend, would you be willing to use some of that cash balance to maintain the dividend through what would be the tough part of the economic cycle? And, if so would you think through doing that for a year or two years, maybe just a little bit of color around that?"

Paul T. Stecko:

"It depends. It depends on how bad I thought things could get and how long it would be. Obviously, if things were going to be bad for another three months that's one thing, if they're going to be bad for another three years that's something else. But, in terms of getting more precise than that I'm not going to do that."
On one hand, we appreciate the honesty and forthright comments by management who warned about what could happen. On the other hand, it is disappointing that Stecko's worst-case scenario came true. We are letting go of the stock and moving on.
Disclosure: None