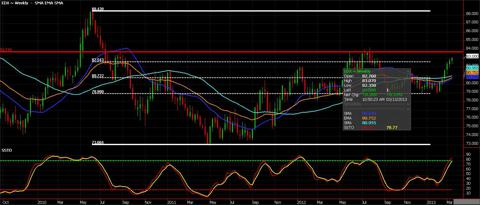 In the last 6 weeks, the U.S. dollar has been on a tear, gaining 4.8%, lifting prices to 6 month highs and above the 61.8% Fibonacci level. Looking at the chart above, the last time we experienced such a one-sided trade was just before futures peaked in June 2012. Past performance is not indicative of future results. I am not calling a top, but I do not expect this pace to continue, and a move is not sustainable in any market, including this one, unless we get ebb and flow. That being said, we should get some relief via some sort of correction in the near future... that is my opinion.
Of late, the greenback has served as the nicest house in the worst neighborhood as the global currency war has benefited the buck. In the FX space in the last 5 months, as the dollar has retained its footing, the yen is lower by nearly 20%, the cable off by 9% in the last 3 months, and in the last 6 weeks, the euro has shed 5.5%. The only major currency that I track that has experienced positive performance vs. the dollar is the Mexican peso -- currently trading at a 17 month highs. The peso has appreciated 18% off its lows from June 2012. All of you planning your Spring break in Cancun will be paying a premium for your tacos and cervezas.
Movement in the dollar is critical in the commodity space because a number of commodities are priced in dollars, and we would likely see an inverse move in metals and energies if we were to see prices start to retrace back towards the 20 day MA -- identified by the dark blue line in the chart above -- approximately 2.8% below current levels. I am mildly bearish, thinking we get back to the 20 day MA, and I'll remain in that camp as long as futures remain below the red line in the chart above. That key pivot point comes in at approximately 83.70; a level that served as resistance in 2010 and more recently in 2012.
Risk Disclaimer: The opinions contained herein are for general information only and not tailored to any specific investor's needs or investment goals. Any opinions expressed in this article are as of the date indicated. Trading futures, options, and Forex involves substantial risk of loss and is not suitable for all investors. Past performance is not necessarily indicative of future results.
Disclosure: I have no positions in any stocks mentioned, and no plans to initiate any positions within the next 72 hours. I wrote this article myself, and it expresses my own opinions. I am not receiving compensation for it. I have no business relationship with any company whose stock is mentioned in this article.