Illinois Tool Works Inc. (NYSE:ITW) is a well diversified manufacturer of industrial products and equipment. The company is a well known dividend growth stock and has paid dividends since 1933. In July 2012, Illinois Tool Works rewarded its shareholders with a 6% increase in its quarterly dividend to $0.38 per share, which marked the 49th year of consecutive dividend increases. At current prices, Illinois Tool Works yields about 2.5%.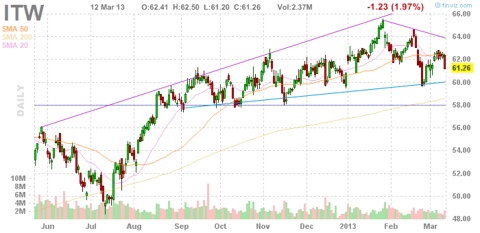 Illinois Tool Works' corporate strategy is to have solid growth from its portfolio of businesses with a few focused acquisitions. This plans includes a capital allocation program, which includes large dividends and share buybacks. Illinois Tool Works is targeting a 12%+ CAGR in EPS, 20%+ operating margins, and 20%+ ROIC by 2017.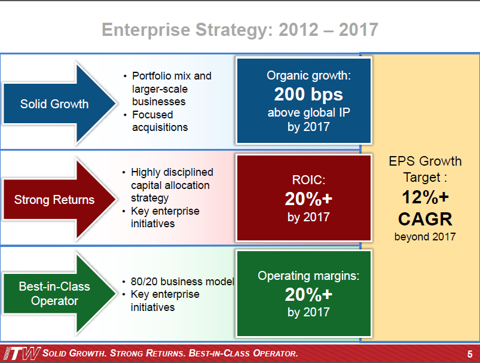 Illinois Tool Works had pro forma revenues of $17B during 2012. These revenues came from a wide array of different business segments, with industrial packaging and specialty products being the largest segments at 14% each. These diversified revenue streams should provide Illinois Tool Works with a buffer in the case weakness in any one segment.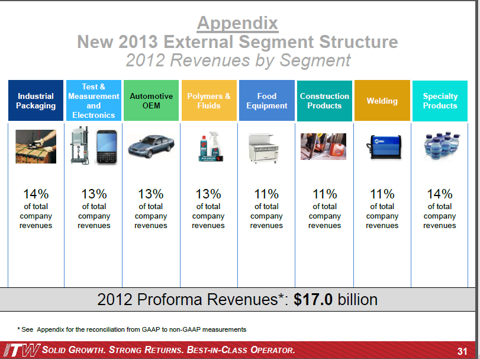 For FY 2012, Illinois Tool Works saw revenues increase 0.8% to $17.9B and operating income increase 4.2% to $2.8B. Operating income as a percentage of revenues increased to 15.9%. Excluding divestitures, FY 2012 EPS was $4.09, 9.9% increase over the prior year.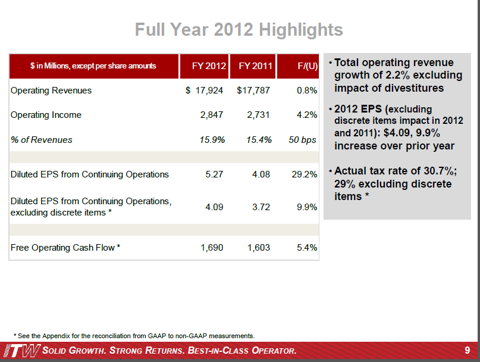 Illinois Tool Works' 2012 capital allocation includes plans for dividends, organic investments, share buybacks and acquisitions. For FY 2012, Illinois Tool Works paid out over $865M in dividends and $2.0B in share repurchases. This totals to an impressive $2.86B in total shareholder returns for FY 2012. During the year, Illinois Tool Works also made acquisitions, which totaled $730M. Illinois Tool Works also has relatively low debt levels, with a debt to capital ratio of only 32% as of Q4 2012. Illinois Tool Works' total debt to EBITDA was 1.5X as of Q4 2012.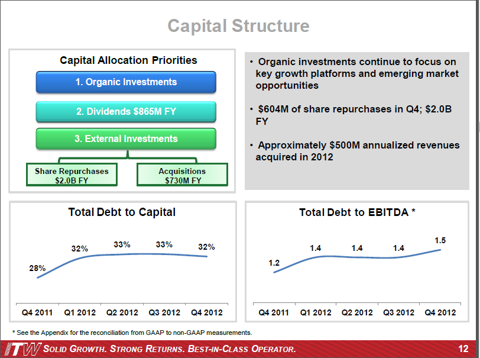 Due to its many business segments, competitors to Illinois Tool Works include companies as diverse as: General Electric (NYSE:GE), 3M Co (NYSE:MMM) and PPG Industries (NYSE:PPG). In comparison with its peers, Illinois Tool Works has by far the lowest TTM PE at only 10.1, while GE, 3M and PPG have TTM PEs of 18.1, 16.6 and 23.0 respectively.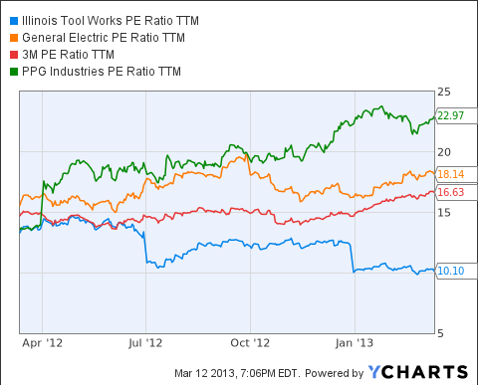 Illinois Tool Works has also proved itself to be the most shareholder friendly of the bunch, with a TTM total shareholder payout yield (total dividend payments plus share buybacks expressed as a yield) of 9% during 2012. This is much higher than the TTM total shareholder payout yields for GE, 3M and PPG, which were all under 5% in 2012.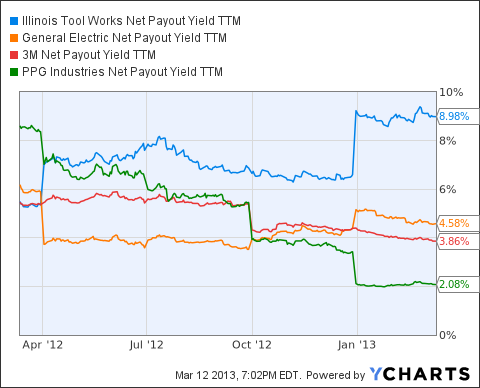 Included in its Q4 earnings, Illinois Tool Works provided guidance for FY 2013. Illinois Tool Works is expecting FY 2013 EPS from continuing operations to be about $4.25, with operating margins to be in a range of 16.5% to 16.9%. Illinois Tool Works expects organic revenue growth of between 1% to 3% in 2013, while total revenue is expected to increase 3% to 5%. The company is expecting restructuring charges of between $120M to $140M, and share buybacks to be above $500M in 2013.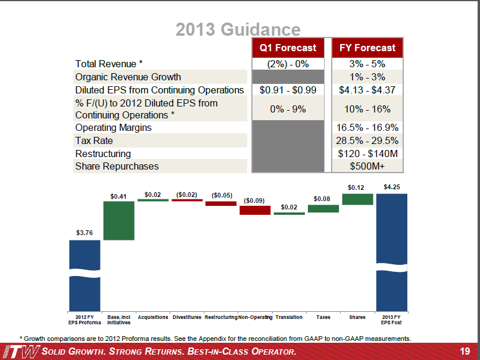 Conclusion
In terms of dividend growth, Illinois Tool Works is a stock worth considering, due to its long history of increasing its dividend. While the 2012 increase was less than ideal, it is better than nothing, especially for a company that is undergoing a major restructuring. In terms of value, Illinois Tool Works is currently trading for about a 14 PE when using its expected FY 2013 EPS of $4.25. I would considering starting a position in Illinois Tool Works on any major pullback in share price.
Disclosure: I have no positions in any stocks mentioned, but may initiate a long position in ITW over the next 72 hours. I wrote this article myself, and it expresses my own opinions. I am not receiving compensation for it (other than from Seeking Alpha). I have no business relationship with any company whose stock is mentioned in this article.