Bloomberg reported last week that ExxonMobil's (NYSE:XOM) CEO Rex Tillerson admitted the company's $600,000,000 bet on creating motor fuels from algae may not succeed for at least another 25 years.
We can now add algae to the long list of failed "clean energy" distractions on which U.S. companies and federal policymakers and have wasted many billions of dollars. These include:
"Clean Coal" Subsidies
Electric Vehicles Subsidies
Battery Research Subsidies
Solyndra Subsidies
Ethanol Mandates & Biofuels Subsidies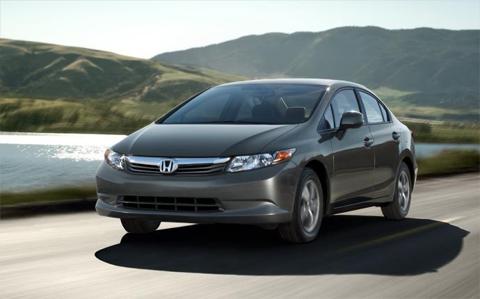 A Honda (NYSE:HMC) Civic GX: The Only NGV Passenger Vehicle Available in the U.S.
Last year I wrote an article that listed 7 reasons Why Exxon Mobil Should Support Natural Gas Transportation. In that article, I wrote the following:
If only Exxon would take the money it is currently spending on bio-fuels and algae and all the other distractions and put it where it would have immediate and meaningful impact. I mean why go to the trouble and expense of all these more exotic ways to generate methane (CH4) when you already have methane (natural gas) coming out of your ears and it could very readily be used in the transportation sector? No research needed. Let's just get on with it!
The "it" was natural gas transportation.
U.S. companies invented fracking technology. America has huge domestic natural gas reserves and is paying less than one-third for it compared to the EU and China. Isn't it ironic both those governments implemented natural gas transportation policies in 2012, while the U.S. government has failed to do so?
Of the world's 15.2 million NGVs, NGV America reports the U.S. ranks 17th in the world with less than 1% of total NGVs.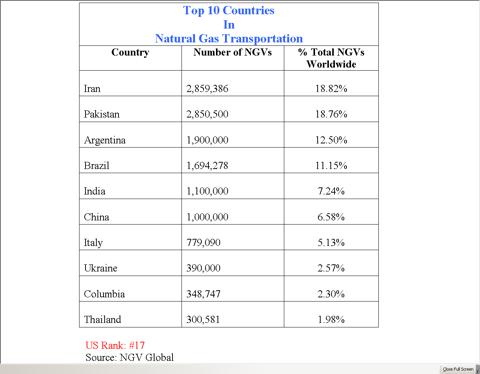 It is interesting to me that topics like LNG exports, "clean coal" (an oxymoron if ever there was one), battery research, Solyndra, ethanol mandates, and EV manufacturers all get special Congressional hearings, investigatory committees, press conferences ad nauseum, billions in tax-payer subsidies, and mainstream press headlines. Yet the silence on natural gas transportation is constant -- even at the U.S. Departments of Energy and Transportation. The U.S. even had an Energy Secretary in Stephen Chu who was "agnostic" about natural gas transportation. Can you imagine an Energy Secretary being "agnostic" about a fuel that is abundant domestically, cleaner, and cheaper than gasoline? This after near-$150/barrel oil in 2008. Simply amazing.
The EV Debacle
The electric vehicle is the latest and most expensive "clean energy" distraction. Seeking Alpha contributor and battery expert John Peterson recently published the article Why Batteries Are Too Valuable To Waste On Solar Power Integration and Electric Cars. This article is a fascinating analysis of "cradle-to gate" energy costs that represent the total amount of energy invested in manufacturing a particular type of battery. It is yet another indication that the U.S. government's over emphasis on fully electric vehicles is simply bad energy policy, bad economic policy, and bad environmental policy.
Of course, the first indication that EVs had big problems came from the auto manufacturers themselves. In the 4/26/2012 edition of The Wall Street Journal, there was an article titled Engineers Cast Wary Eye on Role of Electric Cars in which the skepticism I have expressed about EVs since the beginning was seconded by the engineers working most closely on them. Here are some of the most significant quotes and conclusions from that article based on presentations of the Society of Automotive Engineers World Congress:
"Barring an unforeseen breakthrough that significantly drops the cost of automotive batteries, fully electric cars and plug-in hybrid vehicles are likely to remain confined to a niche of under 10% of the market through 2025 and beyond."

"By 2025, we see battery electric vehicles still with too long a payback, and inadequate range."

- Joseph Bakaj, VP for powertrain engineering at Ford Motor Co (NYSE:F)

"....batteries for the electric Ford Focus costs $12,000 to $15,000 for a car that is priced at $39.200, about $15,000 more than a petroleum fueled Focus." - Alan Mulally, CEO Ford

"...by 2025, a customer who buys a plug-in hybrid could wait 10 years to recover the added upfront costs, compared with a 2025 car outfitted with a more efficient gasoline engine." - Robert Bienefeld, Honda Motor Co.
As Bjorn Lomborg points out in a recent Wall Street Journal article Green Cars Have A Dirty Little Secret, the U.S. federal government is subsiding EVs with up to $7.500 per EV. Even worse, more than $5.5 billion in federal grants and loans is going directly to battery makers and supposed private EV manufacturers like Fisker Automotive and Tesla Motors (NASDAQ:TSLA).
It certainly appears the U.S. government will subsidize every "clean energy" option but the one that we know will work: natural gas transportation.
Consequences of U.S. Malinvestment in Energy
As a result of this huge malinvestment in energy, the U.S. continues to suffer the economic, environmental, and national security issues as a result of its addiction to foreign oil. Nothing has really changed.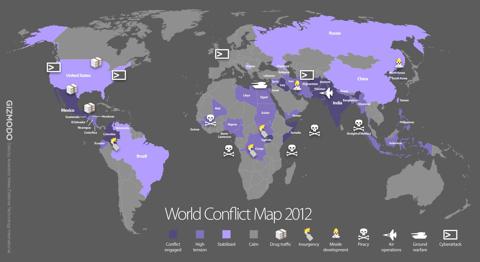 The U.S. imported $434 billion on foreign oil imports in 2012 at an average price of $109.46/barrel. The result is the U.S. still has very serious national security issues as a result of its addiction to oil (gasoline) in the transportation sector. Every day, grave security problems in countries like Iraq, Afghanistan, Israel, Libya, Iran and Egypt show how the U.S. strategy of meddling in the Middle East is simply not working. In fact, one could argue U.S. involvement has made the entire region much less stable and more dangerous.
The only other meaningful energy policy of the U.S. federal government I haven't touched on are the Bush (and now Obama) ethanol mandates. This foolish policy continues to push up food costs at the grocery store. The policy is so bad that the UN took the unusual step of publicly asking the U.S. to stop the ridiculous mandates. In addition, an article in yesterday's Wall Street Journal, U.S. Rules on Ethanol Squeeze Oil Refiners, predicts even higher gasoline prices for American consumers as the price of ethanol compliance credits skyrocket.
To summarize, the effect of failed U.S. energy policy has had the following negative effects:
2012 - the highest average gasoline prices on record
Environmental damage continues
Debt continues to grow exponentially
Inflation continues to hit U.S. consumers at the pump and grocery store
Military expenditures continue to grow exponentially
But the most important result of all the misguided "clean energy" distractions and subsidies is that Americans are still dependent on gasoline for transportation.
My point is this: if the government is going to dole out energy subsidies (and history shows it has, is still, and will continue to do so), why not support the one solution (nat gas transportation) we know will significantly reduce foreign oil imports and go along way toward solving the economic, environmental, and national security problems we have today?
The Grand Solution: A New Natural Gas Centric Energy Policy
What the U.S. needs is a strategic, long-term, comprehensive energy policy that leverages its domestically abundant, clean, and cheap supply of natural gas.
Building out a natural gas refueling infrastructure and a hybrid natural gas/electric vehicle fleet would create thousands of great jobs, and would reindustrialize the nation around its most favorable domestic energy resource (natural gas). The result would be a low-cost, clean, and secure energy infrastructure that would last for the next 100 years. It's an absolute no-brainer.
The Good News
There is some good news. It starts with increasing U.S. natural gas production, which has led to NYMEX nat gas prices of $3.60 MMBtu versus $11.87 in the EU.
On the power generation front, coal power generation plants in the U.S. are closing even faster than originally projected due to the low cost of natural gas. Some 20-25% of the entire U.S. coal generating capacity will likely be shut down in just a few years.
Clean Energy Fuels' (NASDAQ:CLNE) natural gas "gallons delivered" rose 25% in 2012, and the company continues to build out what I call the nation's only successful energy policy: America's Natural Gas Highway.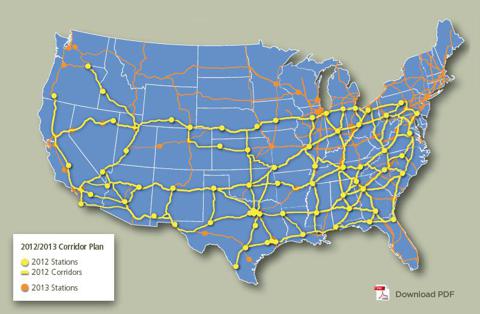 Cummins Inc (NYSE:CMI) and Westport Innovations (NASDAQ:WPRT) have a joint venture called Cummins Westport. WPRT announced on February 5th that Cummins Westport had received orders for 900 of its natural gas bus ISL-G engines. Among others, the company is supplying engines for two of the largest natural gas transit fleet orders in North America to date: LA and San Diego.
Warren Buffett recently mentioned Berkshire Hathaway's (BRK.A, BRK.B) Burlington Northern Sante Fe railroad is investigating the use of natural gas powered locomotives. It's ironic that natural gas will be used to enable BNSF to transport Bakken oil. Winning the nat gas powered locomotive business is a high priority for both Caterpillar (NYSE:CAT) and General Electric (NYSE:GE).
It's clear natural gas transportation is making good progress in the U.S. However, buying and refueling an NGV is essentially out of reach to the vast majority of ordinary American citizens. So how should investors participate in the natural gas transportation revolution?
Investment Advice
My natural gas transportation portfolio was up 7% through February. Note this portfolio is leveraged toward international natural gas transportation initiatives, and is not dependent solely upon its adoption in the U.S. (although that would obviously be beneficial).
American investors should have some exposure to the status quo: oil and gasoline and inflation, while at the same time having exposure to natural gas producers. For oil, my top pick is Chevron (NYSE:CVX), which I consider to be the best international oil company on the planet. My second pick is ConocoPhillips (NYSE:COP), which I like for its focus on shareholder returns and its awesome inventory of North American assets. For example, the company is thriving in the Eagle Ford shale, where it is seeing 50% returns and fast production growth. COP and CVX both have very large LNG projects in Australia. For gasoline, I continue to like refiner Phillips 66 (NYSE:PSX) despite its big move since being spun-off from COP. Not only do I think the fundamentals of cheap natural gas and shale oil feedstock for its refineries and refined export prospects are a long-term tailwind, I am also very bullish on the Chevron/Conoco chemicals joint venture ("CPChem") which is #1 in terms of financial returns in the chemicals sector. For inflation, I suggest Americans take advantage of the current pullback in gold and silver to add to their bullion holdings. If investors don't like the hassles of buying and storing gold and silver, the gold (NYSEARCA:GLD) and silver (NYSEARCA:SLV) ETFs make it easy to participate.
The facts are this: natural gas transportation can solve the economic, environmental, and national security problems the U.S. faces as a result of its addiction to foreign oil and gasoline as a transportation fuel. Natural gas is domestically abundant, clean, and cheap. The advantages are too compelling for natural gas transportation to succeed. But more to the point: all the other options are simply not working.
I will leave you with a picture of the Toyota (NYSE:TM) natural gas/electric hybrid vehicle. It was unveiled in 2008, and has yet to be offered to the U.S. market. It is, clearly, the best engine architecture for the 21st century.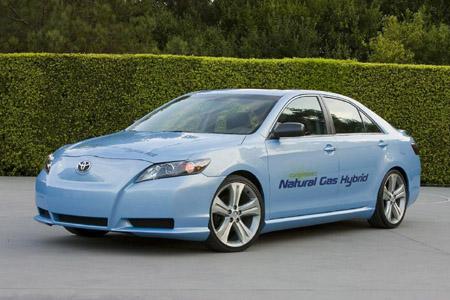 Disclosure: I am long COP, CVX, XOM. I wrote this article myself, and it expresses my own opinions. I am not receiving compensation for it (other than from Seeking Alpha). I have no business relationship with any company whose stock is mentioned in this article.
Additional disclosure: I am an engineer, not a CFA. Please do your own research and contact your investment adviser. I am not responsible for investment decisions you make. Thanks for reading and good luck!