Coal miners nationwide are waving a big red flag signaling danger. The flag that is next in succession for certain companies, specifically James River Coal Company (JRCC), will be white signaling the company's surrender - or in this case, bankruptcy.
JRCC reported Q4 and FY 2012 earnings on Thursday, March 7 and missed on all accounts, citing a quarterly loss of $2.21 per share and FY loss of $3.99 per share. The full year loss was $138.9 million. The disappointing announcement came as no surprise - shares of JRCC, along with the broader coal market, have languished significantly for the past year. The question is whether or not they'll be able to turn around the downward spiral before the cash dries up. Patriot Coal (OTCQB:PCXCQ) became one of the first large coal names to lose the battle to the declining coal market. They declared bankruptcy earlier in 2012. It's my bet that we're getting closer to the white flag from JRCC.
Lack of Demand - Domestic and International
The downfall of coal can be quickly attributed to three key factors: more stringent domestic regulations, sharp fall in the price of energy alternatives (natural gas), and shrinking growth both at home and abroad. JRCC engages in the mining and production of both metallurgical and thermal coal, and the company cites that the former is seeing some signs of recovery while the latter continues to show weakness. Additionally, JRCC notes that Chinese demand is increasing quicker than that of India, and Brazil and Europe continue to lag.
Major Restructuring
JRCC has spent the last few months completely restructuring its business. While the steps that they have taken have been absolutely necessary, they're also quite a bit frightening. Additionally, I would argue that they're too late in this restructuring given their cash position and projected future losses.
The restructuring that began taking place in Q4 2012 will continue into Q1 2013 is primarily focused on idling production capacity and reducing the workforce. Essentially, they're shrinking, and they're doing it far too late. The precipitous decline in coal stocks - and the beginning of their impending doom - began in the summer of 2011. As coal demand began to wane (mostly due to the quick downward move in the price of natural gas), inventories began to build and the company's stock price began to shrink. Shares of JRCC fell hard, quick, losing half of their value in just twenty days. A year and a half later, the stock is still languishing, down 90% from the 2011 highs.
The major downsize in its business needed to happen much sooner for JRCC. Had they been proactive and timely in the shift, they'd be much better suited (and have much more cash on hand) to address continued slow demand.
The Death of Coal in General
Coal is going away, and it's going away fast. The most recent two year downturn in the price of coal might not be the energy source's final hurrah, but it most certainly is telling of what is to come. The demand for alternative energy sources is higher now than it has ever been (competition working against coal). The geo-political landscape has shifted and is becoming more liberal. Coal and the pollution that it produces do not mesh well with the increasingly liberal society we live in (society and politics working against coal). And finally, the growth that was once driven by coal has slowed quicker than forecast. China's manufacturing numbers are constantly being questioned. India's economic downturn and re-up have come quicker and more slowly, respectively, than anticipated (foreign demand waning).
Coal companies are searching for ways to hedge their risk during the coming years. The utilities are trying different blends of coal, as JRCC notes, and they'll continue to do so for several years. The uncertainty with coal as a product is unsettling to me as an investor and I worry for the industry's future.
How to Trade JRCC
As I noted in a previous article How To Profit With James River Coal Company, investors can still make money on any given coal stock, despite the terrifically negative industry outlook. I believe that the negative trend in JRCC will continue throughout the year and that will ultimately lead to the company declaring bankruptcy before year end. I'm still trading the stock, and will continue to do so.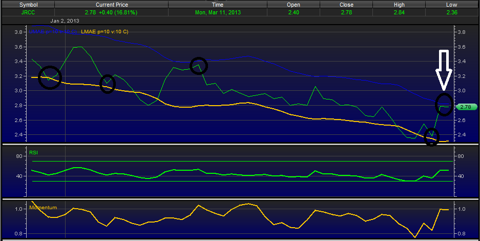 Click to enlarge
As noted in the previous article, JRCC tends to trade very tightly between the upper and lower band of its moving average envelope. If you analyze the most recent run-up in the stock during the past two trading sessions, you'll notice that the shares found a solid resistance level at $2.82, or the upper band of the moving average envelope. For a short-term investment, consider buying March $2.50 or March $3 puts for $.05 and $.35, respectively. Your risk is limited. In order to become profitable, you'll need the underlying stock price to fall to $2.45 or $2.65, respectively. I'm a buyer of the March $3 puts. The stock is poised to see a bounce off of its resistance level (on par with the movement it typically sees at these resistance/support levels), and by week's end if the stock is below $2.65, I'll realize a profit. My target $2.65 level is only 5% below Friday's close. Given the fact that the stock has risen 26.5% on the back of a poor earnings report and lack of forward forecast, a 5% correction will be easy to realize.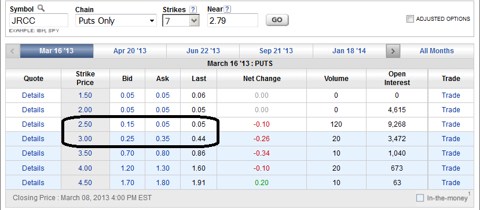 Click to enlarge
Disclosure: I have no positions in any stocks mentioned, but may initiate a short position in JRCC over the next 72 hours. I wrote this article myself, and it expresses my own opinions. I am not receiving compensation for it (other than from Seeking Alpha). I have no business relationship with any company whose stock is mentioned in this article.