Investors in both silver and gold mining stocks have taken it on the chin over the last six months. Both the Global X Silver Miners ETF (NYSEARCA:SIL) and the Market Vectors Gold Miners ETF (NYSEARCA:GDX) have vastly underperformed the overall market (See Chart). Falling precious metals prices, mining operating cost inflation, costly strikes and depressed sentiment have taken their toll on the stocks in these sectors. However, I have noticed recently that the miners are reacting very positively any time a company delivers the slightest piece of good news, reports results less bad than expected or has any hint of a catalyst. These could be signs that the sectors have either bottomed or are close to doing so. Let's take a look at two miners that are cheap and reacted strongly Tuesday to just a whiff of possible catalysts.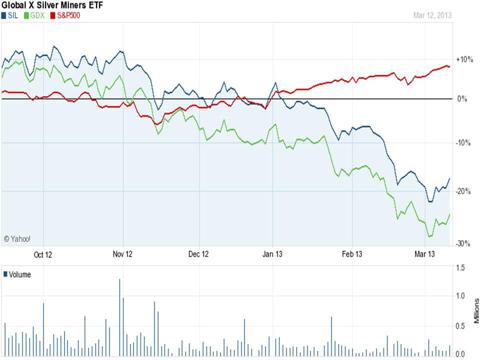 Endeavour Silver (NYSE:EXK) -
This Canadian based silver miner with properties in Chile in Mexico reported quarterly earnings Tuesday. Results showed earnings of 15 cents a share, a penny better than expected. Revenues were up 29% Y/Y. It also announced two contracts to expand production at its mines. The stock jumped more than 10% Tuesday off its recently depressed level.
4 reasons EXK has upside from under $7 a share:
The mean and median price target of the four analysts that cover the stock is right around $10 a share. This is approximately 50% above the stock's current price.
Revenues increased more than 60% in FY2012 and analysts expect better than 30% increases in FY2013.
The company has a solid balance sheet with net cash on the books. The recently announced contracts to expand production should have a significant positive impact on operating cash flow as well.
This was a $10 stock just last summer. It sells at a recent 12x forward earnings. Earnings estimates should also go up in the next few weeks to factor in the new production expansion contracts and the recently announced earnings report.
IAMGOLD (NYSE:IAG) -
This gold miner with five properties on three different continents rose some 7% Tuesday on much higher than usual volume. There were little news moving the shares although the company did announce last week that it planned to take $100mm of costs out of its operations.
4 reasons IAG looks underpriced at just over $7 a share:
The stock is cheap at less than 8x 2014's projected earnings and just 74% of book value.
IAG yields 3.8% and has quadrupled its payout over the past three years.
Analysts expect revenue growth in the 8% to 9% range for both FY2013 and FY2014. The 17 analysts that follow the stock have a median price target of $11 a share on IAG.
It has an expansion program in place to take its North American production from 3% of its overall total currently to over 35% by FY2017. The stock has been cut in half since summer and a strong case could be made it would make a solid LBO target.
Disclosure: I am long EXK. I wrote this article myself, and it expresses my own opinions. I am not receiving compensation for it (other than from Seeking Alpha). I have no business relationship with any company whose stock is mentioned in this article.