February's large rise in new home starts means good news for firm's The Home Depot (NYSE: WMT) and Lowe's (NYSE: LOW). Data from the MSSI observed on March 18, show that the average spending at both these retailers has risen as well.
At The Home Depot, Geezeo users spent an average of $147.00 in February, which was 21.71% more than January's figure. Spending at Lowe's increased by an even higher 23.08% in the month.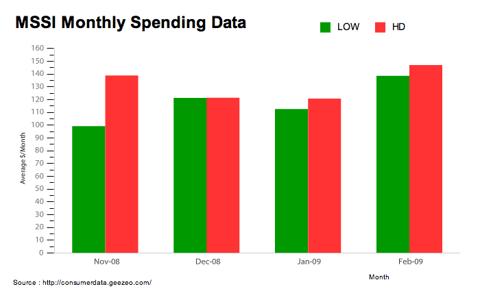 These facts do suggest that these two firms' revenues are highly correlated with home construction. The spending trends at Lowe's and The Home Depot indicate that Lowe's is actually seeing higher sales than their main competitor.
From November 2008, MSSI statistics show that average spending at Lowe's stores has increased by 38.18% and 23.08% from January 2008. Spending at The Home Depot has only increased by 8.65% overall from November '08, but are holding pace with spending rising 21.17% from January '08.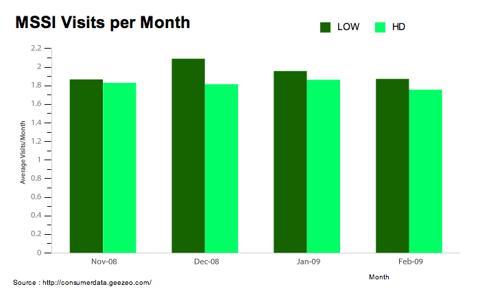 Year-on-year figures also indicates that Lowe's locations are seeing higher revenues, with spending rising 29.18% compared to only 16.83% at The Home Depot. Lowe's gains seem to stem from increasing their repeat customers, MSSI statistics show that visits per month have increased 18.16% since January '08, compared to an increase of only 0.63% over this same period at The Home Depot.
If these construction trends, which data so far this March appears to suggest at least similar levels at Lowe's, The Home Depot has some catching up to do.
This data was compiled by the Geezeo Main Street Spending Index (MSSI).