Xi Jinping coins it the "China dream" and he is making sure adequate steps are taken toward a new vision, shown in his recent visit to Shenzhen, a city that is symbolic for getting reforms started (Deng Xiaoping started it). On March 3 and 5, the National Committee of the Chinese People's Political Consultative Conference (CPPCC), China's political advisory body, and the National People's Congress, the parliament, separately convened their annual sessions for the first time since the CCP launched its new leadership last year. If all goes to plan, we are about to witness (slowly) the seeds of a paramount reform in the next few years, that is already sprouting; internationalizing and expanding China's financial markets and developing the domestic financial system to global standards.
As the world's second-largest economy, one must wonder how Chinese banks will influence the global financial landscape and how the economy moves from a manufacturing-led to an entrepreneurial/private market-led growth model, providing ample investment opportunities for the acquainted along the way.
Why reform?
In short to avoid the middle-income trap and move away from export reliance. The next 10 years are China's most critical years for reform in the last 30 years as social tensions are heating up (hukou system, increasing Gini coefficient). Especially so for the slow, not transparent, not-so developed financial system that begets future growth if it doesn't reform modestly; be it internationalizing the RMB, clearing up shadow banking, allowing citizens to more actively save and spend, use of credit cards, cleaning up bad debts etc. The next few years will uncover a lot of investment opportunities within the sector. The reasons are manifold:
China is the 2nd-largest economy in the world, but has a still fairly closed capital account (over $21 trillion banking assets).
Fiscal system reform is prerequisite to other reforms and a capital bloodline for the omnipresent "indigenous innovation" strategy.
China is cash rich, needs to deploy investments ($3.3 trillion currency reserve could buy world's gold twice).
Regulating shadow banking and more transparency as consumer banking takes off. Wide spread non-performing loans (NPLs) and lack of transparent interbank money market.
The State's hand is still ubiquitous - not letting banks fail has a stabilizng effect but more commercial-based decision making is necessary. Bank of China (PBOC) strongly regulates interest rates, comparable to a typical financial repression format.
As with SOEs, more privatization is needed in the financial sector to stimulate competition. Where are the foreign lenders?
Few banks hold all the power, monopoly situation in the commercial banking sphere. Strong need for rate competition.
Too low interest rates cause capital misallocation within investments and constitute a hidden tax on household savings.
Only one interbank network and domestic bank card organization, China UnionPay, which is quite different from Visa and Mastercard, thus making it troublesome for Chinese when abroad.
Need to internationalize the China futures market more by allowing increased foreign presence (growing the Qualified Foreign Institutional Investor QFII schemes).
China's financial landscape is unique in many ways and its sheer size and potential velocity massive. Banking system assets are slowly catching up to and encircling U.S. ones, in spite of it being a largely closed system. Foreign investors are entitled to participate more and more in the domestic markets but these amounts are puny. An individual foreign investor is allowed to hold a stake of up to 10% in any listed firm in China's yuan-denominated A-share market, while the ceiling on combined stakeholders by all foreign investors is at 30%, the China Securities Regulatory Commission (CSRC) said.
Chinese banks are making inroads into other countries and are setting up investment funds (China-Africa Development Fund by China Development Bank - one of the three policy banks); their competitiveness and hunger for foreign assets are growing steadily.
Liberalizing and internationalizing
An important figure to watch other than the official reform rhetoric - where measures are implemented at a snail's pace - is Guo Shuqing, the head of CSRC. According to him, foreign investors own only 1.5% in Chinese shares and this amount could well be multiplied by the next few years. In addition, the RMB is still nascent as a payment currency - although it doubled in a year to $6 billion - but is making strides as it recently overtook the Russian ruble to become the 13th-most traded currency on the global block. Mr. Shuqing also made remarks on raising the quota of offshore yuan allowed to be invested in domestic capital markets by 200 billion yuan soon.
Other than important political figures, the real drive lies within the major banking institutions. The PBOC is one of the key players in making changes to the financial landscape, a catalyst for reforms and part of the Big Four in the country; the others being China Construction Bank (CCB), Industrial and Commercial Bank of China (ICBC) and Agricultural Bank of China (ABC). What is interesting to note is not only are they all mainly state-owned, they are expanding and starting to compete with the private behemoths abroad.
ICBC is the world's largest bank by market cap, is the most profitable and about 70% state-owned. It plans to increase profits coming from abroad to 10% from the current 4%. In February it has been assigned as the clearing bank for yuan-denominated bonds in Singapore.
PBOC and Bank of England have a three-year currency swap in place, fostering London's position as an offshore renminbi hub.
ABC has the biggest network in smaller cities and rural areas.
One-sided system: the Big Four account for 45% of total financial assets, close to 60% of all household deposits, and roughly 50% of the total equity capital in the financial system.
Foreign presence is still nascent. The Qualified Foreign Institutional Investor Program (QFII) and Renminbi Qualified Foreign Institutional Investors Program (RQFII) reforms are at present just small doors to the opening and internationalization of the closed capital system. Their scale is bound to expand rapidly.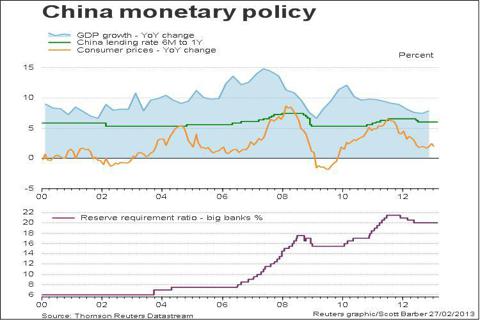 The last 12 months have produced the most important package of interest rate, currency and capital market reforms since the landmark July 2005 break of the yuan's peg to the dollar began, amid or due to all this Party change. The key is steady growth and stable capital markets for the future; steady lending rates and reserve requirements, contained consumer prices and GDP growth (see chart). Moves to and acquisitions abroad are key to increasing Chinese banks' competitiveness, hence recent takeovers in the U.S. and EU. In 2012 the Fed approved ICBC takeover of Bank of East Asia (small $140M transaction). Bank of China and Agricultural Bank of China opened branches in NYC and Chicago among other banks expanding.
Investment opportunities
The renminbi is a good place to start. It strengthened 21% from July 2005 to July 2008 and continued to advance another 10% after 2010. RQFII has expanded rapidly since its December 2011 inception. A total of 27 offshore units had been awarded 70 billion yuan ($11.2 billion) of quota to invest, according to the CSRC statement. Of that amount, 27 billion yuan had been invested in bonds, and 43 billion yuan in ETFs. As more yuan-based products will be rolled out, investors can capture gains with products trading on U.S. markets such as WisdomTree Chinese Yuan Fund (NYSEARCA:CYB), Market Vectors-Chinese Renminbi (NYSEARCA:CNY) and CurrencyShares Chinese Renminbi Trust (NYSEARCA:FXCH). In my article about the RMB bloc, I explained how China is slowly on path to make the currency fully convertible between 2015-2020 and what advantages are presented for foreign companies.
Looking at the banks, one can argue that the Big Four are set to strengthen further. A recent article in Barrons sums up investment opportunities in three Chinese banks: Bank of China (PBOC), Agricultural Bank of China and China Minsheng Bank (CMB). By creating a chart in Datastream, we can see a price comparison between the Big Four and CMB, showing the stark difference between stable, state managed banks and a smaller private banks skyrocketing.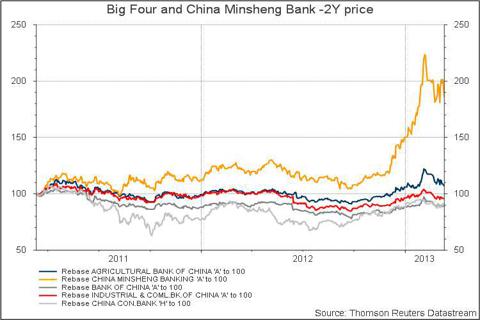 Running a Starmine screen to get a broader picture on some promising Chinese banks shows future prospects filtered by gross margin, total assets, projected EPS surprise and F12M growth:

Ranking the banks by market cap, we can see the Big Four dominating the landscape. Based on the multiple company-relevant measure Analyst Revision Model (ARM) - which takes EPS, EBITDA, Revenue and top analyst recommendations into consideration, except financials where EBITDA is not in the model - Bank of Ningbo, Founder Securities, China Minsheng Bank and China Construction Bank are all above the 85/100 score, meaning that based on aggregate analyst estimates they are considered to go up in price and a buy. The strongest out of the Big Four based on the ARM are CCB and ICBC and ABC is set to grow the most (12%) due to the large rural presence (where bank deposit rates are increasing). Looking at F12M growth, Founder Securities (155%) and Bank of Ningbo (35%) are the two strongest, with China Minsheng Bank trailing at 14%.
China Construction Bank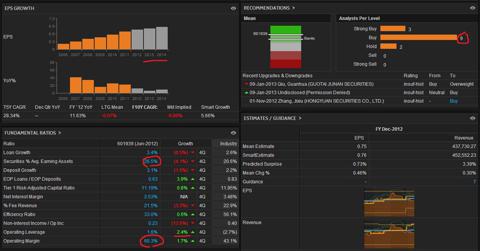 ICBC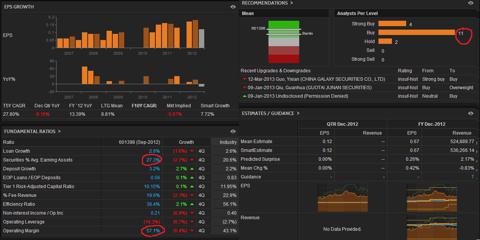 (Source: Thomson Reuters Eikon 3/13/13 data)
Both CCB and ICBC are quite strong in securities % earnings and operating margin. The only caution is the unavailability of all data on what the revenue streams are for business segments. Both banks are rated BUY according to analysts. Taking reform rhetoric with a grain of salt, these banks are not going out of business anytime soon and are set to expand globally.
Turning to the smaller but faster growth areas and drilling down further into more commercial banking prospects we can see that:
Founder Securities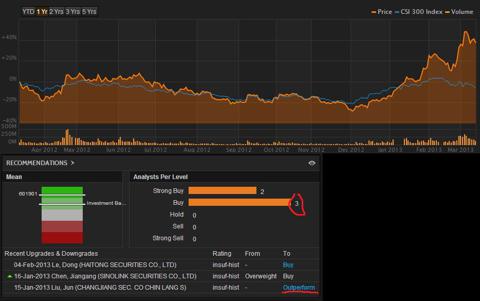 This company is mainly a securities brokerage and financial advisory firm. 75% of its revenues come from security brokerage, 18% HQ & other, 10% from investment banking and 9% from commodity future brokerage, which is becoming big in China. Its share price has started to climb recently and it has favorable ratings.
China Minsheng Bank
(Source: Thomson Reuters Eikon 3/13/13 data)
CMB is the country's 7th-largest bank founded in 2000. It is engaged in corporate, institutional and personal banking and recently set up a subsidiary in Hong Kong to further international ambitions. It has a growing deposit ratio as its revenues comprise 28% from personal banking. Its 2012 net profit was up 34.5% to $6.04B. Also, its EPS has a close to 6% positive predicted surprise, signaling a growing prediction in EPS for 2013. According to analyst CMB is one of the strongest buy recommendations among smaller commercial banks.
Bank of Ningbo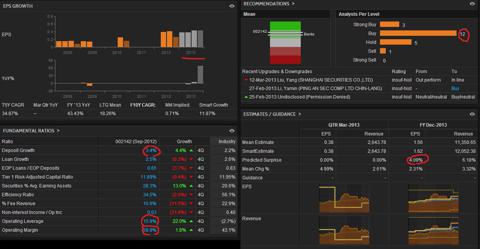 (Source: Thomson Reuters Eikon 3/13/13 data)
The bank shows strong operating leverage growth (22%) and high operating margins (close to 60%). Deposits are projected to grow, signaling the growing confidence and importance of commercial banks serving the public. The Party is keen to let banks diversify revenues away from strictly interest rates and lending, thus experimenting with fund management arms has started taking shape. Bank of Ningbo is reported to be among this new pilot scheme.
There are the naysayers who think China's financial markets are opaque and may be government fuelled (real estate bubble, high loan levels, stock market current lows..Etc.). Fears of NPLs after massive government lending in recent years still linger in the air. Some fear that banks' profitability will drop due to diversified funding channels going forward, where the economy will rely less on bank loans.
However, growth signs are set to be rampant as the domestic bond market explodes, gains traction abroad with RMB dim-sum bonds, QFII schemes open up more foreign exposure to the domestic A-share market and Chinese banks acquire more foreign assets. As we move into 2013, the government is slowly testing the impact of more foreign capital on its capital markets; these current investment quotas and ceilings can be lifted by much in the near future. Aside from joint fund management arms with foreign banks, more and more local Chinese banks are allowed to set up funds of their own, signaling a developing landscape that is relevant outside of commercial banking as well.
Staying cautious and keeping an eye on reforms within the financial industry in China is the way forward.
Disclosure: I have no positions in any stocks mentioned, and no plans to initiate any positions within the next 72 hours. I wrote this article myself, and it expresses my own opinions. I am not receiving compensation for it (other than from Seeking Alpha). I have no business relationship with any company whose stock is mentioned in this article.