By John Spence & Tom Lydon
U.S. stocks as measured by the Dow Jones Industrial Average are trading at all-time highs despite a 5% decline the past month in copper prices, which are seen as a leading indicator for the global economy.
Now technical analysts are eyeing a bearish pattern in copper ETFs that could foreshadow further declines.
Some investors say copper isn't the reliable leading indicator it once was for the global economy, but copper ETFs falling below a key support line has triggered worries about the stock rally.
"Copper is frequently looked upon as an economic leading global indicator. Its track record isn't flawless, yet major moves is copper often correlate with major moves in the stock market," according to Kimble Charting Solutions.
Copper prices are also seen as a gauge for the health of the Chinese economy as the country is a big consumer of the commodity. Investors are worried about a potential slowdown in China, the world's second-largest economy.
"Copper prices have been in retreat for four of the past five weeks, amid concerns that global demand for the metal was slowing just as copper mines around the world were ramping up their production," Dow Jones Newswires reports.
The iPath Dow Jones-UBS Copper ETN (NYSEARCA:JJC) is down over 5% the past month.
The stock market rally and economy are missing what historically has been a key element - a house call from "Dr. Copper," writes Jeff Cox at CNBC.com.
"The industrial metal has earned its nickname for being a reliable barometer on growth and, in turn, a sign to investors that it's safe to buy the types of industrial stocks normally associated with a robust market," Cox notes.
Copper's recent decline suggests "either the market rally and hopes for future growth may be too high, or that the 'doctor' may be guilty of malpractice."
From a technical perspective, Barclays analysts forecast copper may see additional weakness after breaking through so-called triangle support, Bloomberg News reported Wednesday.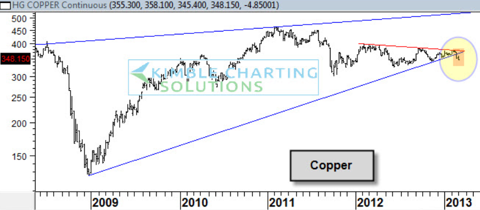 Click to enlarge
Disclosure: I have no positions in any stocks mentioned, and no plans to initiate any positions within the next 72 hours. I wrote this article myself, and it expresses my own opinions. I am not receiving compensation for it. I have no business relationship with any company whose stock is mentioned in this article.