Today, the Federal Reserve Bank of Chicago updated its weekly National Financial Conditions Index (NCFI), which fell to -0.76 for the week ending last Friday, March 8. That's the lowest index reading since the first week of June 2007, more than six years ago (see chart below).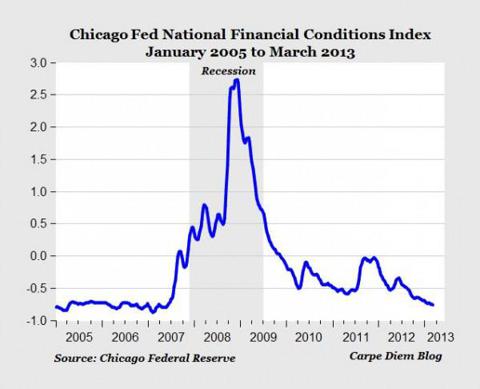 The Chicago Fed National Financial Conditions Index is a composite index measure based on 105 individual financial indicators consisting of 47 weekly, 29 monthly, and 24 quarterly variables. The NCFI and has proven to be a highly predictive and robust indicator of financial stress at leading horizons of up to one year. Empirical analysis indicates that the NFCI is 95% accurate in identifying historical crises contemporaneously. Increasing risk, tighter credit conditions, and declining leverage are consistent with tightening financial conditions and are associated with positive values for the NFCI, while negative values indicate the opposite.
The NFCI has been trending downward for the last four years since early 2009, and has been negative for more than three years. The NFCI has been below -0.70 for the last 10 weeks starting the first week of January, which indicates that stress in the U.S. financial markets is at the lowest level since June 2007.
As I reported last Saturday, the monthly Kansas City Fed's Financial Stress Index, like the NCFI, also fell to its lowest level since June 2007 for the most recent index reading in February. The weekly St. Louis Fed Stress Index, which gets updated tomorrow, has fallen in recent months to levels that are the lowest since July 2007. The CBOE Volatility Index (VIX) fell this week to levels last seen in April 2007.
Bottom Line: Based on four different empirical measures, it's now becoming increasingly clear that the fear, stress, and volatility that plagued the economy and markets in 2008-09 have gradually subsided from their historical peaks, to the point that we've finally returned to pre-recession levels of mid-2007. One of the reasons that the stock market (DJIA) has reached record highs in the last week, surpassing the previous 2007 highs, is because of the gradual decline in financial stress and volatility that have returned to 2007 levels.