Owning stock in Ford Motor Company (NYSE:F) has been a bit of a rollercoaster ride the last few months. After registering a +28.8% gain between December 17 and January 15, the stock promptly experienced a -15.2% correction. That slide hit a low of $12.13 on February 25, but Ford reversed once again, gaining 10.4% from that point through close on Tuesday at a price of $13.39.
With such price volatility, it should come as no surprise that analysts and financial writers alike are disseminating a mixed-bag of recommendations on Ford's stock at the moment. There are arguments for a developing down-trend, but I respectfully disagree with the Ford bears. In my view, the following analysis indicates several reasons to remain bullish on Ford, even after this latest +10% run.
Fundamental Analysis
Profitability: Ford's gross margin is slightly below its peers average of 16.66% at 13.82%, but the company appears to operate a bit more leanly than the others, as its net margin is just shy of the its peers' 4.5% average at 4.22%.
Valuation: Ford currently has a trailing P/E of 9.4, in-line with its peers' average of 9.2. The forward P/E is also 9.4, which represents an attractive discount compared to a peer average of 14.1. Ford's PEG ratio is 0.8, indicating the stock is undervalued in respect to expected earnings growth. Ford's Price/Sales and Price/CF, at 0.4 and 6.4 respectively, are also better than its peers' average ratios of 0.6 and 7.1. Ford's P/E figures are also well below the S&P 500 averages:
| | | | |
| --- | --- | --- | --- |
|   | TTM P/E | Forward P/E | PEG |
| Ford | 9.4 | 9.4 | 0.8 |
| Ford Peers | 9.2 | 14.1 | 0.8 |
| S&P 500 | 17.1 | 16.6 | 5.2 |
Management Effectiveness: Ford's management has returned an acceptable 3.07% ROA, compared to a peer average of 3.41%. The firm's ROE, however, is an exceptional 36.58%, more than tripling its peers' average of 11.48%.
Analyst Estimated Upside: Using 16 analyst-published 12-month price targets, we find a mean target $15.10, with a low target of $11.00 and high target of $20.00. The mean target estimate represents an further upside of 12.8% based on Tuesday's close.
Dividend: At its current price of $13.39 per share, Ford's annual dividend of $.40 is yielding a respectable 2.99%. The dividend end was recently doubled, previously paying $.20 annually. This can generally be interpreted as a signal from management that they are increasingly confident in the firm's earnings and cash flow going forward. Current cash flows and earnings are indeed sufficient to support the higher dividend, at least in the near-term, whatever management's motivation was. Ford's per share data is outlined in the following table.
| | |
| --- | --- |
| Revenue per share (TTM) | $33.45 |
| EPS | $1.42 |
| Book Value per share (MRQ) | $4.04 |
| Tangible BV per share (MRQ) | $4.02 |
| Cash per share (MRQ) | $3.97 |
| Cash Flow per share | $2.04 |
| Indicated Annual Dividend | $0.40 |
TTM = Trailing Twelve Months
MRQ = Most Recent Quarter
Technical Analysis
I see several bullish signals in the one-year daily price chart: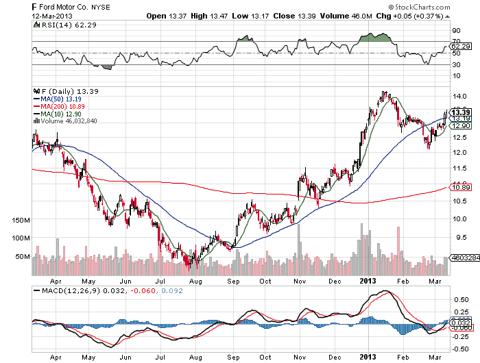 Bullish Cross of Moving Averages: For the last two trading sessions Ford has closed above all three of its more commonly used moving averages; the short-term 10-day MA (green line), the medium-term 50-day MA (blue line) and the long-term 200-day MA 9(red line). The price had briefly traded below the 50-day MA recently, but has now reversed to the positive side of the average. This can be seen as bullish a signal.
Rising Moving Averages: All three moving averages mentioned previously have been rising over the past few trading sessions; a bullish trend.
Bullish MACD Cross: The indicator (black line) has crossed above the MA (red line) and is simultaneously crossing above 0; a bullish signal.
Moderate Relative Strength: The current RSI of 62.29 indicates that the stock is neither overbought, nor oversold; a neutral signal.
Price Gains Supported by Strong Volumes: On Monday, Ford's stock price rose $.36 (+2.8%) with 48.6 M shares traded. Tuesday provided an additional gain of $.05 (+0.37%) with 46.0 M shares traded. Ford's 10-day average volume is just 35.5 M shares. Price movements are considered to have more market conviction when accompanied by higher trading volumes and Monday and Tuesday's volumes were 37% and 30% higher than the average day, respectively.
Cup & Handle Formation: The chart above displays a fairly recognizable example of the classic 'cup and handle' formation. This is normally considered a strong bullish indicator; the stock being expected break-out to the upside after the formation of the 'handle'.
Finally, it is worth mentioning that over the last three months Ford has outperformed the S&P 500 index: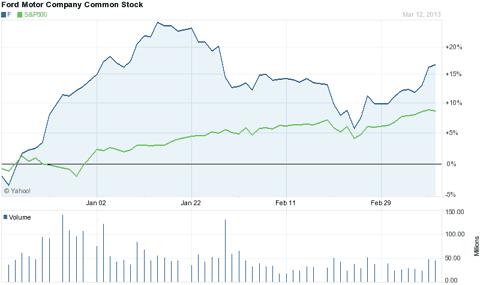 Ford in the Broader U.S. Stock Market
With financial TV analysts trumpeting an impending market correction of 5% to 15%, its worth mentioning that Ford will not be immune to a broad market downturn in any way. There is some reason to moderate concern over a potential market correction however. Based on analysis of price changes year-to-date, recent Ford and S&P 500 movements have a moderately negative correlation of -0.473. If this correlation trend continues, smaller market corrections could potentially result in an inverse reaction in Ford's stock.
Recent News
In a March 1 press release, Ford announced its "best February in six years". February U.S. sales were up 9% year-over-year. The Fusion and Escape models both set February sales records, growing 28% and 59% respectively. The F-series truck continued its 36 year reign as the best -selling pickup in America, gaining 15%. Ford also announced it intends to increase 2013 Q2 production 9% to 800,000 vehicles.
What to Look For
With indications that the U.S. new home construction market may be beginning to improve, Ford may be in a position to indirectly benefit from the potential turnaround through increased F-series truck sales to contractors and homebuilders.
Conclusion
There may very well be further short-term volatility in the price of Ford's stock going forward. Traders, enter at your own risk. The investor, however, can and should still consider Ford a 'Buy' at this price level and point in time. I consider the mean 12-month target price estimate of 15.10 to be realistic. This potential price upside, coupled with the solid dividend yield, reasonable current valuation and bullish technical signals should be enough for the medium to long-term investor feel comfortable and justified in adding to a long position, or perhaps, opening a new one.
Disclosure: I am long F. I wrote this article myself, and it expresses my own opinions. I am not receiving compensation for it (other than from Seeking Alpha). I have no business relationship with any company whose stock is mentioned in this article.