Founded in Milwaukee, Wisconsin, during the first decade of the 20th century, Harley Davidson (NYSE:HOG) was one of two major American motorcycle manufacturers to survive the Great Depression, making it a term synonymous with "America," and one of the best recognizable and proprietary brands in the United States. With the recent reveal of the New Harley Davidson Breakout Model, excitement filled the air on a sunny afternoon in Daytona Beach, but getting there was no easy road. Since a yearly low of $37.84 in August of 2012, Harley's stock has come back to register a gain of 44.7% over the last seven months. After an impressive increase, investors looking for their daily dose of pessimism will not find it in this stock, and should find comfort in the numbers reported in Harley's most recent 10-K.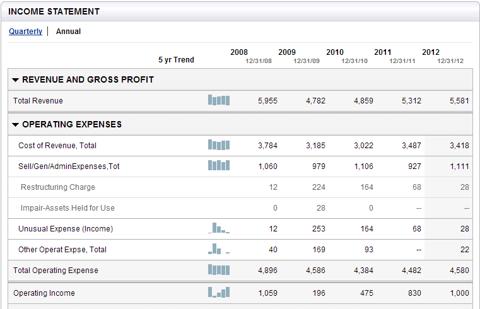 Click to enlarge
Along with the rising stock price, Harley was able to increase total revenue to $5.58 billion - up from 2011's total revenue of $5.311 billion, and increased net income from $599 million in 2011, to $624 million in 2012. This 4% increase led to a respectable P/E ratio of 20.19x. In January, 2013, the board authorized the repurchase of 14.5 million additional shares, 6% of the 226.25 million currently outstanding.
Analysis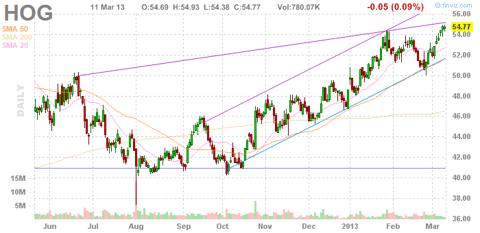 Click to enlarge
The 50-day moving average, as well as the 200-day moving average are both rising - indicating a bullish signal. Although chart pattern supports a possible trend reversal and the Moving Average Convergence Divergence [MACD] is indicating a sell signal, most technical analysis points to HOG sustaining its upward trend. Just recently it was announced that the dividend would be increased from $0.155 to $0.21 per share. This represents a 35.48% increase. With the current bull-market reaching its all-time high and the monetary base of the US increasing at a rate never before seen, consumers have built up savings, as indicated by the World Bank. This increased in savings may prescribe more future purchases from Harley fans.

Click to enlarge
The Charts above are ones that I have made in my own valuation analysis. As represented by the charts, management continues to increase revenue that has almost reached pre-recession levels, and has shown a respectable profit margin in recent years. Although there was a slight drop in total assets in 2012, it should be noted that total liabilities decreased further, thus giving the better debt-to-assets ratio. With a gross margin of 36.77% and net profit margin of 11.18%, Harley Davidson ranked in the 90th percentile in the recreational products industry.
Additionally, In a new report by the Motorcycle industry council (pdf), it was announced that HOG has a leading U.S. market share in retail unit registrations of new heavyweight motorcycles. According to data from the MIC, Harley-Davidson brand bikes represented 55.7% of the approximately 271,018 new heavyweight registrations in 2011, compared to 54.9% in 2010, and 53.2% in 2009. The average buyer: 35 year old males with an annual household income of about $85,000. Although not completely ubiquitous, Harley recently opened its first dealership in the Philippines, and has also seen increased sales in multiple countries around the globe. The highest growth came in Latin America (up 39.2%) and the Middle East and Africa (up 19.9%). With total U.S. sales accounting for approximately 64.8% of total sales, growth prospects from the rest of the world will only continue to grow and should attract investors looking for an expanding company.
Furthermore, Thomson Reuters, Standard & Poor's, Second Opinion and Smart Consensus all recommend a long position on HOG. Trefis, the widely recognized valuation guru, estimates that Harley Davidson is currently under-valued by 4.89% compared with its current market value. The company's strengths can be seen in multiple areas, such as its impressive record of earnings per share growth, notable return on equity, expanding profit margins, good cash flow from operations and solid stock price performance.
Conclusion
CEO and Chairman, Keith E. Wandell, continues to be one of the finest leaders in the recreational product industry, and continues to grow "America's Company," into a globally recognized trademark - making it a very appealing stock to watch for any investor. Through constant innovation and development, Harley Davidson shows auspicious signs of future growth, operational excellence and smooth ridin' for years to come.
Disclosure: I have no positions in any stocks mentioned, but may initiate a long position in HOG over the next 72 hours. I wrote this article myself, and it expresses my own opinions. I am not receiving compensation for it (other than from Seeking Alpha). I have no business relationship with any company whose stock is mentioned in this article.