With the Dow having reached an all time high, my target population of stocks to buy has diminished. At this point in the market rally, I typically am looking for stocks that I think have outrun their valuation. The contrarian in me, however, has been looking at some small-cap stocks that have, for the most part, not participated in the rally to date. With the Dow and S&P 500 stocks up so significantly, I think a rotation will take place into those small cap stocks that are still fairly valued from a price to earnings metric and expected to exhibit revenue growth. They also need to operate in industries where long term trends should lead to revenue growth even if the broader market and the economy take a breather.
A stock I have followed for a long time that I feel is ready to see its stock finally break out is Dynamic Materials (NASDAQ:BOOM). Fittingly the stock symbol for this company is BOOM, which is what I believe the stock price could be prepared to do in the extremely near future. The company operates in segments of the economy, namely oil and gas exploration that are showing no signs of slowing down.
Business Segments and Outlooks
The company has organized into 3 operating segments. Explosive Metalworking is currently the largest of the 3 segments contributing about 57% of revenues in FY 2012. Here, the company has developed a unique process to serve end markets that need precision welding and cladding services. To provide this product, they use explosive charges to weld together certain metals or alloys. These types of metals could not otherwise be welded together with the precision needed for their end use. The various fields where this technology can be used range from oil and gas, alternative energy, chemical and petrochemical, hydrometallurgy, aluminum production, shipbuilding, power generation, and others. These are all industries where significant dollars continue to be invested especially with what is happening domestically in the United States with the oil and gas exploration.
Oilfield Products is the other significant segment in which the company operates contributing 38% of revenues in FY 2012. This is the segment which most excited me about the company in terms of the growth opportunities as well as the profitability of this segment. The Explosive Metalworking segment will always be subject to swings by larger orders and timing of project deliveries impacting the consistency of revenue growth. Oilfield Products is a much more consistent segment as far as their revenues are concerned. This segment produces the detonators / explosive charges that are associated with oil and gas exploration. The company sells oilfield service companies in the U.S. as well as globally (i.e, Haliburton). As worldwide demand for oil and gas increases, the demand for perforating products offered by Dynamic Materials will also increase.
AMK Welding is the smallest segment the company operates in at only about 11% of revenue. While it is small in relative size, it is complementary to the other two segments to an extent and also produces positive cash flow. This segment focuses on power turbines as well as commercial aircraft.
Financial Results
The table below shows the financial results of the company going back to 2007. The stock performance prior to the market collapse saw a high of over $60 a share in 2007. At the market bottom in 2009, the company traded for about $9 a share and through the market recovery has reached back as high as almost $28 a share in 2011. Today the stock trades at a little less than $18 a share or about 35% less than the peak it has seen since the recovery began.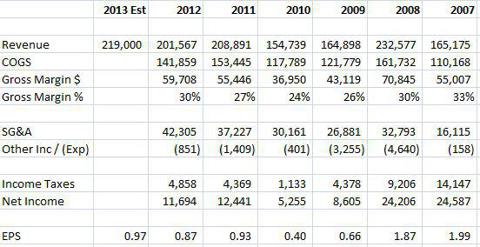 The 2013 Estimate is the consensus of the analysts who cover the stock. The financial table above illustrates a few key points. First the company can generate substantial earnings on relatively low revenue. This can be shown in the companies results from 2007 when EPS was double what it was in 2012 on only 80% of the revenues.
What I like about the company is that they have continued to invest in both their organic business and through acquisitions all throughout the downturn. The SG&A expense has grown significantly from 2007 to 2012 being that it is up from $16M to about $42M. However, of that $26M increase, $9M is from an increase in depreciation and amortization related to acquisitions and capital expenditures. An additional $3M relates to increased stock option compensation. So of the $26M increase $12M is non-cash expenses from acquisition amortization and additional stock compensation mainly associated with those same acquisitions. This is a key part of the thesis because the company was able to generate $34M in EBITDA in 2012. So with a market cap today of $236M this is a stock that is trading at 7x trailing EBIDTA. The company has $100M of current assets and $60M of current liabilities (of which $36M is a line of credit). From a liquidity standpoint, they are in superb shape with their working capital position and no long term debt. The company does not hoard cash and does pay a small dividend that yields 1% at the current stock price. The company has shown they choose to invest in the business instead of hoarding or paying a hefty dividend.
Future Outlook
The most exciting catalyst for the company is that, in the future, their growth will be coming from their higher margin operating segment. As I noted earlier the bulk of the company's revenue currently comes from the Explosion Metalworking segment. However, in 2012 that segment saw a YoY decline in revenue. The Oilfield Services segment grew close to 10% in 2012 YoY. The company has noted they anticipate continuing to see the Oilfield Services segment see particularly strong growth. This is important because of the Gross Margin they generate in this segment. As the CFO discussed on the Q4 Conference call the gross margins for this segment were 38%, whereas the Gross Margin for the Explosive Metalworking segment was 26%. So clearly having your higher margin business segment be the company's growth engine is a strong point for the business. With the world continually to seek out new forms of energy, the services provided by Dynamic Materials will continue to find additional end market users.
Summary
Dynamic Materials currently trades at 7x EBIDTA and about 17x forward earnings. This is a company that can experience large swings in revenue growth due to the nature of their Explosion Metalworking segment. This is because the projects they have in the pipeline can take up to a year to turn into revenue. As the income CEO alluded to on the latest earnings call with regards to the current market and additional growth opportunities
I think it is holding its own, but we've got some near-term projects that could really change it dramatically
I believe this company can materially exceed the growth expectations that the market is currently anticipating. For that reason, this company should be purchased for a small cap stock that will outperform the broader market as it is currently flying under the radar. I think this company is also a potential M&A candidate for a company like Haliburton (NYSE:HAL) or some of the other leading players in that field. These companies are already customers of Dynamic Materials and easily could just decide to take them over to streamline their own operations. For what it is worth, the average analyst price opinion is $24 with a high target of $29.
Disclosure: I have no positions in any stocks mentioned, but may initiate a long position in BOOM over the next 72 hours. I wrote this article myself, and it expresses my own opinions. I am not receiving compensation for it (other than from Seeking Alpha). I have no business relationship with any company whose stock is mentioned in this article.