As someone who covers a lot of short ideas on this site, one of the most important items I follow is short interest data. One must always be aware of the short interest in a stock. A large short base could spark a short squeeze on good news, while low short interest could spark a huge drop on bad news. Every couple of weeks, we get an update from Nasdaq on short interest data, and I report on what I am seeing. Today, I'm here to discuss the end of February data, and here are five names that have seen significant short covering recently.
Herbalife (NYSE:HLF):
You may remember Herbalife from my last update, and the number of shares short continues to decrease. At the end of February, the company announced it would add two representatives to its board, allowing Carl Icahn to name the two reps. This sent shares higher, and might not fully be reflected in the 1.17 million shares covered during the second half of February. I would look for the next number to be the true tell, and don't forget, Icahn has added to his position since then. At this point, I'm guessing that the short count will decline again when we get the mid-March data.
We haven't seen any large scale short covering in any single update, but the number of shares short has declined four updates in a row. Since the high of 37.3 million shares short at the end of 2012, nearly 4.9 million have been covered, roughly 13%. Again, no individual update has seen a huge decline, but the declines are starting to add up. The number of shares short is at its lowest point since the middle of December 2012. We could get a significant drop at the next update thanks to the board news and rise in Icahn's position.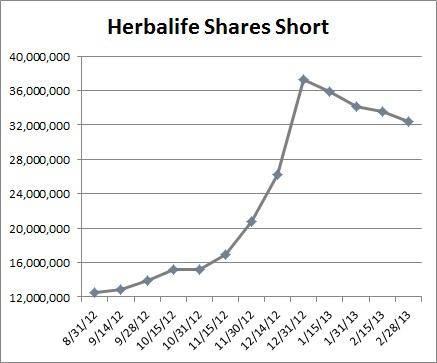 VMware (NYSE:VMW):
Like Herbalife, VMware was on the last update for huge short covering. I mentioned in the last report that the company reported a mixed result at the end of January, but issued bad guidance. Shares fell more than 21% on the news. Short interest in VMware had spiked, but since the bad report, shorts have taken their profits, and in quite a substantial way.
At the end of January, over 12.5 million shares were short for VMware, a staggering rise from the 2.1 million short in April 2012. During the first half of February, roughly 4.25 million shares short were covered, and another 1.45 million were covered in the second half of the month. For the month overall, 5.7 million shares were covered, representing more than 45% of the January high. The number of shares short in this name is at its lowest point since the end of September. Sometimes, the shorts win, and VMware is certainly a name where that happened. With the stock at $75, just a few points off the recent low and down 20% year to date, I would not be surprised if we see even more covering over the next couple of updates.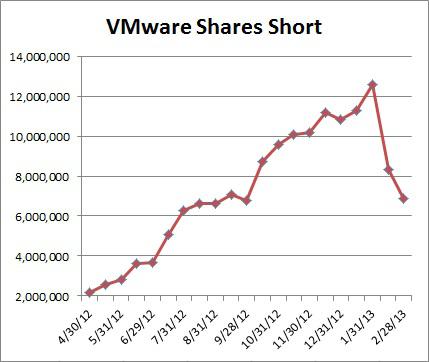 Groupon (NASDAQ:GRPN):
The daily deals site, which has seen its stock price hammered since going public, is turning the corner in terms of short interest. During the second half of February, 4.4 million shares were covered, marking a total of 9.2 million covered during the month. At 27.5 million, the short share count is well below the 46.2 million number from late November 2012 and 55 million high in July 2012. Yes, half of the shorts in Groupon have gone away.
This might not be the end of short covering either. On the last day of February, Groupon fired CEO Andrew Mason, and that's not reflected in the short interest data I mentioned above. Since the firing, Groupon shares have rallied from $4.53 to $5.25, likely due to short covering. As bad as this name was doing, shares have doubled since their $2.60 52-week low. A CEO change was desperately needed. With Mason out, I wouldn't be surprised to see this name on the list again next time around. Groupon's shares short count is already at an 8-month low, but the recent news might send it even lower.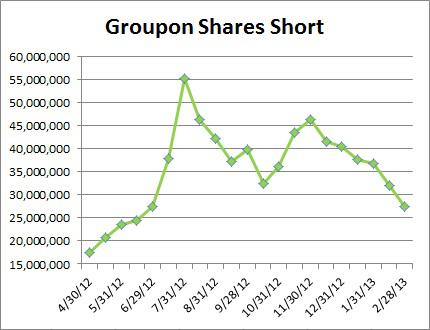 Regeneron Pharmaceuticals (NASDAQ:REGN):
Regeneron is not a name I've really written about much, but it's a name I've traded in and out of a couple of times. The biotech firm is mostly know for Eylea, an eye treatment for wet age-related macular degeneration. Regeneron has been one of the market's biggest winners in recent times, rising from $40 to $172 over the past two years. Regeneron isn't the first biotech that comes to investors' minds, but this company has a market cap of nearly $17 billion and is expected to do almost $2 billion in revenues this year.
A lot of smaller biotechs (which Regeneron used to be) will have many non-believers, as there are plenty of people willing to bet that a company's products/drugs may not be successful. Dendreon (NASDAQ:DNDN) comes to mind when you think of battleground biotech stocks, and over the past six months, Regeneron shares have bounced around.
Only about 40,000, or just 1% of the shares short, were covered in the second half of February, so why does this name make the list? Well, it's because we have now seen six straight declines in short interest. Since the end of November, almost 1.65 million shares have been covered, nearly 30% of the late November high. The current number of shares short is at its lowest point over the last year. The number of shares short has been less than 4 million in the past two updates, the only two times in the past year we've been under 4.25 million. Regeneron makes the list not because of a single update drop in short interest, but because of a continued decline that is extremely significant over time.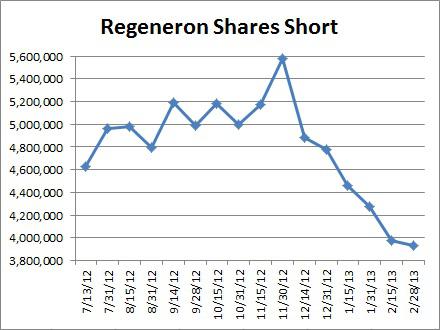 Hewlett Packard (NYSE:HPQ):
The struggling computer maker has seen its number of shares short drop dramatically over the past couple of months. You would figure that would be the case, with a stock that's rallied 88.5% from its 52-week low. Tuesday's close of $21.40 is the highest close in the stock since early June 2012. With that in mind, you can figure the number of shares short would decrease. They have.
Shares have rocketed higher after the company's Q1 results beat and guidance was above expectations. Many people had left this company for dead, so the pleasant results boosted shares. That led to a bit of short covering, with over 10 million shares covered in the second half of February, and 16 million total for the month. Almost 42 million shares short, roughly 40% of the total, have been covered since the late November high. The company hit the $11.35 low on November 20th. With the huge short covering in recent months, the number of shares short is at its lowest point since the middle of August. Shares are up 7% so far this month, so it's not out of the question to expect another decline in short interest when we get the next set of data.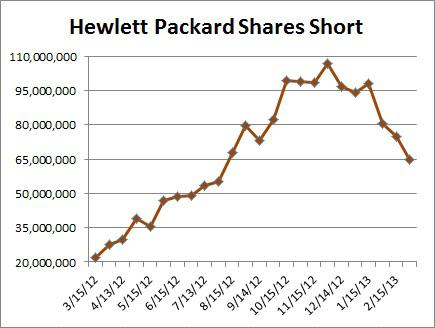 Final Thoughts:
All five of these names have seen significant drops in short interest, either over the past update or the past few updates. Investors must always be aware of where short interest is in a stock, as it can help determine where a stock may trade in the future. I'll be back in a couple weeks with the next round of data, and we'll see if any of these names make the list again.
Disclosure: I have no positions in any stocks mentioned, and no plans to initiate any positions within the next 72 hours. I wrote this article myself, and it expresses my own opinions. I am not receiving compensation for it (other than from Seeking Alpha). I have no business relationship with any company whose stock is mentioned in this article.
Additional disclosure: Investors are always reminded that before making any investment, you should do your own proper due diligence on any name directly or indirectly mentioned in this article. Investors should also consider seeking advice from a broker or financial adviser before making any investment decisions. Any material in this article should be considered general information, and not relied on as a formal investment recommendation.