As someone who covers a lot of short ideas on this site, one of the most important items I follow is short interest data. One must always be aware of the short interest in a stock. A large short base could spark a short squeeze on good news, while low short interest could spark a huge drop on bad news. Every couple of weeks, we get an update from Nasdaq on short interest data, and I report on what I am seeing. Today, I'm here to discuss the end of February data, and here are five more names that have seen significant increases in their short interest numbers recently.
BlackBerry (NASDAQ:BBRY):
The company formerly know as Research in Motion has seen its short interest skyrocket to new highs in recent months. A number of late February analyst downgrades had pushed the number higher. BlackBerry shares, which were over $18 in late January, traded down to just over $13 at the end of February. Recent rumors of a buyout from Lenovo had helped shares pop back towards $15, but a 2.9% decline on Tuesday has them at $14.47.
As for BlackBerry 10, investors don't seem to believe the product is selling well. The number of shares short jumped nearly 11 million in the second half of February. We are now at a new high of 147.2 million shares short, about 28.5% of the company's outstanding shares. The number of shares short has nearly tripled from the 53.7 million total we saw just 10 months ago. The company is scheduled to report fiscal Q4 results in about two weeks. If the results are better than expected, we could see a monster short squeeze in this name.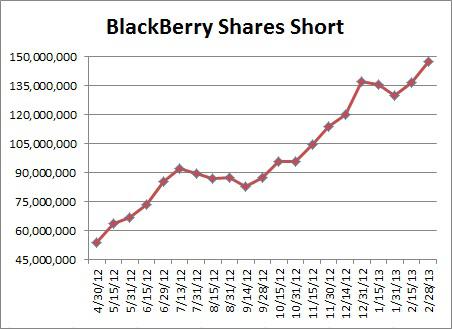 Apple (NASDAQ:AAPL):
The number of shares short in the tech giant is starting to creep higher, up almost 10% in the past three updates. The number of shares short in Apple is at its highest point since mid December. That might seem like a surprise to many, given that the stock is down roughly $100, nearly 20%, since that time period.
I recently called for a bottom in Apple shares, and for now, that has been the bottom. Going into Tuesday's session, Apple shares had bounced about 4.5% off their recent 52-week low. However, shares dropped more than $9 on Tuesday, after another analyst downgrade. Jefferies' Peter Misek cut his price target on Apple, following negative reports from Brian White and Avi Silver. Had we not gotten these negative analyst reports over the past couple of days, I think Apple would have been closer to $450. Now we're back at $428. Analyst estimates for Apple's fiscal Q2 are at their lowest point now, $42.92 billion for revenues and $10.22 for earnings per share. With the recent spike in analyst negativity, I wouldn't be surprised if Apple's short interest tracks higher at the next update, possibly topping the 20 million mark again.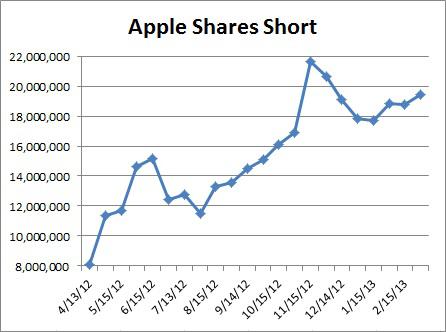 Molycorp (MCP):
The rare earth mineral processor and producer has seen its short interest count hit a new yearly high, close to 35 million shares. That's a substantial amount of the roughly 96 million float, but this company has disappointed several times over the last year, and is very close to its recent 52-week low. Recently, the company's latest hit came after a delay in its 10-K filing and Q4 earnings call, as the company needs time to determine the amount of a non-cash goodwill charge, which the company "estimates will be substantial."
Molycorp shares have gone from $30 to $6 over the past year, and less than two years ago were nearly at $80 a share. At the same time, the number of shares short has been continually on the rise. At 34.7 million shares short, the count has doubled since July 2012. You would think that with a stock at multi-years low, eventually the short count would come down. However, this company has continually failed to meet expectations, and the bears have won over and over.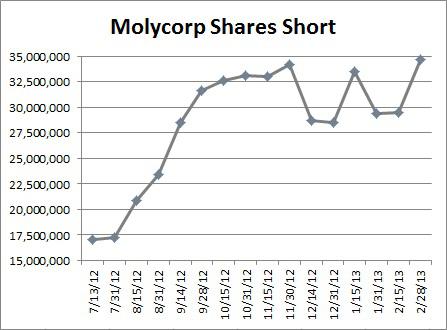 Philip Morris (NYSE:PM):
I wouldn't normally discuss short interest in a name with such a large dividend and stock buyback, but the cigarette giant has seen the short count jump recently. From the middle of January, the short count has risen by 3.726 million shares to 11.626 million, a rise of 47%. This is the highest short count so far this year. Philip Morris had seen the short count drop significantly from the high of over 20.2 million shares short in June, but it is now rising again.
I recently discussed a few reasons why Philip Morris is expensive, and the elevated stock price may have something to do with the rise in short positions. The stock has always traded at a premium to others in the space, but that premium has greatly increased in recent weeks. Philip Morris shares have declined about $2.50 off their recent high, which is the start of a larger pullback I believe is coming. If the stock heads back below $90, I would expect the short interest to come back down. However, if we stay above $90 for an extended period of time, I would expect the shorts to make another run at it.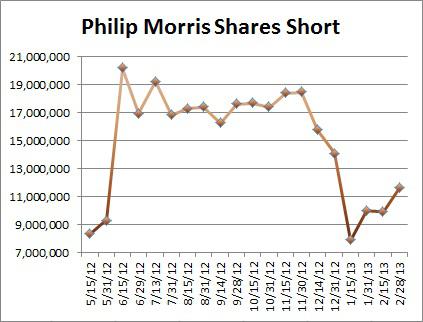 Boeing (NYSE:BA):
The airline manufacturer has seen a recent spike in short interest, which has brought the number of shares short back to levels not seen since before the Dreamliner problems started. Boeing's shares' short count rose by more than half a million in the second half of February, and over a million for the month total. The short count is up more than 30% since the middle of January, with more than 9.6 million shares short.
The short count is at its highest point since mid-November, but that might start to change. Boeing has reportedly received an $18 billion order for 200 jets from Ryanair. This would be one of Boeing's largest orders ever, and the stock hit a new 52-week high on this news Tuesday. In the past month alone, shares have rallied from $75 to $84, with more than $7 of that rally coming in the first few days of March alone. With shares up 10% month-to-date to a new 52-week high, I expect the number of shares short to come down at the next update.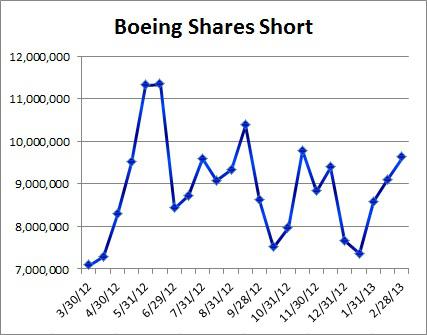 Final Thoughts:
Investors in these five names are hoping that the recent increases in short interest are a one-time issue. If these names can produce good news going forward, the number of shares short will reverse, and for some of these names, a nice short squeeze could occur. One thing is certain. These names have all seen large increases in short interest, and we'll see if any make this list when we get the next update in a couple of weeks.
Disclosure: I have no positions in any stocks mentioned, but may initiate a long position in AAPL over the next 72 hours. I wrote this article myself, and it expresses my own opinions. I am not receiving compensation for it (other than from Seeking Alpha). I have no business relationship with any company whose stock is mentioned in this article.
Disclaimer: Investors are always reminded that before making any investment, you should do your own proper due diligence on any name directly or indirectly mentioned in this article. Investors should also consider seeking advice from a broker or financial adviser before making any investment decisions. Any material in this article should be considered general information, and not relied on as a formal investment recommendation.