New York Mortgage Trust Inc. (NASDAQ:NYMT) is a mortgage REIT. It invests in Agency and non-Agency MBS, prime ARM loans, CMBS, commercial mortgage loans, and other financial assets. NYMT started life as a mortgage originator. However, it effectively changed occupations when the "great recession" hit; and the bottom dropped out of the real estate market. It is now a complex mortgage REIT; and it is growing quickly in that role. Since 2009 it has repositioned itself away from primarily Agency RMBS and prime ARM loans to a more diversified portfolio. Different parts of the company are externally managed by the Midway Group and RiverBanc. They both provide top flight expertise.
Of most interest to income investors was probably that NYMT paid a Q4 2012 dividend of $0.27 or about 15% annually. NYMT grew its book value over the year from $6.12 at the end of Q4 2011 to $6.50 at the end of Q4 2012. It reported net income per weighted average share of $0.19 for Q4 2012 and $1.08 for FY2012.
NYMT grew its equity base considerably through four stock offerings in 2012 whose net proceeds totaled $232 million. This led to an increase in the equity from $85.3 million at the end of 2011 to $322.0 million at the end of 2012. The carrying value for its investments increased commensurately to $1.485 billion from about $425 million at the end of 2011. This was a huge leap for this relatively small company with a market cap of only about $358 million. It led to an operating expense leverage decrease of about 60%. In other words, NYMT is seeing good benefits from economies of scale. With general administrative expenses of $11.4 million for the 2012 year and net income attributable to common shares of only $28.3 million, decreasing the expense per share of these costs is an important profit factor (distribution/dividend factor).
The table below shows NYMT's significant assets and some of their statistics (in thousands) as of December 31, 2012.

Click to enlarge
Notice CLO securities generated over a 40% yield on amortized costs in 2013. They generated $4.8 million in unrealized gains in 2012. This was included NYMT's OCI (Other Comprehensive Income) as part of its equity. NYMT expects this investment to have strong returns in 2013 too.
NYMT owns approximately $187 million in residential loans held in securitization trusts that is financed with approximately $181 million of collateralized debt obligations. These loans had an approximate yield of 2.91% with a cost of financing of 68 bps for a net spread of 223 bps. With the overall net investment of the company of approximately $7 million, the return on investment was over 30%. It should be getting easy to see why NYMT has decided to diversify into a variety of new investment areas. Thus far, it would seem the company has been doing an excellent job with these new investments.
Overall NYMT's portfolio net interest margin was 333 bps for Q4 2012. This was down from the 470 bps net interest rate margin in Q3 2012. It was further down from the 620 bps for Q4 2011. The good news is that many expect that Q4 2012 represented the near term low for net interest rate spread. A part of the reason for the low spread in Q4 2012 were the ultra low mortgage rates during Q3 and Q4 of 2012. These were partly due to the low US Treasury long term bond yields during that period.
Many mortgage rates are based on US Treasury long term bonds. When mortgage loans rates are extremely low, the net interest rate spread must necessarily be low. The chart below shows that 30 year US Treasury bond yields have been trending strongly upward in the last few months (see chart below). This should lead to improving net interest rate spreads in Q1.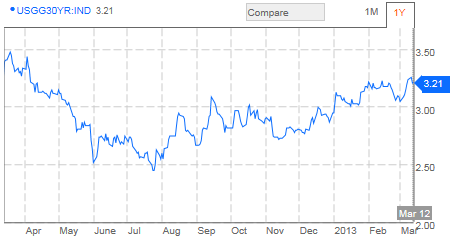 The recent mortgage rates back up this theory. Yahoo Finance lists the 30-year fixed rate mortgage at 3.71% today, Wednesday March 13, 2013. This is substantially higher than the approximate 3.30% lows of the fall of 2012. This rise could lead to book value losses in Q1 2013; but it should also lead to considerable net interest rate spread gains. Plus NYMT and other mortgage REITs hedge against book value losses. This tends to minimize book value losses. Then the benefit of the increase in net interest rate spreads should allow for higher distributable cash flow (DCF). This should make mortgage REITs in general and NYMT in particular a good investment. NYMT's expansion into its other new profitable areas can only help with its total profits. In sum NYMT is a buy.
The two year chart of NYMT provides some technical direction to this trade.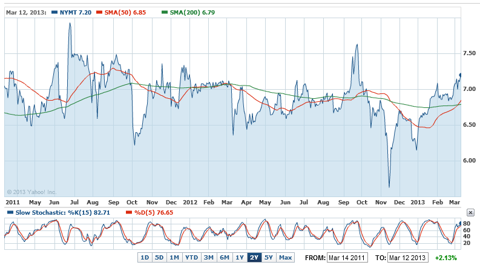 Click to enlarge
The slow stochastic sub chart shows NYMT is near overbought levels. The main chart shows that NYMT's 50-day SMA has recently passed upward through its 200-day SMA. This is a buy signal. The fundamentals, which indicate an improving net interest rate spread for Q1 2013, indicate that core earnings should improve. With both of these factors working in NYMT's favor it is a buy.
The saying don't fight the Fed is also appropriate. As the Fed buys more Agency MBS, it will push other investors into non-Agency investments. This should mean that NYMT's diversification strategy should be a good one. The value of these investments should go up as the demand for them goes up. Further as the US real estate market improves due in large part to the Fed's backing, the value of non-Agency MBS (including CMBS), which were bought at huge discounts to face value, should increase. This will lead to increased profits for NYMT. Not only is NYMT one of the highest yielding mortgage REITs, it may also be one of the safest with its strategy of quickly adapting to market conditions. Even with the recent tough interest rate spread conditions, it trades at a PE of 6.66. It has an average analysts' recommendation of 2.1 (a buy). It has a CAPS rating of five stars (a strong buy). Averaging in is still a good strategy in the currently overbought overall market.
NOTE: Some of the fundamental financial data above is from Yahoo Finance.
Good Luck Trading.
Disclosure: I have no positions in any stocks mentioned, but may initiate a long position in NYMT over the next 72 hours. I wrote this article myself, and it expresses my own opinions. I am not receiving compensation for it (other than from Seeking Alpha). I have no business relationship with any company whose stock is mentioned in this article.