As the fallout in the financial markets continues to unwind, a number of companies have bolted down balance sheets and insured some cash flows by cutting their once attractive dividends. In the past month we have seen the likes of General Electric (NYSE:GE), JP Morgan Chase (NYSE:JPM), Bank of America (NYSE:BAC), Pfizer (NYSE:PFE) and Alcoa (NYSE:AA) cut these coveted yields, proving that this trend has extended into and beyond the financial sector.
However, one sector that has maintained its healthy yields has been the utilities sector. While equity prices in the sector have been beaten down with the overall market, there is still a basket of companies that have the means to continue redistributing lucrative cash flows to investors. By no means are all utilities companies safe from dividend cuts, but the types of regulated environments that these companies operate in helps provide secure revenue streams, making payouts more feasible relative to the broader market. The following are five companies with attractive yields that are not going away anytime soon:
Florida Power & Light: FPL (FPL-OLD), the electric utility provider in South Florida and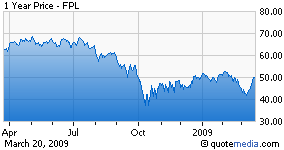 leading wind energy generator in the United States, has built its investment profile on providing its equity holders a comfortable yield. Currently, the company is boasting a yield that just tops 4%. With an aggressive wind enterprise that requires substantial capital expenditures, this company's yield in the long-term could be considered on shaky grounds. However, this will not be the case, as FPL will continue to stick to its core values. The company has a strong history of dividend growth, listing this initiative as one of the company's "value propositions." On a compounded annual growth basis, FPL has raised its dividend 7.2% since 2002 to the over 4% yield it is today. While some may say that this is backwards looking, just this quarter FPL raised its yield another 6%, cementing the commitment to its investors even in this financial crisis.
Finally, as Exelon Corporation (NYSE:EXC) continues to pursue NRG Energy (NYSE:NRG), one can make a case that FPL has the strongest balance sheet in the entire utilities sector. As one of only three power companies with a rating of A, and 70% of its EBIDTA locked up through the end of this year, rest assured that this 4% yield will make it through and continue growing.
CPFL Energia: Ok, ok, bear with me on this one. As of Wednesday, CPFL Energia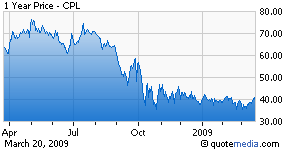 (NYSE:CPL) boasts an astounding 10.2% yield. Old school investment theory would tell you that this is a result of a significant price depreciation that will ultimately spur a dividend cut. However, CPL defies this principle. For starters, the stock price has held up relative to the overall market and the utilities sector. Last year, CPL lost 25.6% of its value, while the utilities spider (NYSEARCA:XLU) lost a little over 28%. Year-to-date, CPL has actually appreciated approximately 2.2%. But why keep this amazing yield? CPL has an interesting company policy in which, at minimum, the company will pay out 50% of its net income on a semi-annual basis. Despite this policy, since the second half of 2006, the company has paid out nearly 75% of its net income in the form of a dividend. Obviously, the health of the dividend does depend on the company's ability to produce strong earnings. However, as the largest utility company in Brazil based in the center of the country's industrial operations, do not expect CPL to be losing money anytime soon.
Consolidated Edison: Consolidated Edison (NYSE:ED) has been a mainstay on Wall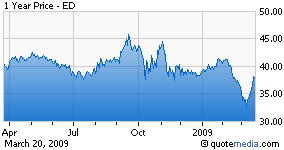 Street for over 100 years, quite literally, as Con Ed has been the electricity provider for Wall Street as well as the rest of the New York Metropolitan area since 1884. With this history comes a foundation on which Con Ed has built itself as a stable, trustworthy, long-term investment suitable for a wide variety of investors. The basis for this foundation: dividends. Consolidated Edison is one of only two utilities companies in the S&P 500 to increase their dividend consistently since 1975. That is over 30 years of dividend growth. Currently, the yield stands around 6.5%. Con Ed is a company that has built itself on dividend payments and will continue to do so. Just this year, the company boosted its yield another 100 basis points. With its firm place in New York City, the face of this company is safe, and so is its dividend.
Dominion Resources: Dominion Resources (NYSE:D) is a large cap electric utility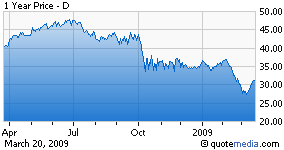 company based in Richmond Virginia. Currently, the company is yielding an attractive 5.8%. With 2009 being the company's 100 year anniversary, expect more of the same in terms of distributions to their loyal investors. For starters, Dominion operates in an ideal regulatory environment, allowing the company to comfortably predict revenue streams, while making assertive forward looking statements on the future of its dividend payouts. In 2007, the company's board of directors set a policy in which the company is to attain a 55% payout ratio by 2010. Due to this policy, Dominion announced that it expects to increase its dividend 11% in 2009 alone. With this 11% growth in 2009, Dominion will grow its yield 26.8% since 2006. This historic growth, coupled with the company's stated expectations, should be the assurance any investor needs to put trust in the dividend yield of this southern belle.
Southern Company: Southern Company (NYSE:SO) with operations on the southeast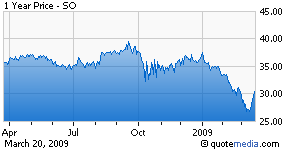 coast of the United States, currently offers a commendable yield of 6%. In 2008, Southern was the definition of stability, outperforming the utilities sector by an astounding 28%. While the company has had its struggles in 2009, it has still set its target payout ratio to a range of 65-70%. Although the last dividend increase was in April of 2008 (a 4.3% hike), Southern has 245 consecutive quarters of dividend payments under its belt, and there is no indication that these cash flows will run dry anytime soon.
-TJ Smith
Disclosure: The mutual fund the author is associated with is long SO, ED, and FPL.