Conclusion: The Federal Reserve's (Fed) most recent decision to employ $1.25 trillion of quantitative easing on behalf of the beleaguered housing markets should have a positive impact on the valuation of Fannie Mae and Freddie Mac mortgage-backed securities. This should have an affirmative consequence for those closed end Funds (CEFs) that invest in residential mortgage-backed securities (MBS).
Because the Fed has previously telegraphed its intentions of "doing whatever is necessary" to stabilize the housing markets, investors may have already "priced in" this sentiment with respect to a handful of higher quality mortgage CEFs.
Blackrock Income Trust (NYSE:BKT)

is the investors' favorite in this area; it appears to be accordingly priced.

Further out the risk curve is American Income Fund (MRF)

for investors looking to catch a momentum play in this area (see table below).
Higher Quality Mortgage CEFs: The CEF market segment has approximately 11 CEFs that have been categorized as US Mortgage Funds (USMrtgFnds). Of the 11 USMrtgFnds there appear to be 4 that have a high level of Fannie Mae and Freddie Mac mortgage-backed securities (based upon their top holdings), highest credit ratings, and do not employ auction rate preferred securities for leverage.
Gang of Four: Of the 4 USMrtgFnds in the table below, BKT appears to be the favorite. The largest in terms of total net assets, BKT is up 4.8% YTD, trades at a 4.7% distribution yield; it also trades nearest to its 52 week high. It's ratio of total net assets to total common equity is the lowest. It is trading at a discount of 8.6%%; its historical average discount is 6.6%. It also has the lowest management fees of the group.
The other 3 mortgage CEFs are much smaller. FMY also has a portfolio with a high average credit rating of AAA. Its distribution yield is 8.3% and trades close to par. MRF's portfolio has a little more than 50% of its holding in the highest rating category. Its distribution yield is 10.4%, and it currently trades at a 3% discount to NAV. Its shares are currently priced at a 25.6% discount to its 52 week high.
click to enlarge image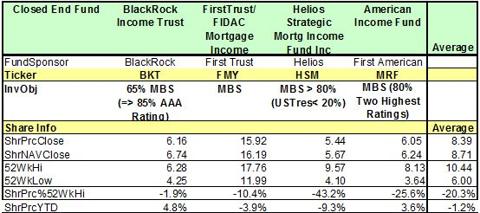 Click to enlarge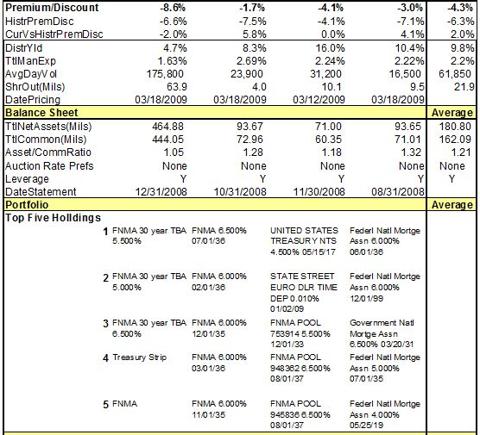 Click to enlarge

Click to enlarge
Disclosure: Author owns BKT