When companies fail to provide the investing public with clarity around their activities and results, it is usually for a reason and it's cause for concern. A recent review of Galena Biopharma's (NASDAQ:GALE) NeuVax vaccine left this author with many unanswered questions and skeptical about the future of the product.
NeuVax (nelipepimut-S) is a synthetic Her2/neu peptide vaccine administered in combination with the immune adjuvant, granulocyte macrophage colony stimulating factor (rhGM-CSF). The synthetic peptide sequence purportedly stimulates specific CD8+ cytotoxic T lymphocytes (CTLs) following binding to HLA-A2/A3 molecules on antigen presenting cells. These activated specific CTLs recognize, neutralize and kill HER-2 expressing cancer cells.
In contrast to Genentech/Roche's Herceptin® (trastuzumab), which requires robust Her-2 expression for optimal activity, NeuVax is purportedly more active in patients who express low-levels of the Her-2 protein. While this seems counterintuitive, Galena explains that high expressing Her-2 tumors down-regulate HLA expression, rendering them invisible to the immune system. If successful, NeuVax will provide a treatment option for those Her-2 expressing patients who are currently ineligible for treatment with Herceptin.
Clinical Development of NeuVax
Galena has completed two Phase-I/II studies (n=187 patients) with NeuVax, one in Her-2 positive/node positive patients, and a second in node negative/Her-2 positive and negative patients (see Figure 1, below).
Figure 1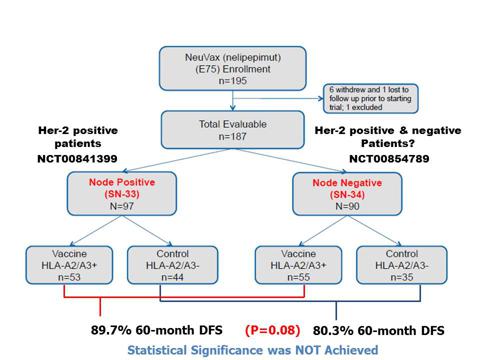 NCT00841399
In February 2010, Galena Biopharma initiated a randomized, ascending-dose, Phase-I/II trial (NCT00841399) comparing NeuVax with placebo in node-positive/Her-2 "positive" patients. It is important to note that Her-2 IHC +1, +2 and +3 expressing patients were enrolled early in the study; Galena states that "During the conduct of this trial, Herceptin became commercially available for HER-2 IHC positive (IHC +3) patients, after which the trial was amended to allow these patients to receive Herceptin." Galena goes on to note that "this patient group" was excluded from efficacy analysis. It is not clear if "this patient group" refers to all +3 patients, or only those patients who were treated with Herceptin. More importantly, since Galena has stated that NeuVax is more efficacious in patients expressing low levels of the Her-2 protein, the author finds it somewhat puzzling that it has not published data for the Her-2 IHC +3 patients that received NeuVax in this study.
Curiously, the clinicaltrials.gov listing for this trial shows a start date of May 2000, but the protocol was received in February of 2009. Stranger yet, the FDA approval for single-agent Herceptin in the adjuvant treatment of HER-2 positive/node-negative and node-positive breast cancer occurred one year prior to the submission of the NCT00841399 protocol, so it is not clear why the Her-2 IHC +3 patients were included in the original protocol. Lastly, it is worth noting that the protocol on clinicaltrials.gov was never updated to reflect the exclusion of Her-2 IHC +3 patients.
Study NCT00854789
Shortly after the initiation of NCT00841399, the company initiated a Phase-I/II study (NCT00854789) comparing NeuVax with placebo in node-negative patients; enrollment was independent of Her-2 status. This trial was conducted to more thoroughly study the optimal dose and schedule of vaccinations and to determine the impact of prior Herceptin exposure on the efficacy of NeuVax. In this context, a total of 11 Herceptin-treated patients received the NeuVax vaccine in NCT00841399 and NCT00854789 combined; to the best of my knowledge, these data have not been published. The demographics of the pooled patient population (i.e., NCT00841399 and NCT00854789) are provided in Table 1.
Table 1
| | | | |
| --- | --- | --- | --- |
| Patient Demographics‡ | Vaccine | Control | P value |
| N=187 | 108 | 79 | |
| Median Age | 57 | 5 | 0.25 |
| Node Positive (%) | 49.1 | 55.7 | 0.38 |
| Tumor Size (T2-T4) (%) | 34.3 | 46.2 | 0.13 |
| Histologic Grade 3 (%) | 40.0 | 39.5 | 1.00 |
| ER/PR negative (%) | 31.1 | 17.7 | 0.04 |
| Her-2 overexpression* | 31.7 | 26.8 | 0.50 |
| Hormonal Therapy (%) | 66.7 | 76.9 | 0.14 |
| Chemotherapy (%) | 75.0 | 72.2 | 0.74 |
| XRT (%) | 72.2 | 81.0 | 0.17 |
| Trastuzumab Therapy (%) | 11.1 | 3.8 | 0.10 |
‡The pooled patient population was not well balanced
*It is not known whether this is inclusive Her-2 IHC +1 and +2 patients.
It is important to note that the pooled data from studies NCT00841399 and NCT00854789 (n=187) failed to show a statistical difference between HLA2/3 positive and negative patients, although it should be noted that many of the patients in NCT00841399 did not receive an optimal dose of vaccine.
To address this issue, a protocol amendment was filed in August of 2011 allowing a small subset of patients from NCT00841399 to receive the optimal vaccine dose plus boosters vaccinations (n=45; NeuVax=18 and Control=27; see Figure 2). Booster vaccinations were administered to address lapsing immunity to the vaccine observed in the Phase-I portion of the trial. It is not clear how patients in the booster program were randomized without bias, or even if the program had been contemplated in the original Statistical Analysis Plan. The validity of the statistical analysis aside, patients receiving booster vaccinations showed a statistically significant disease free survival (DFS) benefit at 24 and 36 months, but not at 60 months.
Figure 2

Based on the "success" of the Phase-I/II trials, Galena initiated a randomized 700 patient Phase-III trial (NCT01479244, PRESENT Study) in node-positive/Her-2 IHC +1/+2 positive patients. As with the Phase-I/II studies, randomization is based on HLA status, with HLA A2/A3 positive patients receiving NeuVax and HLA A2/A3 negative patients receiving GM-CSF. Enrollment is slated for completion in mid-2013.
Conclusions
The results of the Phase-I/II trials with NeuVax do not portend success in the ongoing Phase-III trial; specifically, the very small sub-group of booster-vaccinated patients showed a small and arguable DFS benefit over unvaccinated patients at the 24 and 36 month timepoints, but showed no benefit at 60 months. It must be noted that the hurdle for success in the ongoing Phase-III trial will be even higher by virtue of the inclusion of a positive control (GM-CSF).
Clarity and transparency are critical prerequisites to biotech credibility and investment. Deciphering NeuVax's development history and results requires a considerable investment of time and effort that still leaves many unanswered questions. When companies conduct business and present data in a manner that confounds analysis, it's time to step back and re-evaluate.
Disclosure: I have no positions in any stocks mentioned, and no plans to initiate any positions within the next 72 hours. I wrote this article myself, and it expresses my own opinions. I am not receiving compensation for it. I have no business relationship with any company whose stock is mentioned in this article.