A major structural change happened to the economy in 2000 in employment / unemployment. It was caused by an increase in our productivity (needing fewer workers to do the same task) and exporting jobs.
The Fed released this past week their Industrial Production and Capacity statistics G.17 for February 2009. For those who would like to read the whole report – here. Industrial production fell 1.4 percent in February; the overall index has now declined for 4 consecutive months and for 10 of the past 12 months. At 99.7 percent of its 2002 average, output in February was 11.2 percent below its year-earlier level and was the lowest level since April 2002.
Industrial production mimics the trends we see in overall employment in America. A structural change occurred in 2000. This change appeared in employment trends and in American production indexes – but did not appear in GDP. A good portion of the GDP growth since 2000 was done with smoke and mirrors (or as economists call it - "credit") – and it is that growth which this Great Recession is reclaiming.
The actions of the Fed during the 2001 recession papered over the real problems. No one was willing to make some hard decisions then – nor are they willing now.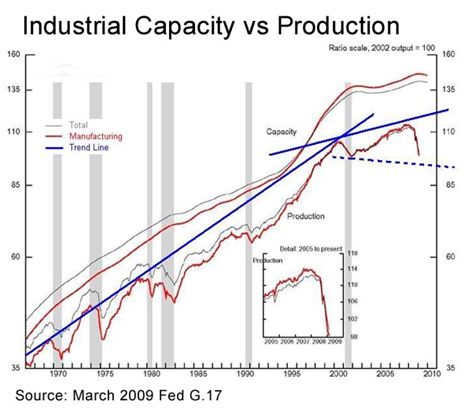 America is now almost 10 years on a new trend line for industrial production. What indication have we seen in the last few years to dispute what these graphs are saying? What are the actions by government and industry to address this problem? Denial and pork barrel politics will not solve this.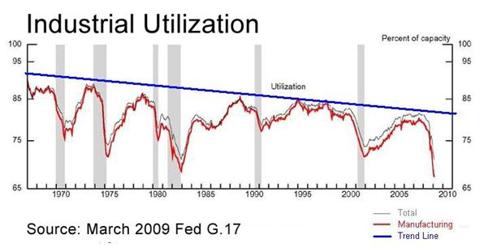 Click to enlarge
We will exit this Great Recession in the New Normal. It will be a world of overcapacity in many sectors of the economy, poor employment conditions, abandoning of innovation, and credit abuse. I suspect a Japanese 'L' type recovery cannot be avoided. There is no magic bullet to create employment, and happens following years of targeted investing in new technologies. Without new areas of employment, return to pre-2000 conditions are impossible.
Taxing corporations more only drives their various entities overseas (my solution would have been to not tax corporations at all but tax the stockholders only). What taxes are there on overseas companies which import into America? What taxes are there on Corporations in America? You do the math – we are creating a structural cost advantage to non-American offshore companies through our tax system.
Update of Economic News from this Past Week
Overall, there are signs that the rate of economic collapse is slowing. This is not an indicator of recovery – far from it. The economy is still collapsing. There has been massive damage done to our economic system which will take time to repair. Growing unemployment will continue to weaken our economic base. But the rapid economic free fall is showing signs of slowing.
The Federal Reserve announced they would start purchasing $300 billion worth of 2 to 10 year Treasury Notes "to help improve conditions in private credit markets" over the next 6 months. The timing and the exact target of the program is not apparent. The guts of the FOMC statement read as follows:
In these circumstances, the Federal Reserve will employ all available tools to promote economic recovery and to preserve price stability. The Committee will maintain the target range for the federal funds rate at 0 to 1/4 percent and anticipates that economic conditions are likely to warrant exceptionally low levels of the federal funds rate for an extended period. To provide greater support to mortgage lending and housing markets, the Committee decided today to increase the size of the Federal Reserve's balance sheet further by purchasing up to an additional $750 billion of agency mortgage-backed securities, bringing its total purchases of these securities to up to $1.25 trillion this year, and to increase its purchases of agency debt this year by up to $100 billion to a total of up to $200 billion. Moreover, to help improve conditions in private credit markets, the Committee decided to purchase up to $300 billion of longer-term Treasury securities over the next six months. The Federal Reserve has launched the Term Asset-Backed Securities Loan Facility to facilitate the extension of credit to households and small businesses and anticipates that the range of eligible collateral for this facility is likely to be expanded to include other financial assets. The Committee will continue to carefully monitor the size and composition of the Federal Reserve's balance sheet in light of evolving financial and economic developments.
This Fed statement significantly weakened the dollar on the currency exchanges and moved commodity prices up (oil above $50 per barrel), It essentially printed over $1 trillion in new money with this statement. Some punters point to the Fed trying to drive down mortgage rates with these moves – but the mortgage rates already are at 4.89% - almost at the lowest level since WWII. Whatever the Fed is trying to do – they are not talking plainly. They are imbedding trillions of dollars of Government loans at very low interest rates – which the taxpayer will have to support when interest rates rise. We are stealing prosperity from our future so that today can be better.
Overall, I am concerned that Bernanke is relying on economic simulations played out on computer. Consumers and business do not have to behave rationally – or morally. He cannot control the stupidity of politics. He is not able to control events outside of America's borders. There is not a chance that this Great Recession will play out as Fed Chairman Bernanke envisions.
The Consumer Price Index (CPI) for February 2009 (.pdf) shows a very slight increase (0.4% increase annualized). The point is that from an overall inflationary point of view, the economy appears stable with no apparent inflationary or deflationary effects at the consumer level.
click to enlarge images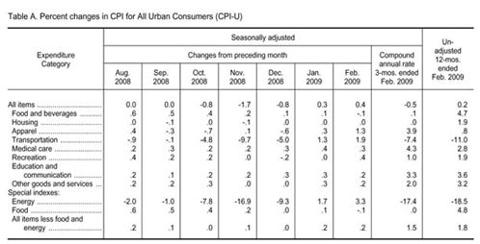 Click to enlarge
The Fed's TALF program is now operational and is making its first loans against the following types of collateral.

Click to enlarge
The Fed through the New York Fed is making $200 billion dollars available to this program with the objective to create "normal" market conditions for these kinds of debt. With the Fed entering the market at so many points, I wonder if we need banks anymore. And to demonstrate my point, they have expanded TALF to include four additional categories of asset-backed securities (ABS):
mortgage servicing advances,

loans or leases relating to business equipment,

leases of vehicle fleets, and

floorplan loans (auto dealers method of financing auto inventory).
The March 2009 Empire State Manufacturing Survey indicates that conditions for New York manufacturers deteriorated significantly.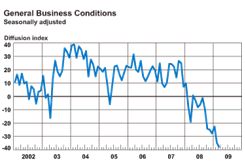 The general business conditions index fell to a fresh low of -38.2.

New orders and shipments indexes also dropped sharply to new record lows.

Inventories index declined to its lowest level since 2001.

The indexes for both prices paid and prices received remained negative for a fourth consecutive month.

Employment indexes remained close to their recent lows.

The six-month outlook continued to be very subdued, with capital spending and technology spending indexes falling to record lows.
Chicago Fed Midwest Manufacturing Index (CFMMI) declined 5.9% in January. This is a trailing index and does not give you much more information than you already know. This index is heavily influenced by the auto sector.
The Philadelphia Fed issued their March 2009 Business Outlook Survey showing continuing contraction. Indexes for general activity, new orders, shipments, and employment remained significantly negative. Employment losses were substantial and continuing declines in input prices and prices for their own manufactured goods. Most of the indicators of future activity suggest that the region's manufacturing executives expect declines to bottom out over the next six months. These type of surveys historically do not do a good job of forecasting the future.
The real average weekly earnings slightly fell in February 2009 (month-over-month).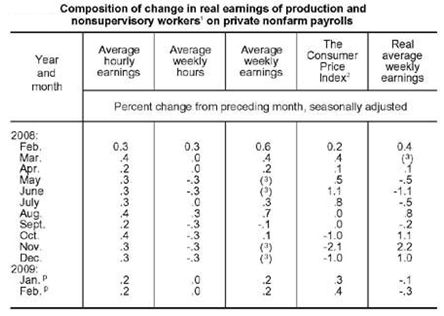 French bank Societe Generale [SOGN.PA] agreed to beef up its anti-money laundering compliance policies at its New York branch.
Fed Chairman Ben Bernanke addressed the Independent Community Bankers of America's National Convention this past week. There was nothing new in his speech.
The Producers Price Index (PPI) advanced 0.1% month-over-month and declined -1.3% year-over-year for finished goods in February 2009. Intermediate and crude goods indexes continued their declines. All percentages in the table below are month-over-month unless indicated otherwise. These are not the items sold directly to consumers. There is little inflationary or deflationary pressures coming from this segment of the marketplace.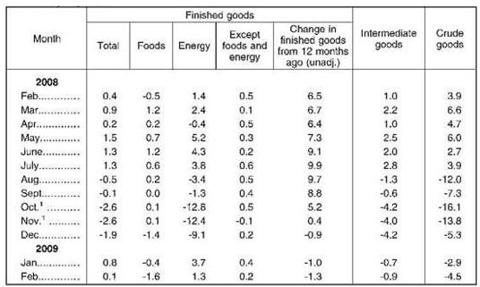 Click to enlarge
Residential Housing data for February triggered a rally this week on housing starts being up 13.5% month-over-month and minus 47.3% year-over-year. Looking through the data which includes house permits, starts, houses under construction, and completions – the only good news is that the continuing erosion seems to be subsiding (data cannot keep falling forever) – but there is little evidence that new construction is improving. Keep in mind that housing starts and permits exceeded 2.2 million per year in 2006 and that current data is only 1/3 of the previous normal. With the current glut of houses on the market, it is hard to envision that building more houses improves the economic situation.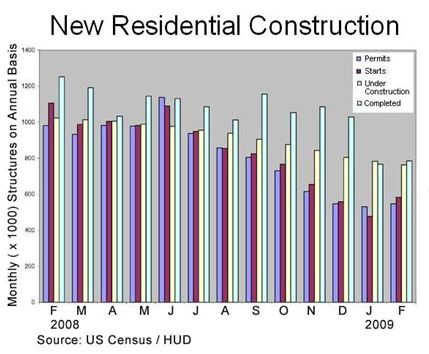 The rate of job destruction remained essentially constant into the second week of March with the four week moving average with 654,000 jobs being lost every 4 weeks.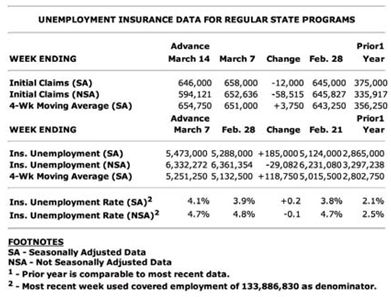 Filing for Bankruptcy: Primus Telecommunications Group Inc (PRTL.OB), Greenbrier Hotel Corporation (wholly owned by CSX), Chemtura (NYSE:CEM), Fairchild Corporation (FCHD.PK). New bank failures this week: TeamBank (Paola, KS), Colorado National Bank (Colorado Springs, CO), and FirstCity Bank (Stockbridge, GA) – 20 bank failures so far this year.
Economic Indicators Published this Past Week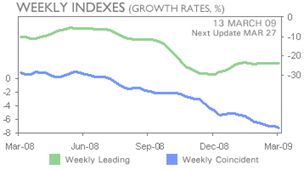 The WLI from ECRI is forecasting more stable conditions within the coming months. In their statement last Friday, they said in part as the index was holding steady, it "is clearly holding above its December low, suggesting that U.S. economic growth will stabilize in coming months."
The Conference Board also released their leading and concurrent indicators for February 2009. The LEI (leading index) continued the general downward trend with its rate of decline moderating slightly. The CEI (concurrent index) remained on a downtrend with the decline accelerating in recent months. The six-month decline in the CEI is the largest since 1975. According to The Conference Board:
Taken together, the behavior of the composite economic indexes suggests that the economic recession that began in December 2007 will continue in the near term.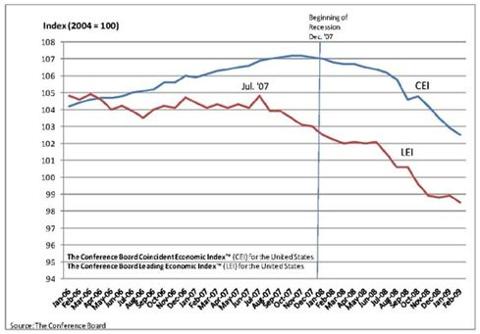 Click to enlarge
If you would like a summary of all government financial indicators, click here.
Disclosures: None