Arena Pharmaceuticals, Inc. (NASDAQ:ARNA) is preparing for the launch of FDA approved weight loss drug Belviq. Belviq is perceived to be the safest weight loss drug in the market. A successful FDA approved weight loss drug would provide significant financial gain to Arena Pharmaceuticals shareholders. I will highlight the risks, rewards, and the weight loss competition. In full disclosure, I do own shares of Arena Pharmaceuticals.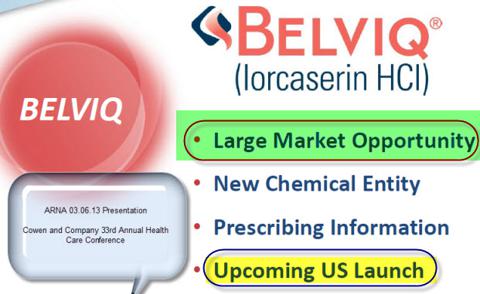 New England Journal of Medicine
The prestigious New England Journal of Medicine reported the following report on Belviq. Arena Pharmaceuticals' researchers and management worked for years on this product. As FDA approval is in the rear view mirror, investors will soon be able to determine the preliminary sales and profits. The patients' safety and health is the primary concern.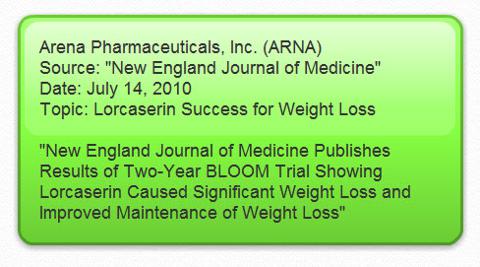 Company Background
Arena Pharmaceuticals was founded in 1997 and is based in San Diego, CA. Arena is a biopharmaceutical company that focuses on clinical stage trials of medications for weight loss, heart disease, inflammation, etc. So far, the company has one oral medicine, chronic weight-management drug Belviq, which was approved by the US Food and Drug Administration (FDA) in June 2012 and is awaiting clearance from the U.S. Drug Enforcement Administration (NYSE:DEA) before commercial sale. Arena has four other drugs in its research and development pipeline: APD791 for arterial thrombosis, APD916 for pulmonary hypertension, Niacin receptor for arteriosclerosis and APD597 for Type II diabetes. On two of these R&D drugs, Arena is collaborating with industry giant Merck (NYSE:MRK) and Ortho-McNeil-Janssen. CCC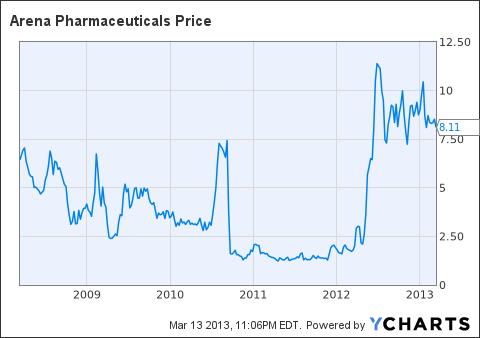 FDA Decision for Belviq/Lorcaserin
Arena Pharmaceuticals' Belviq (chemical name: Lorcaserin) is the first weight loss drug to be approved by the U.S. FDA in thirteen years. It was initially rejected by the FDA because of data linking it to cancer. Long term studies suggested that this was not the case. The FDA has been extremely hesitant to approve a new anti-obesity drug because of the extreme adverse effects of Fen-Phen which was pulled off shelves in 1997.
With FDA approval of Belviq, Arena Pharmaceuticals received a $20 million payment from Eisai Co. Ltd. to market and sell Belviq in the United States. Following DEA approval, Belviq will be manufactured at Arena's facility in Switzerland and Arena will receive another $65 million as a stipulation in its milestones contract. Arena Pharmaceuticals has also applied for Belviq approval in Europe and Asia, following which it will receive payments from distributors in those geographies.
Headwinds on European Approval
In January 2013, Arena Pharmaceuticals stock decreased modestly on concerns over approval by the European Medicines Agency which released statements saying Belviq was possibly linked to tumors and undesirable psychiatric side effects observed by Europe's Committee for Medicinal Products for Human Use. If Arena Pharmaceuticals hopes to expand in Europe, it must genuinely prove these concerns to be false.
Market Success - Pros and Cons
In the U.S. and across the world, billions are spent each year on weight loss programs such as gym membership, specialized diet additives, weight loss surgery, yoga, etc. The weight loss industry is so big that it now stands all on its own. And while diet and exercise are weight loss staples, there are literally millions who want an easy cure, a magic pill that will definitively help them lose weight. Weight loss pills, such as Fen-Phen, were extremely well received but collapsed on major adverse side effects.
Arena Pharmaceuticals' Belviq could soon step into this vacuum - as the only FDA/DEA approved weight loss drug. Arena Pharmaceutical shares are currently in a holding pattern awaiting DEA approval and European uncertainty. DEA approval will have monumental implications for Arena Pharmaceuticals - its shares will likely climb significantly but its manufacturing, marketing and distribution costs will rise too as the company steps in to fill massive global demand.
At the same time, government regulatory agencies and Wall Street will be carefully watching for Fen-Phen like adverse effects that are easier to spot when millions consume the drug than from controlled human trials. Through this uncertainty, in the early months and years of Belviq's commercial launch, Arena Pharmaceuticals shares will likely experience high volatility and move sharply on signs or rumors of serious side effects. Lawsuits tied to genuine issues could take on massive proportions and have a material adverse impact on the company's financial well being.
DEA approval will likely also spawn fake Belviq drugs which the company will have to combat, perhaps through a combination of high-tech packaging and marketing campaigns alerting consumers on how to distinguish a fake from the real deal.
On the flip side, should there be no major side effects over the first few years. Arena shares could climb significantly in anticipation of long-term, high volume demand for weight management. This best case scenario should drive profits and cash flow for R&D and shareholder distributions (currently Arena does not pay any dividends) over the long run, and make this a true breakthrough success story.
Moreover, with obesity related illnesses consuming billions in healthcare expenses, government agencies are under pressure to approve medications that prevent obesity. Therefore, other pharmaceutical companies may have their weight-loss medications approved in 2013. This could eliminate Arena Pharmaceuticals' first mover advantage, especially if competing drugs are deemed safer.
Competition
FDA approval gave Arena a key advantage over one of its weight loss drug competitors: Orexigen Therapeutics, Inc. (NASDAQ:OREX).
Orexigen Therapeutics, Inc.
Orexigen Therapeutics reported, on March 13th, an update on their weight loss drug Contrave. The SEC filings indicate Contrave will likely be resubmitted for a New Drug Application (NDA) later in 2013 or 2014: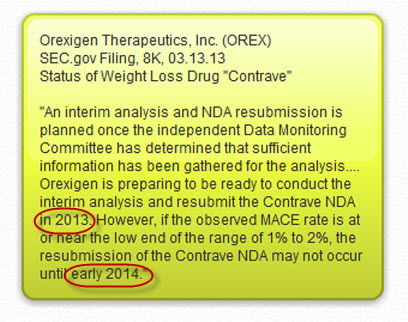 VIVUS Inc. (NASDAQ:VVUS)
VIVUS's weight loss drug, Qsymia, was FDA approved in 2012. The focus is to treat chronic weight management. This FDA approval was in conjunction with a reduced calorie diet and patient exercise program. Qsymia, was however, once again rejected for sale in Europe. This decision was made on February 22nd.
VIVUS Dissident Shareholder
First Manhattan owns 8.8% of VIVUS shares. On March 8th, First Manhattan wrote a letter proposing VIVUS board of director changes due to a perceived "…weak launch of its weight-loss drug Qsymia…" VIVUS management has taken steps to address insurance reimbursement of Qsymia. First Management believes management can aggressively pursue alternative reimbursement methods and better prepare Qsymia for European approval. The dissident shareholder demands could result in VIVUS management changes, new board of directors, and a revised Qsymia sales strategy.
While Arena shares hit a 52-week high of $13.50, shares have since settled slightly above $8. Arena closed at $8.12 on March 13th.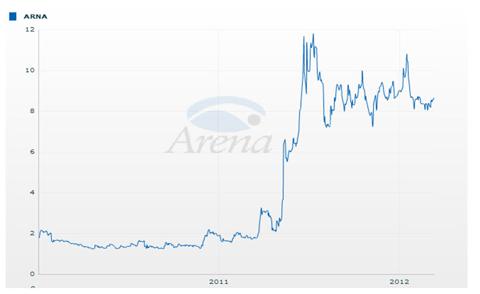 Summary Financials
Arena Pharmaceuticals saw fourth quarter revenues decrease by 9.5%, from $2.1 million in 2011 to $1.9 million in 2012. Revenue was from manufacturing services and collaborative agreements. However year end revenues increased 117%, from $12.7 million in 2011 to $27.6 million in 2012, primarily on the $20 million received from Eisai on the FDA approval milestone. Research and development expenses increased 6% in 4Q12 but were down 8% annually on lower R&D and related compensation expenses. Due to higher-than-revenue R&D and G&A expenses, the company registered an annual net loss of $88 million, or $0.45 per share, a 45% decrease from $111.5 million lost in 2011. Future revenues will be tied to DEA and other milestone payments. At year end, Arena Pharmaceuticals had cash and cash equivalents of $156.1 million.
Disclosure: I own Arena Pharmaceuticals shares and will monitor Belviq sales and success findings. I sell covered calls against 50% of my Arena Pharmaceuticals' shares. This reduces my Arena Pharmaceutical cost basis. Todd Johnson, March 13th.
Disclosure: I am long ARNA. I wrote this article myself, and it expresses my own opinions. I am not receiving compensation for it (other than from Seeking Alpha). I have no business relationship with any company whose stock is mentioned in this article.