Typically, investors do not associate private equity with mining companies. However, due to the current circumstances, which I will go on to discuss, I believe the world's largest gold miner, Barrick Gold Corp (NYSE:ABX) is a possible private equity takeover target.
Correlation Breakdown With Gold
As shown by the chart below, ABX shares are trading at the same level as they were when gold was trading well below $1,000 per ounce. The failure for ABX shares to move at least somewhat higher given the surge higher in gold is surprising. Yes, of late, ABX faced many issues with its mining operations but the real value in ABX is its underground reserves. In my opinion, investors have been much too focused on the short-term issues with the mining operation itself and not focused enough on the increase in value of underground reserves.
Valuation
As shown by the chart below, ABX is trading at historically low valuations. ABX famously eliminated its hedging program in 2009 by issuing $3 billion in new stock to pay for unwinding hedges. Of course, this was a good decision as gold prices have moved sharply higher since 2009. However, I am of the opinion that it is time for ABX to evaluate some strategic alternatives given the company's depressed valuations.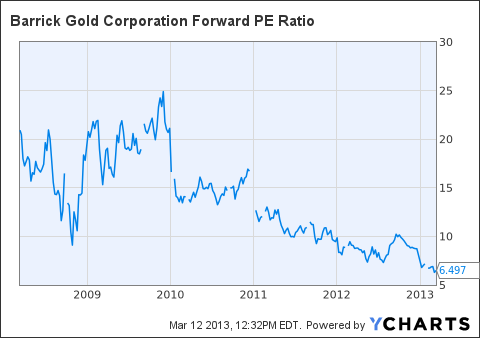 ABX Forward PE Ratio data by YCharts
Strategy
Usually, private equity firms do not engage in making major commodity bets. Given this, I would expect any private equity deal to involve the re-initiation of hedging. Presumably, given proper hedges, ABX should earn between $3.50 and $4.50 per year for the duration of the hedges. After this period, the money used to buy the company will be repaid and the owners will be left with a unhedged mining company with massive reserves which could be taken public producing a windfall for the owners. If this approach is taken, the ABX deal would be a deal in which owners are bringing out value, not speculating on gold prices. Of course, it would be beneficial for gold prices to move higher since that would increase the value of the reserves. However, even if gold prices fall, if the strategy is executed properly, an ABX deal will be profitable for private equity buyers.
Deal Size
Currently, ABX equity is valued at $29 billion. A private equity takeover of ABX would be one of the largest private equity deals ever. That being said we have seen a good number of large private equity deals in recent history including the $44.3 billion Energy Future Holdings deal in 2007. Given the size of ABX, any deal would likely require multiple participants. Some possible players include typical private equity names such as KKR, Blackstone, TPG, Goldman Sachs, and Carlyle. Also, I would not be surprised to see a variety of other investment players such as PIMCO or hedge funds such as Paulson &Co involved in any ABX deal.
Conclusion
While I think a deal is possible, for the reasons I have outlined, deal speculation is not the only reason to consider buying ABX. Another reason to consider owning ABX, in addition to everything mention above, is the 2.75% dividend yield. Perhaps, the company will embark on its own strategy to bring out shareholders value.
Disclosure: I have no positions in any stocks mentioned, and no plans to initiate any positions within the next 72 hours. I wrote this article myself, and it expresses my own opinions. I am not receiving compensation for it (other than from Seeking Alpha). I have no business relationship with any company whose stock is mentioned in this article.