Chevron (NYSE:CVX) held its 2013 Analyst Meeting on March 13 and you can view the presentation here. A full transcript of the call is available here on Seeking Alpha.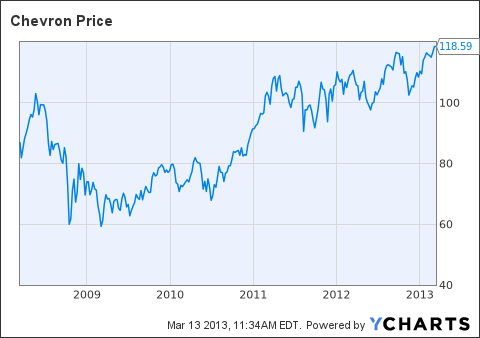 John Watson, Chevron's Chairman and CEO said key development projects remain on track, and the company is well positioned to deliver on its 2017 target of 3.3 million boe/d.
George Kirkland, Vice Chairman and Executive VP, highlighted Chevron's industry-leading upstream results including industry leading rankings on:
earnings per barrel
margin per barrel
return on capital employed
Gulf of Mexico Update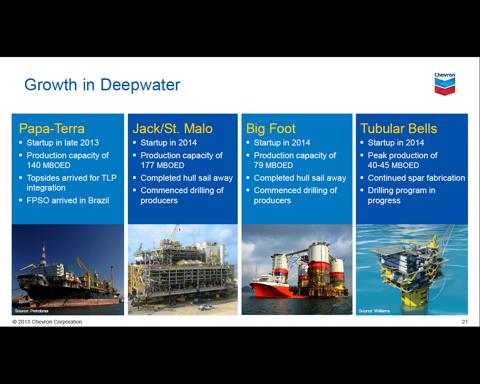 Click to enlarge
Chevron reported its three big growth projects in deepwater Gulf of Mexico (GOM) are all on schedule for startup in 2014. These projects have a total production capacity of 296,000+ boe/day.
In addition, there were some very encouraging GOM developments announced at the meeting.
Jack/St. Malo
On the Jack/St. Malo project, hull fabrication activities in South Korea have been completed and the hull is sailing to Texas for integration with the top side modules.
Chevron has been implementing new technology on the Jack/St. Malo wells to improve recoveries and reduce costs. Kirkland reported the company has stimulated three wells using the enhanced single trip multi-zone frac pack with very encouraging results:
On one well, this single trip frac pack saved 50 days of rig time, a very significant cost savings given deepwater rig rates and the frac pack did a great job stimulating the reservoir. Testing was constrained by equipment but we saw rates of over 13,000 barrels per day. These sorts of technology breakthroughs could help us unlock the cost potential, improving recoveries and increasing the economics of our existing developments and our future developments like Buckskin and Moccasin.
Kirkland said later in the question and answer session the single frac pack savings were on the order of $50 million. He also said the 13,000 boe/day were constrained by equipment, and based on data CVX has analyzed, they now think there is a very good chance of making IPs on the Jack/St. Malo wells in the 20,000 barrels a day range start up. This is a significant production upgrade and a very bullish catalyst for the company. Chevron has a goal of 20% recoveries on these fields, which, if reached, would add another half a billion barrels with the new single trip frac pack technology.
The Jack and St. Malo fields are located within 25 miles of each other approximately 280 miles south of New Orleans, Louisiana, in water depths of 7,000 feet (2,100 m). The project will be comprised of three subsea centers tied back to a hub production facility. The planned capacity of the project is 170,000 barrels/day and 42.5 million cubic feet of natural gas per day. Startup is anticipated in 2014. Chevron has working interests of 50 percent in the Jack field, 51 percent in the St. Malo field, and 50.67 percent in the host facility.
Big Foot
The Big Foot project is also making significant progress. The hull, fabricated in South Korea, has arrived in Texas for top side module integration. We've also begun fast drilling the wells.
Big Foot is located approximately 225 miles south of New Orleans, Louisiana, in water depths of 5,200 feet (1,600 m). The development will utilize a dry tree Extended Tension Leg Platform with an on-board drilling rig.
Big Foot is planned to startup in 2014 and will have a production capacity of 75,000 barrels of oil and 25 million cubic feet of natural gas per day. Chevron has a 60 percent working interest in the Big Foot project.
Tubular Bells
Tubular Bells has made progress on the spar and top sides fabrication and continues with the development drilling program.
Tubular Bells is a deepwater oil and gas field located in Mississippi Canyon Block 725 of the GOM. The field lies in water depths of approximately 1,310 to 1,400m and is situated about 170 miles south-east of New Orleans, Louisiana. The Tubular Bells oil and gas field is estimated to contain recoverable reserves of more than 120 million barrels of oil equivalent.
Once operational, the field is expected to produce 40,000-45,000 boe/d during peak production. Chevron has a 42.9 percent non-operated interest in the Tubular Bells Field. Hess (NYSE:HES) is the operator of the field and holds a 57.1 stake after purchasing BP's (NYSE:BP) interest in the field.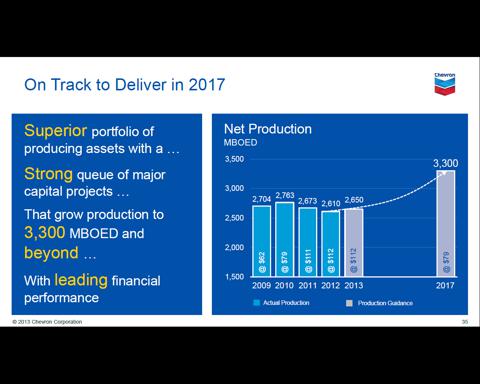 Click to enlarge
Summary
The combination of production growth and industry leading financial performance per barrel makes CVX, as I wrote in a previous article The Best International Oil company In The World. Large production growth in the GOM will be coming online in 2014, and recent results there are a bullish catalyst going forward.
Following the analyst meeting, Bank of America energy analyst Doug Leggate raised his price target on Chevron from $125 to $130.
CVX is currently trading with a P/E=8.9 and pays a dividend of 3%. Investors looking for a hedge against the long-term rising trend in oil and gasoline prices should consider investing in shares of Chevron. I expect the company will split it shares 2:1 in 2013.
Disclosure: I am long CVX. I wrote this article myself, and it expresses my own opinions. I am not receiving compensation for it (other than from Seeking Alpha). I have no business relationship with any company whose stock is mentioned in this article.
Additional disclosure: I am an engineer, not a CFA. Please do your own research and contact your investment adviser. I am not responsible for investment decisions you make. Thanks for reading and good luck!