There's been a little nervous rustling going on over at GeoEye (NASDAQ: GEOY) in the last week as the company came clean about its delayed filings, as well as some new deals that expand its imagery reseller program, and announced that it delivered its first GeoEye-1 images to Google (NASDAQ: GOOG) for public consumption.
I recently wrote that GeoEye was due for their 2008 full year earnings and filings, and mused about the possible reasons why they had been delayed.
It looks like those concerns have been cleared up, much to the relief I'm sure, of some shareholders that were sweating the silence.
On top of that, GeoEye then rolled out several announcements this week concerning their imagery reseller program across the globe with various resellers, and ended the week announcing their deal with Google has now come full circle.
New to the GeoEye story?
GeoEye provides space-based, and aerial imagery and geospatial information through high-resolution and low-resolution imagery, imagery-derived products, and image processing services to customers worldwide.
This capability benefits a broad array of industries including national defense and intelligence, online mapping, state and local governments, environmental monitoring and land use management, oil and gas, utilities, disaster management, insurance and others.
GeoEye operates in what in essence is a duopoly with only one other U.S. competitor, DigitalGlobe (NYSE: DGI), and just recently launched and certified their latest satellite, GeoEye-1, which is the most accurate and detailed commercial imagery satellite available today.
Want more?
GeoEye Delays SEC Filings, Earnings Release
Let's start with the most important news first as far as we are concerned.
On March 18th GeoEye announced that they have filed for an extension with the SEC to delay the filings of their annual 10-k report, as well as their financials because of some accounting irregularities that have been going on for quite some time.
In fact, GeoEye let their CFO go late last year when these issues started to surface.
It looks like they still haven't gotten a handle on them.
Without going into too much detail that will bore most to tears, GeoEye is basically moving around some of their accounting that upon further review, was causing some of their sales, earnings, and other categories to be incorrectly reported in one way or another.
Here's a quick rundown of some of the impact this has on 2006 and 2007.
Earnings from operations (2006): Previously reported: $43.22 million, Revised: $42.03 million
Net Earnings (2006): Previously reported: $3.72 million, Revised: $1.21 million
Diluted EPS (2006): Previously reported: $.20, Revised: $.07
Earnings from operations (2007): Previously reported: $80.31 million, Revised: $79.18 million
Net Earnings (2007): Previously reported: $30.75 million, Revised: $27.71 million
Diluted EPS (2007): Previously reported: $1.55, Revised: $1.40
Like I said, the reasons for these revisions are many, but the bottom line for us is that this is all in the past, and doesn't really affect what's going on at GeoEye one way or another from here on out.
In addition, the revisions were minor and don't really deserve much attention.
All that happened was that some categories of income, profit, and expenses were improperly categorized, and needed to be amended properly and therefore, the older financial statements redone to reflect this.
I can only hope that GeoEye finally got a full handle on their financial picture and internal reporting, and that these sorts of delays and restatements won't be happening anymore.
Finally, because of the extension and delay in filing their annual report, GeoEye's earnings release and analyst conference call will most likely be held sometime before April 1st, as that is the last day of the extension, and according to GeoEye, they should have everything restated and up-to-date before then.
GeoEye Increases Reach of GeoEye-1 Imagery
Reseller contracts ensure consistent availability of imagery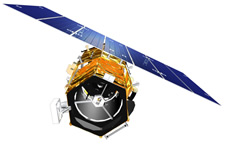 GeoEye-1
Also this week GeoEye announced that they have signed several imagery reseller deals with partners in China, the Middle East, Turkey and Russia to ensure that their GeoEye-1 imagery will be fully utilized and distributed on GeoEye's behalf.
These deals also seem to imply that GeoEye's partners will also resell value added services, such as image manipulation and other special enhancements.
The first deal was an extension of a deal that GeoEye already had in place with Beijing Earth Observation, Inc. (BEO), located in Beijing and owned by Eastdawn Group.
BEO has been GeoEye's exclusive master reseller in China since April 2007 for its IKONOS high-resolution products and value-added solutions.
BEO and GeoEye have entered in an agreement appointing BEO as the exclusive master reseller in China for GeoEye-1 imagery and value added services.
The second deal was with a company called Space Imaging Middle East, located in Dubai, United Arab Emirates.
Space Imaging Middle East renewed its IKONOS Regional Affiliate Agreement and signed a new agreement to become an authorized reseller of GeoEye-1 imagery and products in Dubai and the Middle East.
Space Imaging Middle East has been GeoEye's partner and Regional Affiliate for IKONOS imagery collection and distribution since January 2000.
Finally, GeoEye announced a deal with INTA Spaceturk, located in Ankara, Turkey, and a subsidiary of Cukurova Group
INTA signed an agreement on Feb. 27, 2009 to become an authorized reseller of IKONOS and GeoEye-1 imagery and products.
INTA Spaceturk has the exclusive rights to sell IKONOS and GeoEye-1 imagery in Turkey, Georgia and Azerbaijan and has been GeoEye's partner and regional affiliate since 2001.
Also, in the same press release, GeoEye made a quick note that they have also signed an agreement with seven new non-exclusive resellers in Russia to sell IKONOS and GeoEye-1 imagery in that country.
Bottom line: These are all positive developments and follow along with what GeoEye's management told us in the past that there were many resellers ready to commit to selling GeoEye-1 imagery after that imagery was fully approved by the NGA.
Now that that domino has fallen, the rest of these deals are taking shape, and GeoEye is beginning to actually produce lots of usable imagery, and make lots of high margin revenue.
Last But Not Least: Google
Exclusive GeoEye-1 partnership begins
Also this week, GeoEye announced that Google (GOOG) has begun to incorporate GeoEye-1 imagery under their exclusive deal announced late last year, for GeoEye-1 imagery to be used in Google Earth, Maps, etc.
Here's the link where you can see some of the spectacular images already collected.
–> click here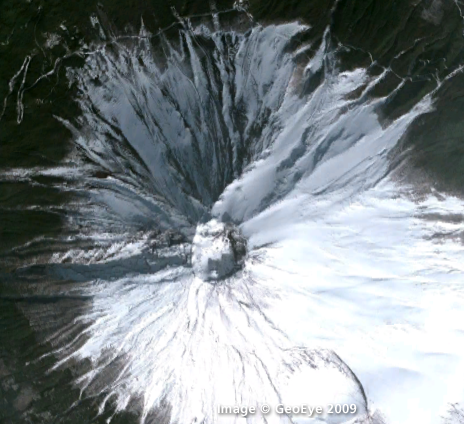 Google Earth image of Mount Fuji.
If you haven't already looked at Google Earth and these images, they are amazing, and the ability to zoom in and go from location to location is breathtaking.
It will more than likely take years for Google to gather all the imagery that they want, but that's good news for GeoEye, as it means that they will always have a hungry customer that will want new images for the foreseeable future.
Bottom Line
GeoEye Back on Track?
It's not that GeoEye wasn't on track, but management's persistent silence and potential issues within the company are never a good thing to unsuspecting investors.
The flurry of news that was bestowed upon us this week reflects GeoEye's acknowledgment that they were behind not only in their SEC and earnings filings, and by extension behind in their responsibility with shareholders, but also that GeoEye wasn't doing a good enough job communicating what's going on within the company.
All of these announcements, including the restatement of earnings from past years, assuages many of the fears and doubts that were starting to creep into investor's minds as to what the heck is going on.
I think we'll get much more clarity on everything when GeoEye finally does report earnings sometime within the next couple of weeks.