Last week, I published an article (here) that advocated a wait-and-see outlook in Cliffs Natural Resources (NYSE:CLF) before stepping and trying to catch a bottom. While that may be a fine strategy if you are not already invested, what do you do if you are holding depreciated shares of the company?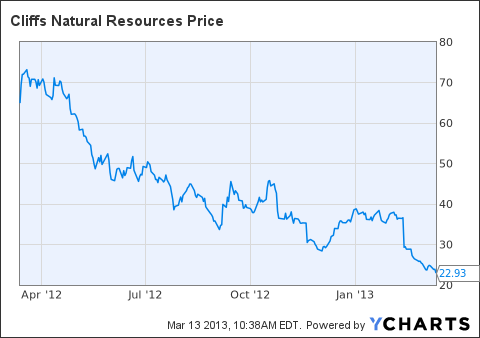 Perhaps you had purchased the stock last year and were counting on not only some capital appreciation, but a nice juicy dividend to fatten your wallet while you waited for the eventual rise in the stock price. But all that evaporated when the management announced a reduction in the quarterly dividend from $.625/share to a measly $.15/share AND issued millions of additional common and depository shares as part of a capital raise which further diluted the value of your shares.
Things May Get Worse Before They Improve
What do you do now? Wait and see? Maybe, but it's likely that things are going to continue to get worse for Cliffs before they start getting better. In fact, management announced Wednesday that by the end of the second quarter, it plans to suspend operations at its Wabush Pointe Noire iron ore pellet plant in the province of Quebec (see full story here). The move, which will idle the 165 employees at the plant, is seen as necessary by the company in order to preserve resources until such time as iron ore prices stabilize perhaps in 2H 2013… or maybe later. So the "wait and see" approach might be a lot more of the "waiting" and a whole lot less of the "seeing" for the foreseeable future.
Making Lemonade Out of Lemons
Instead of just waiting, an alternative strategy for shareholders who are interested in maintaining exposure to Cliffs Natural Resources, is to consider selling CLF common stock (yield 2.5%) and purchasing some of the 7% 2/16/2016 Mandatory Convertible Preferred (CLV) securities that were recently issued as part of the aforementioned capital raise.
CLV is a surrogate for CLF. By that I mean, like the common stock, holders of CLV will share in both the upside and the downside of the security. Although the actual market prices will differ, CLV will trade more or less in tandem with the price of CLF. However, instead of just collecting the 2.5% dividend that the common now yields, holders of CLV will receive a 7% dividend, paid until maturity. Then upon maturity (2/1/2016), there is a mandatory conversion back into the CLF common equity, so you are pretty much back where you started. "Pretty Much" except that you've collected a LOT more in dividend income during the preceding 3 year timeframe.
Also "Pretty Much," because the conversion of CLV back into CLF is based upon a conversion ratio which is dependent upon the price of the common at the time of the conversion.
It Works Like This
There are two sets of conversion prices and ratios that are associated with CLV:
The Maximum Conversion Rate of .862 applies if the price of CLF is $28.99 or lower on the conversion date. So, if at conversion, the price of CLF is below $29/share, you will convert each share of CLV into .862 shares of CLF.
The Minimum Conversion Rate of .7037 applies if the price of CLF is $35.5265 or higher on the conversion date. So, if at conversion, the price of CLF is above $35.5264/share, you will convert your shares into .7037 shares of CLF.
Within this range (28.99-$35.5256), the applicable conversion ratio is determined by dividing the par value of the stock by the stock price. So if the price of CLF is, say, $32/share on conversion, your ratio would be calculated like this: $25(par value)/$32(stock price) = .78125 (conversion ratio)
Further, at any time prior to the mandatory conversion date (2/01/2016), holders of CLV may elect to convert into CLF at the minimum conversion rate (.7037)
It's Not That Complicated
While all this may seem at first, to be a bit convoluted, it's really pretty simple. If you are holding CLF, you now have a choice. You can hold and hope, or you can trade out of the stock and into the Mandatory Convertible Preferred CLV, and collect a 7% yield while waiting for it to convert back to the same CLF common stock in which you were originally invested.
To my way of thinking, it's a pretty clear and simple choice: Sell the common and buy the preferred (CLV).
Disclosure: I have no positions in any stocks mentioned, and no plans to initiate any positions within the next 72 hours. I wrote this article myself, and it expresses my own opinions. I am not receiving compensation for it (other than from Seeking Alpha). I have no business relationship with any company whose stock is mentioned in this article.