In conjunction with the Fed's quantitative easing efforts this past week, most commodities strengthened on the heels of the plunge in the U.S. Dollar. While Gold and Copper have garnered most of the attention of late, the soft commodities have also rallied significantly. While it may still be early to call the bottom for DBA, there are a number of things to like about this Soft Commodities ETF.
DBA has four components to it: Corn, Soy beans, Wheat and Sugar. Collectively, all of these commodities have begun to forge higher highs on the charts. Fundamentally, conditions seem ripe for higher prices, with farmers still having a hard time paying for fertilizer due to the credit crunch. With less crops being planted worldwide, it seems to be only a question of when we will see a re-emergence to the soft commodities bull market.
A look at DBA's 1 year chart shows a number of positive characteristics:
Since bottoming in late December, we have now seen a series of higher lows. We will need to see a higher high of $27.22 to also see a pattern of higher highs emerge.

The 50 day average has flattened out. Next, we will need to see it turn higher.

The Relative Strength indicator has now forged three higher lows since October. Relative Strength often leads prices higher, so this is a big positive.
click to enlarge image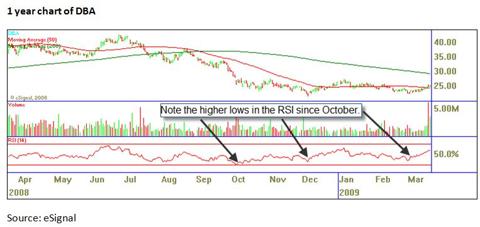 I am waiting for a move through $27.22 before taking my position in DBA. One could argue that this price point will confirm that a new bull market has begun for DBA and its soft commodities components.
In the meantime, I am waiting for the 20 day moving average to move above the 50 day moving average and for the 50 day moving average to turn higher. These technical indicators should coincide with a move in DBA through the $27.22 price point in the next month or two.
Disclosure: I am not long DBA but plan to be when a higher high is forged at $27.22