As investors, we often seek perfection in our investments. We want a wide-moat business with high returns on capital and recurring revenue streams, a fast-growing and fragmented market that offers plenty of opportunity for share gains, a rock-solid balance sheet, and a capable, shareholder-friendly management team. Unfortunately, perfection almost always comes at a price.
In the stock market, paying a high price for perfection is usually inconsistent with protecting the downside. As a result, we have to resolve a key dilemma—how to balance the quality and the price of an investment in a way that minimizes the downside and still leaves plenty of upside?
In this issue, we highlight two ideas, none of which is perfect but each meets our criteria for strong downside protection and above-average upside potential. Athletic footwear maker K-Swiss (Nasdaq: KSWS) is going through the most pronounced fashion slump in the company's history, with no turnaround in sight. However, the company has successfully managed through tough periods twice before since current CEO Nichols took over. We believe the recognized brand, liquid balance sheet and excellent management make K-Swiss an attractive long-term investment.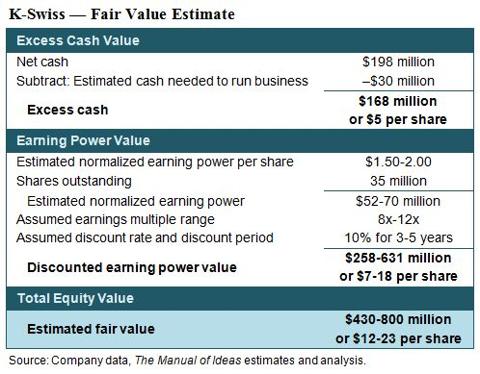 Disclosure: no positions