It has been a very long time since the market was able to string wins together like this and trade at highs and the strength has been impressive. We were caught on the sideline with 20%+ cash in the retirement account, but still over 100% exposure to the market (we had recently exercised options which were expiring and thus have margin) so all has not been bad, although our call was off. Washington has surprised us by keeping the sequester issue cordial and for the most part out of the headlines. Give investors calm and reassurance that a deal can be reached on issues in Washington and this is what you get. Unfortunately the lesson will soon be forgotten by the politicians and we can only imagine the next self inflicted wound we suffer.
We are still looking for some solid growth stocks 5-10% annual growth with dividend paying and raising histories. We have the blue chip list, but that has risen so strongly recently that the yields are no longer attractive in our view so we are looking for some hidden gems and names where there is value still in the share price.
Chart of the Day:
It was a dramatic rise and has been a less dramatic fall, but still an impressive recovery when looking at the chart. We need to get below 3000k on the continuing claims number to feel really bullish about where this economy is going, but with businesses today that would require them to see an uptick in sales. One of those endless logic arguments where everyone is stuck in neutral until waiting on some one else to make the move to set the dominoes off. With the oil and natural gas boom helping manufacturing we think that is the spark, but there just is not enough kindling to help get the big logs started. Our guess is, and this is assuming no issues resulting from Washington's sequestration fight, we find ourselves below the 3000k range around the back-to-school season with a +/- 45 days on that.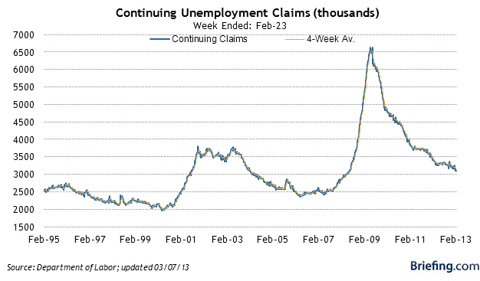 Chart courtesy of Briefing.com
We have economic news due out today, and it is as follows:
Initial Claims (8:30 AM EST): 350k
Continuing Claims (8:30 AM EST): 3103k
PPI (8:30 AM EST): 0.6%
Core PPI (8:30 AM EST): 0.2%
Current Account Balance (8:30 AM EST): -$112.3 Billion
Natural Gas Inventories (10:30 AM EST): N/A
Asian markets finished mostly higher today:
All Ordinaries - down 1.19%
Shanghai Composite - up 0.28%
Nikkei 225 - up 1.16%
NZSE 50 - up 0.92%
Seoul Composite - up 0.12%
In Europe markets are trading up this morning:
CAC 40 - up 0.51%
DAX - up 0.70%
FTSE 100 - up 0.25%
OSE - up 0.22%
Technology
Shares in Blackberry (NASDAQ:BBRY) powered higher yesterday by more than 8% as investors cheered the news that the company was able to secure an order from one of its partners for one million of its Blackberry 10 smartphones. It is a huge number, the largest ever for the company in fact, but the big question is how much did they have to sacrifice in regards to margins to secure this headline grabbing sales figure? We figure that it is not at all like the iPhone situation where carriers basically said how many phones do we have to buy to have the privilege to sell the device, but rather more of a commodity move paired with a marketing maneuver. A pre-order of one million tells the consumer they must be good, and if that does not, surely the advertising will. We are still wary.
Telecommunications
When it comes to the telecommunications industry anywhere south of the border we have become trigger shy, for over the years it has been one blow up after another. Some call them growing pains, others unforeseen circumstances but it always seems to be one thing or another. It is a pattern, and another pattern we see are governments butting into the business world, although in the case of Mexico it does seem that reform in the sector is needed. They have been dominated for so long by just a couple of players with fewer and fewer people in control of those assets. Carlos Slim made a nice chunk of his fortune here and over the years moves have been made to stifle competition which has kept the pace of infrastructure upgrades below what it should be.
So the government is going after the industry and television too in order to open it up and weaken the grip that Mr. Slim has on the two. America Movil (NYSE:AMX) shares have been clobbered as a result and have been shedding billions in market capitalization in the days since the announcement. Certainly not good for Mr. Slim, but also not good for the smaller shareholders either. The chart yesterday was ugly as the shares fell lower and lower through the day, finally settling at $19.00/share after falling $1.55 (7.54%) on the session.
Retail
We talk about what many think of when they think of retail an awful lot, those selling groceries, discounters and clothing chains, but sometimes we forget to throw some of our absolute favorite names out there because we categorize them in a different manner in our portfolio allocations. We had a reader email us about our take on Walgreen (WAG) and whether we still liked it as we did not mention it among our favorite names recently.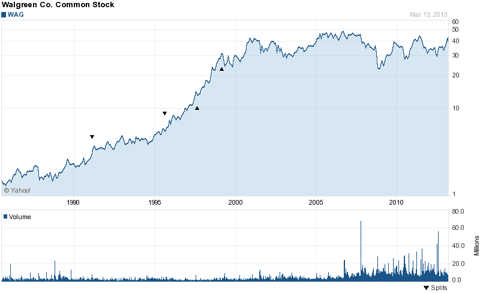 Chart courtesy of Yahoo Finance.
Like it? We love it! Although it can be a love/hate relationship at times with their stumbles it is one of those names that you can buy today and forget about for the next decade or two. It is a real estate play on top of its retail business and when one looks at all of the drugs moving off of patent and into the generic category over the next 5-10 years, it is easy to see where margin improvement will be coming from. The stock hit a 52-week high yesterday (Ed. Note - CVS hit an all-time high), so one has to believe that the recent turbulence is behind us and that the company is focused on getting back to the steady growth experienced before that. As we have said before, we like the name for retirement accounts, to be one of the pillars of any portfolio and for college savings funds...it is a great name to own.
Refiners
Over in our commodity articles we cover refiners from time to time and we recently went cautious on the names after the huge run-up. Consolidation was in order and Valero (NYSE:VLO) was one of the names in serious need of some "base building" as we like to call it. It appears that we are now in that phase and so long as the shares can stay within or above the $42-43/share range, then we think the move upwards can be maintained so long as margins do not begin to get destroyed over the next few quarters. The corn issue could become a big issue, but right now the fact that there is abundant cheap mid-continental oil available has removed what is normally the headwind facing the industry. Watch Valero and the rest of the industry to see if they are able to create some sort of base here for their next move higher, if not the names may be in for some retracement.
Oil & Natural Gas
One of the names which we have been talking up in our commodities serious is Diamondback Energy (NASDAQ:FANG) which is an E&P play in the Permian Basin. They have some of the good Permian land which is suitable for drilling either horizontals or verticals and returning solid economics either way. The name has been on fire, setting new 52-week highs and all-time highs (which is diminished a bit by the fact that it just recently IPO'd in the last 6 months, but impressive nevertheless). This is the type of name which we have found to produce some of our greatest trades in the oil and natural gas field and within our portfolios overall. It is a hidden blue chip with a proven asset that shall only increase in value as production is established. It is riskier than a big name which pays a dividend, but the focus here is to go for the capital gains in stock appreciation, which we think could be considerable. We have been wanting to purchase shares for some time, but have been waiting on the pullback...needless to say there has been no let-up in this recent run.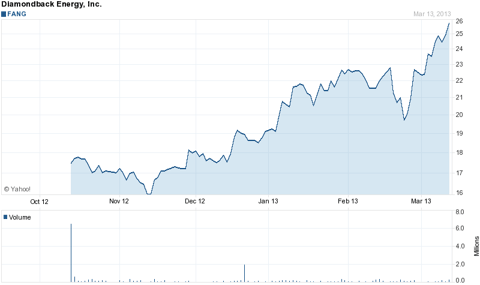 Chart courtesy of Yahoo Finance.
Disclosure: I have no positions in any stocks mentioned, and no plans to initiate any positions within the next 72 hours. I wrote this article myself, and it expresses my own opinions. I am not receiving compensation for it (other than from Seeking Alpha). I have no business relationship with any company whose stock is mentioned in this article.