The trend of the momentum stocks and those which have grabbed investors' attention via production growth and operating prowess heading higher while the rest of the commodity stocks languish continues. Investing some of these winnings back into the names which have not appreciated as much seems prudent at this time, but we want to remind readers that the majority of funds should be allowed to ride. We have learned in the business to let your winners ride and cut the losers loose as soon as possible so taking off small portions on the way up has been a technique we found works best.
Beaten down areas with some attractive blue chip names include: iron ore, coal, gold & silver (precious metals in general), and even some of the oil names.
Commodity prices this morning are as follows:
Gold: $1585.40/ounce, down by $3.00/ounce
Silver: $28.77/ounce, down by $0.188/ounce
Oil: $92.60/barrel, up by $0.08/barrel
RBOB Gas: $3.1206/gallon, down by $0.0217/gallon
Natural Gas: $3.699/MMbtu, up by $0.019/MMbtu
Oil & Natural Gas
Yesterday with about 20 minutes until the close of trading shares in SandRidge Energy (NYSE:SD) suddenly spiked and rose to its high of the day at $6.20/share before ending the session up marginally and essentially where they opened the day. Reuters put out a story that sources were telling them that SandRidge was talking with TPG-Axom and looking to bury the hatchet, which was timely because five minutes after the close the company issued a press release (see here) stating that they were increasing the size of the Board of Directors and would add four TPG-Axom nominees. It might calm things for a certain period of time, and we would bet there is an agreed upon truce period to give CEO Tom Ward and his team to shift the company's entire focus for production building towards the Mississippi Lime (of course they will still have to do work in their shallow water holdings in the Gulf of Mexico) and cranking up production there with the cash received from the Permian asset sale. If things do not start to get better for shareholders or in the operating results, life could get very interesting for Mr. Ward. It almost seems as if the handwriting is on the wall at this point, much like it was for his old business partner Aubrey McClendon at Chesapeake.
Solar
And this is just further evidence for why we so despise the solar energy market...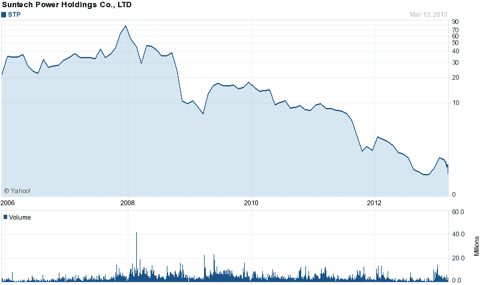 Chart courtesy of Yahoo Finance.
Suntech Power (NYSE:STP) appears that it will soon go under as it recently shut its Arizona solar plant and has been hemorrhaging money. They also missed a bond payment that was recently due and it seems that all that must be done now is to get the lawyers down to the Federal courthouse and file the bankruptcy papers. If it happens it will be the most recent addition to the list and just another high profile, once high-flying name to bite the dust. With Bloomberg reporting that China does not appear interested in bailing the company out (see story here), it looks like some capacity may be disappearing from the industry and that someone is going to get to pick over this carcass for whatever assets they want...be they the Chinese, SunPower (NASDAQ:SPWR), some hedge fund or other investors. The shares finished lower by $0.26 (23.85%) yesterday to close at $0.83/share. Our advice is always to stay away from the solar names.
Iron Ore & Coal
Reuters has been breaking a lot of stories lately and yesterday they were at it again as it pertains to Vale (NYSE:VALE) and their Rio Colorado potash project, which is located in Argentina. According to Reuters, the company now plans to sell the project (see story here) rather than trying to bring on a partner as was discussed just recently. The move is due to Argentina not giving the company tax concessions which they were seeking to help maintain the economics of the project. The company is looking to recoup their $2.2 billion investment, but the fact is they probably will not get it as the project is just under 50% complete and the mine is located in Argentina, which has proven not to be friendly with resource companies in the past and somewhat reinforced that belief with their refusal to deal with Vale on the tax issue. Look for a large part, if not all, of this to get written off at some point in the future as none of the big name Canadian producers would want this mine and the Chinese, Indians and Russians are not going to pay top dollar for it if they can even be talked into buying it. Our guess is that China comes away with it and does not pay over $1 billion for it.
Cliffs Natural Resources (NYSE:CLF) has found its way back into the 'Danger Zone' with the latest move downward. Readers may remember us discussing the dramatic fall earlier and how we were within one support level of having serious downward pressure being exerted upon the shares because support was not present in any meaningful manner until the lows set during the 'Great Recession.' Now we recognize that was a financial panic and the selling may have been overdone, but that is how markets work...telling us what an asset is worth at that moment in time. What we have now is an entity panic, and with the current management team in place and their recent blunders there is not a lot of confidence, nor goodwill available to them to work their way out of this one. The bleeding only stops once they can prove they have a grasp on the issues and have begun correcting the matters with those corrections showing up on the income statement.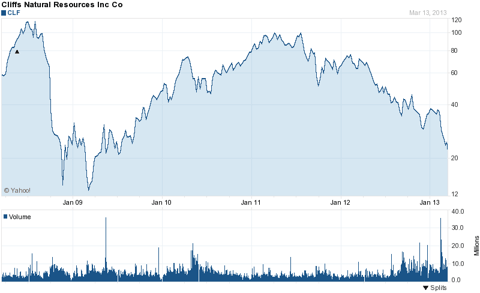 Chart courtesy of Yahoo Finance.
Alpha Natural Resources (ANR) once again finds itself in a nice area for trading after yesterday's fall. The shares fell $0.37 (4.42%) to close the session at $8.01/share with volume of 8.9 million. The good news for those who are long and our readers who like to day trade on the long side is that the shares did find support in the $8/share range yesterday having traded only as low as $7.97/share. The business is bad right now, but this volatility is not due to the business but rather traders and computers making bets and moving in and out. The bad news, and there does always seem to be some sort of bad news these days, is that the chart was abysmal yesterday. The shares closed near the lows and it moved from the upper right to the lower left with just a bit of sideways movement into the close. Just enough in fact to grab our attention to mention it this morning as a possible trade.
Disclosure: I have no positions in any stocks mentioned, but may initiate a long position in ANR over the next 72 hours. I wrote this article myself, and it expresses my own opinions. I am not receiving compensation for it (other than from Seeking Alpha). I have no business relationship with any company whose stock is mentioned in this article.
Additional disclosure: May do a trade with ANR depending on market conditions.