Green Innovations Ltd. (OTCPK:GNIN) is back in the spotlight again. It is currently running for all the wrong reasons. At first, Green Innovations was set up with the sole purpose of being an insider enrichment scheme; if you are interested in the details of this scheme please read part one of my report here. In my first report I nailed that Green Innovations would continue to drop. Green Innovations was trading at around $1.60 when my report was published and went on to make a low of $0.36 two days later. However, I did not foresee this recent bounce and the stock promotion continuing. In this report I want to tackle a few the following topics.
What is driving Green Innovations recent bounce (stock promotion)
Closer look at some of Green Innovations misleading Press Releases
What I see happening to Green Innovations very soon (final warning).
In part one of my report, I mention some important things to keep in mind, the stock promoters behind Green Innovations latest action. I also emphasize on the stock promoters history and past plays.
This excerpt below is taken from my first report.
"Brighton Markets Group History

Who exactly is the Brighton Markets group? It's a group that uses boiler room tactics to promote stocks. They call people and send emails to tout certain stocks. Their websites are listed below.


(Click to enlarge)

How is their track record you ask? Here is an example. See for yourself.


(Click to enlarge)

Independence Energy Corp. (OTCQB:IDNG) - This was the promotion that put them on the map. Naïve retail stock buyers got crushed as the insiders banked big.


(Click to enlarge)

Punchline Resources Ltd. (OTC:PUNL) - Punchline Resources Ltd. is another story of naïve retail stock buyers being left to hold the bag. One thing you can pick up from these two promotions is when they start to dump, they dump BIG and they dump FAST. Take a close look at the following chart and be happy you weren't on board for this crash.

GNIN - Green Innovations Ltd. Stock Promotion

Green Innovations Ltd. started out being promoted by Brighton Markets newest sites in the beginning. Here are Brighton's updated websites (notice that there are 7 new sites)."
What has changed since my report?
The promoters actually did not give up on this. When Brighton Markets noticed that their past promotions have started going south, they just bailed. They went silent, as the sell off was a big one. However, on Green Innovations they continue to send emails. It is also not a coincidence that the company continues to send out one press release per day as the promotion continues. You can see for yourself.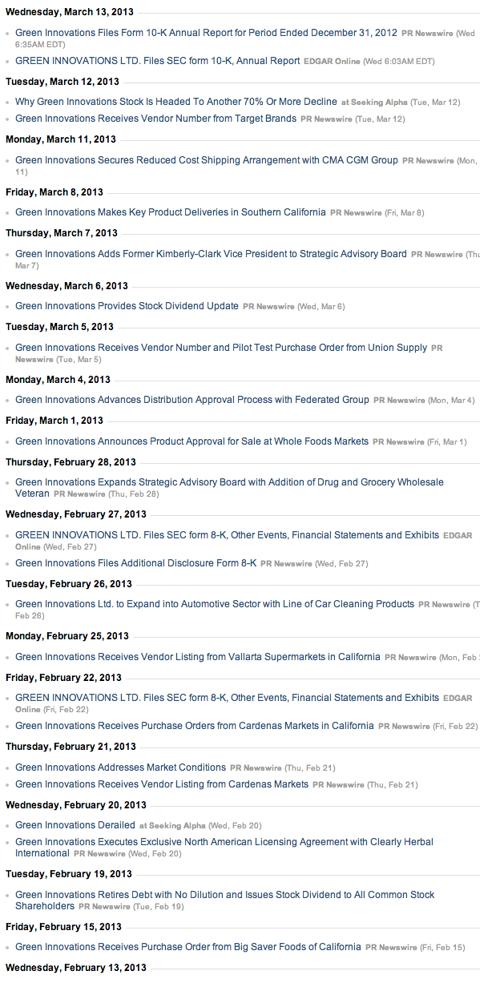 Look at my inbox full of GNIN emails.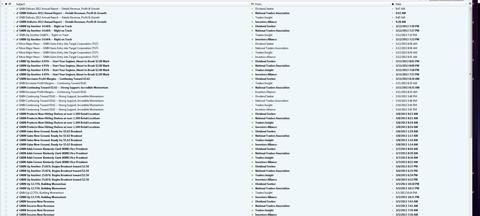 There is even a research report out on Green Innovation touting a 6 month price target of $5.62 (see here)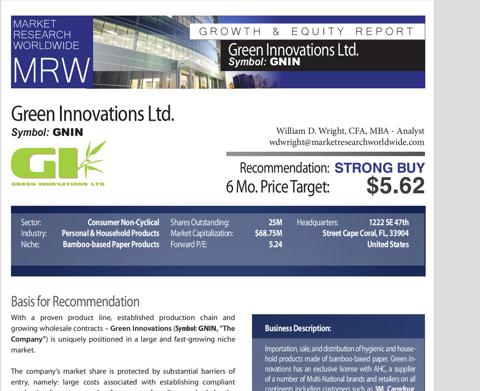 I believe it`s pretty well known by now that Green Innovations is in a stock promotion phase. However, a lot of new traders don't understand that many of their press releases are nothing more than smoke and mirrors. What do I actually mean by this? Let's dissect some of their press releases and I'll give you some insights on them.
Green Innovations Receives Initial Purchase Order from Leading National Value Retailer, Grocery Outlet, Inc.
The press release goes on, talking about Grocery Outlet credentials and how it`s a huge plus for Green Innovations Inc. However, they fail to mention some important, key aspects.
For instance, I gave a call to a Grocery Outlet in California. According to assistant manager Juan at the 2900 Broadway location in Oakland, CA:
"Basically, our business model is to buy close outs. We rely on manufacturers to make mistakes, or maybe they have too much inventory or need to raise cash - they'll approach us and we'll buy items for pennies on the dollar."
I think the need to raise cash is what Green Innovations is trying to do as you can see here

Green Innovations is likely selling their products to retailers for literally almost no profit. You can see they have an operating loss of 1,151,881 in 2012. In 2012 they have revenues of 232,955 while the cost of the sold goods was 211,112 for a pathetic gross profit of 21,843. However, the company based on its current levels is valued at 46,000,000 for the time being. A little over valued, don`t you think? I would say so. Let`s take a look at another recent press release.
Green Innovations Receives Vendor Number from Target Brands
This press release talks again about Target's credentials and how this opens up a window of opportunity for Green Innovations Inc. However, I called multiple Target stores and they claim they never heard of any of the Green Innovations Bamboo products. There is a reason why and this reason in particular is detailed by AquaResearch latest great research report.
From AquaResearch Research Report
"What the CEO Bruce Harmon did not tell you is that it's extremely unlikely that his company would qualify to work with Target. What he called "Vendor Number" is likely to be an application number not the actual approval from Target. If you look at the criteria by which Target decides to accept partners, Green Innovations doesn't even come close to qualifying:
(click to enlarge)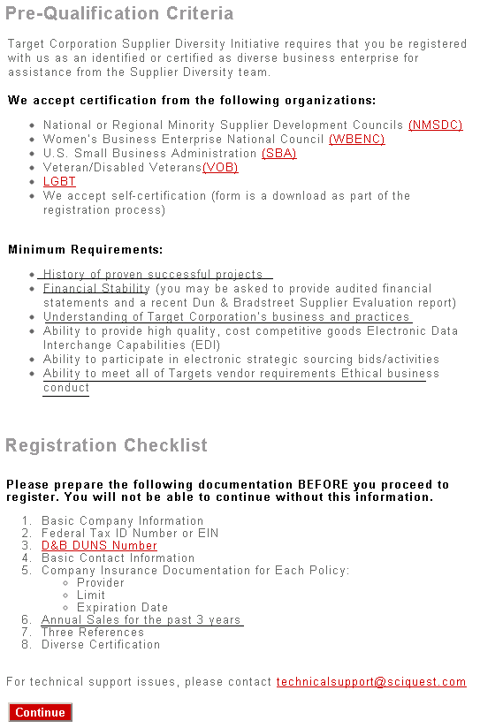 I've highlighted the most important parts. Let's break each one of them down:
History of successful projects. The company has no history of successful projects because it started in August of 2012 when there was a change of control, name and business plan. The CEO, as outlined in my first report, has a history of total shareholder value destruction with stock declines ranging from 50% to 90%. That is hard to achieve without significant operational failures.
Financial Stability. The company's latest audited financial statements show $13,000 in cash against $61,000 in current liabilities, with a current ratio of 0.21; it is essentially in a liquidity crisis. As a matter of fact its own auditors doubt it can continue as a going concern:"These factors raise substantial doubt about the ability of the Company to continue as a going concern for a reasonable period of time" - Latest 10-Q
Annual Sales of the past 3 years. The company has $0 in audited sales; it does have big claims of "sales" (unaudited). Notice that in the financial stability requirement Target mentioned audited financials so the company's claims of sales won't cut, it will have to be fully audited. Even in the case that all of those sales are real (which I highly doubt), Target demands some kind of track record (3 year requirement) not just one quarter worth of sales.
Ability to meet all of Target's requirements and ethical business conduct. Clearly, it fails in a number of requirements plus the CEO has worked with a number of companies that were subject to SEC investigations and enforcement actions as explained in my first report.
Understanding of Target's business and practices. Clearly the CEO doesn't understand Target's practices because he completely ignored the financial stability and sales requirement. To submit an application with a going concern section in its 10-Q and no audited revenues is almost comical and a waste of time for the Target employee who will take a look at the application."
Update
Green Innovations latest filings show their financial stability is even worse. The 10-k filed today shows that Green Innovations only has 45,743 in cash and $292,393 in current liabilities. That is a current ration of .16. That does not sound like a company heading in the right direction.
How I See Green Innovations Playing Out
I, just like Aquaresearch and many others, see Green Innovations having another huge drop very soon but this time it will not be followed by a big bounce.
There is one similarity between this stock promotion and the one done on IDNG (by the same promoters). That is during the stock promotion the company issued a stock dividend. IDNG issued a 5:1 forward split on June 8th 2012. It went into effect on June 22nd, 2012.
Here is how IDNG traded up to June 21st, 2012.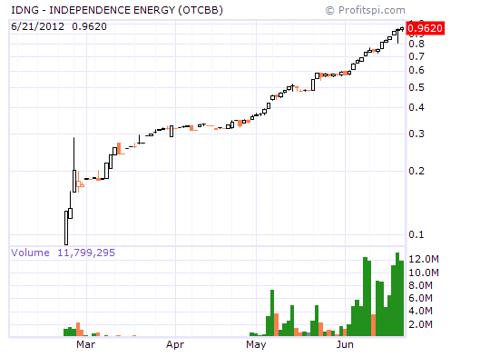 Here is how it traded after June 21st, 2012.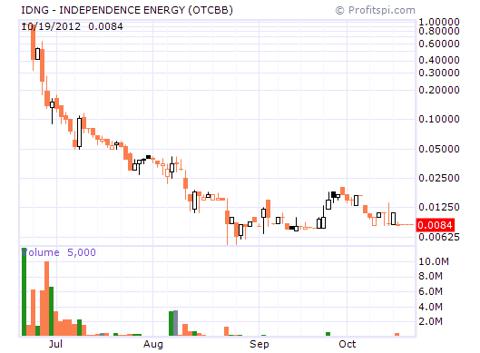 Here is a sad story that I stumbled upon about someone being caught in the dump. He was not able to sell because his shares were never made available to him after the split. By the time his shares were available in his account IDNG was already down 50%. New traders are the ones that are usually sucked into promoted stocks and this is just one of the nightmare stories on IDNG that we could soon be hearing on GNIN. I am doing this report to make sure this does not happen to you on Green Innovations. See story here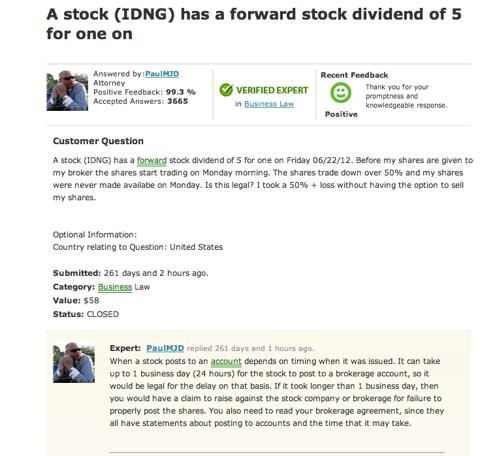 Green Innovations Upcoming Forward Split
Green Innovations Ltd issued a press release stating their intentions to issue a stock dividend on February 19, 2013. However, we got no update on the situation until March 6, 2013. Where we find out they had a little trouble getting Finra approval. However, they seem to have worked it out. Here is an excerpt from the press release:
"We have been working with FINRA and our transfer agent to prepare for approval and distribution of the Stock Dividend to our shareholders," stated Mr. Bruce Harmon, Chief Executive Officer of Green Innovations. "Now that several of the last outstanding details concerning the Stock Dividend plan have been clarified with regulators, we anticipate receiving final approval from FINRA and a confirmed payable date in the very near future."
This could be the final note to this lengthy deceptive stock promotion. My guess is that Green Innovations will drop soon after the stock split goes into effect. My advice to all would be to take advantage of the current stock promotion to sell your shares because when the promotion is over there will be very few buyers to buy your shares. However, there will be a lot of sellers very reminiscent of the last drop from $3.35 to a low of $0.36. I expect this to be at $0.50 or lower in a month's time.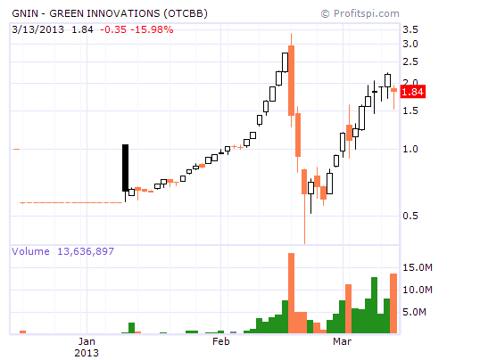 You have been warned.
Disclosure: I have no positions in any stocks mentioned, and no plans to initiate any positions within the next 72 hours. I wrote this article myself, and it expresses my own opinions. I am not receiving compensation for it (other than from Seeking Alpha). I have no business relationship with any company whose stock is mentioned in this article.