The shares of BlackBerry (NASDAQ:BBRY) have appreciated this week (see chart):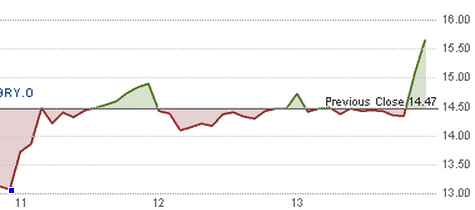 BlackBerry shares still represent a compelling target for investors to take a long position as many of the question marks of its rebirth and future prospects go by the wayside. The gnawing questions depressing BBRY for the last year include:
Q. Can BBRY make a touch screen smartphone?
A. Yes
Q. Can it sell smartphones versus iPhone iOS and Android phones?
A. Yes
Q. Can it develop an app ecosystem?
A. Yes
Q. Can it become "Cool" again?
A. I think so, the Z10 is fast, and my kids fight to play on it.
So, the remaining question for investors is:
Q. Have I missed the "move" in BBRY already?
A. No, it's just the beginning because the short sellers in the stock, which we updated and their corresponding 7.5% negative rebates (cost to borrow) are starting to realize BBRY is not going away. This means we have a built-in 147 million share buyer (the short sellers) for BBRY.
Numerous developments this week stirred a lot of excitement at BlackBerry. Beginning with comments from Lenovo's (OTCPK:LNVGY) CEO Yang Yuanqingsaying to a French paper:
"As for BlackBerry, the [acquisition] could possibly make sense. But first I have to analyze the market well and understand what is the exact weight of this company."
Many analysts have been bantering around the possibility of a Lenovo acquisition ever since Lenovo's CFO talked first talked to Bloomberg in Davos, Switzerland. He said they were looking at BBRY. A majority of the analysts have argued that an acquisition isn't in the cards because of financial constraints or the certain Canadian governmental rejection. We believe it is a matter of properly structuring a deal that all parties will support. The history of Lenovo is steeped in complex deal-making. In 2004, Lenovo stepped into the technology world 'spotlight' when it purchased IBM's PC unit in an $1.25 billion dollar transaction. This deal made Lenovo the third largest PC maker at that time. That deal established important ongoing relationships with Wall Street and PE firms, which should make those who doubt their deal capabilities think twice.
Here are some key data points:
1. Lenovo was a portfolio company of storied private equity firm TPG-Texas Pacific Group.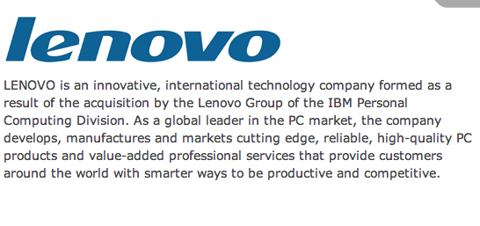 (Click to enlarge)
2. BBRY's new and existing board members include Timothy Dattels:
3. TPG founder/leader Bonderman's trusted lieutenant at TPG Mary Ma, was former CFO of Lenovo as pictured here in Forbes in 2005:
We think a TPG (for example, but other PE firms may come to play) sponsored private equity bid with Lenovo (other manufacturers can emerge) in tow are just one possibility that makes sense. Lenovo could be partly involved in financing and certainly in managing the hardware component. It can license BBRY's efficient and thoroughly tested QNX Operating System for China. Moreover, Lenovo could be the local Chinese premium cell phone champion to compete against iPhones and Galaxy series of phones. In conclusion, if Lenovo wants a deal with BBRY, there will be plenty of deep pockets to participate in structuring a deal that can appease all approving agencies.
BlackBerry has wisely assembled a star studded cast including TPG, Lenovo and the Goldman Sachs Alumni on their board of directors. Our take is that raising money is clearly no object for the right deal. BBRY has a hit new BB10 phone on its hands, and it's coming to the U.S. now and China next. All those interested in pursuing a deal with BBRY should start making their traveling plans to Waterloo sooner rather than later.
Other developments we list below that were announced this week including the 1 million Z10 smartphone sale announced at the end of the trading day yesterday should make the company's critics think again about their pessimism:
1. AT&T (NYSE:T) is taking pre-orders for the BBRY Z10 and it expects deliveries on March 22nd.
2. Analyst Peter Misek of Jefferies thinks there is a potential deal with Lenovo or another manufacturer to be had, with BBRY handing off the manufacturing business.
3. Ed Snyder from Charter Equity says of BBRY, "The company is not going to disappear, though someone might buy them. They are cash-flow positive, they've got a big bank account, they're out of the woods in terms of cash burn." and added the stock could double.
4. BlackBerry gets discussed along with its competitors on CNBC. A great discussion to watch about the "smartphone wars."
5. From Seeking Alpha: "BlackBerry (BBRY +8.3%) has received an order for 1M BB10 phones from one of its "established partners" (exactly whom remains a mystery). The announcement has sent shares flying higher over the final hour of trading. Also: Verizon (NYSE:VZ) says it will begin selling the Z10 on March 28, and will start taking pre-orders tomorrow. As was rumored, the carrier will have exclusive access to a white version of the device."
The positive reviews of the Z10 phone starting with David Pogue of the New York Times and Walt Mossberg of the WSJ followed by the Financial Times show the Z10 and BB10 platform has legs. Engadget updates and BBRY's own fan based Crackberry.com are creating a nice buzz for the Z10 launch. Competitors once looking at picking up the scraps of BBRY at a fire sale are now starting to realize that rumors of the company's demise were highly exaggerated.
Finally, BBRY has created a maze of developer Evangelists. Tom Anderson is one that was interviewed at SXSW (a "Woodstock" where tech meets art) and shows why BBRY has morphed into a hipper brand by recruiting the developers they need to create a fertile ecosystem. These 'movements' are hard to start. And once they do, they are hard to stop. We think the 'movement' has started.
Disclosure: I am long BBRY. I wrote this article myself, and it expresses my own opinions. I am not receiving compensation for it. I have no business relationship with any company whose stock is mentioned in this article.