What do you do when two people that you admire greatly are each giving you the exact opposite advice?
Usually in investing a certain group of respected value investors will generally share the same point of view. For example there weren't too many of the value investing greats in 1999 who weren't warning of the now obvious (with hindsight) bubble in technology and growth stocks.
Asset bubbles are generally not that difficult to spot for the smart folks who remain focused on intrinsic value.
Prem Watsa / Fairfax Financial - Expecting Commodity Prices To Collapse
I just got finished reviewing the Fairfax Financial annual letter to shareholders that is written by CEO Prem Watsa. Watsa's investing record is outstanding and is over many market cycles. He is known as the "Warren Buffett" of Canada for good reason.
And today the "Warren Buffett" of Canada is bearish on commodity prices.
We continue to be early - and bearish!

Commodity prices have yet to collapse (i.e., complete the down cycle), almost all the major mining com-pany CEOs have retired, including at Vale, Rio Tinto, BHP Billiton and Anglo-American, reflecting the sin of making acquisitions at the top of the market. Rio Tinto's purchase of Alcan is a great case in point. Purchased for$38 billion in 2007 at the height of the commodity boom, Rio Tinto has already written off $20 billion or half of the purchase price!As we said last year, if commodity prices come down after their parabolic increase, Canada will not be spared.
Watsa in his 2010 letter said that Fairfax shied away from asset classes like commodities which were in a parabolic curve (see chart below for example of parabolic).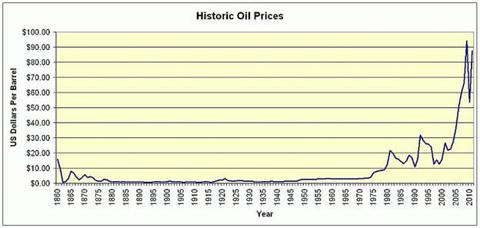 Watsa is expecting a collapse in commodity prices and has position Fairfax for profit from it through some fairly complex CPI linked derivatives.
Jeremy Grantham - There Is No Commodity Bubble
After I finished reading Watsa's annual letter I happened to sit down to watch Jeremy Grantham speak to Charlie Rose for an hour.
I love Grantham, he is a pure numbers man. He doesn't draw conclusions based on his gut, he draws them based on what the numbers are telling them.
And like Watsa, Grantham pretty much always reaches the right conclusion. Grantham warned investors to avoid assets exposed to the Japanese bubbles (equity and real estate) of the late 80s, the growth stock bubble of the late 90s and the debt bubble in 2008.
Grantham isn't expecting commodities to collapse. Far from it. He believes commodity prices are headed higher over the long term. Grantham recently wrote a piece detailing a completely opposing view:
Prices of global raw materials are now rising fast. This does not constitute a bubble, however, but is a genuine paradigm shift, perhaps the most important economic change since the Industrial Revolution. Simply, we are running out.

The price index of 33 important commodities declined by 70% over the 100 years up to 2002 - an enormous help to industrialized countries in getting rich. Only one commodity, oil, had been flat until 1972 and then, with the advent of the Organization of the Petroleum Exporting Countries, it began to rise. But since 2002, prices of almost all the other commodities, plus oil, tripled in six years; all without a world war and without much comment. Even if prices fell tomorrow by 20% they would still on average have doubled in 10 years, the equivalent of a 7% annual rise.

This price surge is a response to global population growth and the explosion of capital spending in China.
Grantham's conclusions are based on his firm's exhaustive efforts that have lead him to conclude that this paradigm shift is being caused by the Earth's finite resources meeting up with exponential population growth.
Who To Believe?
So what do you do when two great thinkers are telling you to do two completely opposite things?
I guess you look at the reason that each of them have reached their respective conclusions before deciding who is right.
My money is on Grantham, literally.
But I've mainly narrowed my commodity focus down to oil instead of commodities in general. And I've done that for 3 main reasons:
- The global demand for oil is a relentless beast. The billions of people in Asia work every day to improve their lifestyle and that means consuming more energy. Global oil demand is going to march higher by 1 million barrels per day year after year.
- The world is oil supply challenged. There has been a great surge in North American unconventional oil production, but the initial rate of that surge can't be sustained for long. The declines in production from conventional reservoirs also offset much of this unconventional growth
- OPEC (mainly Saudi Arabia) still fully control the price of oil and they want it at $100. At that price the oil companies I own are going to make a lot of money.
Athabasca Oil Sands and Penn West
Two oil companies that I like for the ultra long term are Athabasca Oil (OTCPK:ATHOF) and Penn West Petroleum (NYSE:PWE).
Athabasca has enormous land holdings in both the oil sands and tight oil in Alberta. The company plans to take production from 10,000 barrels per day today to over 250,000 barrels by the end of 2020.
That is a ride shareholders will likely enjoy.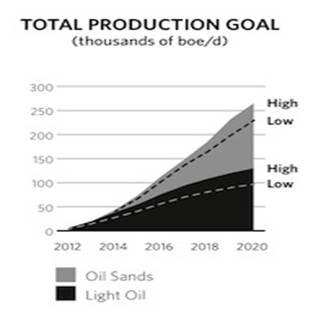 Penn West meanwhile sits on an incredible 5.7 million acres of land that provides it with an inventory of drilling locations for the next 30 years.
Over time that land is only going to become more valuable.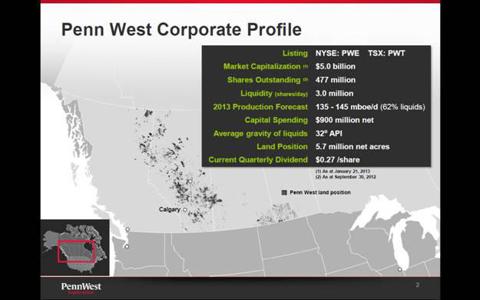 Grantham doesn't expect commodity prices to go straight up, nor do I. But over time the graph will generally keep moving up and to the right with regular cycles up and down happening along the way.
Disclosure: I am long PWE. I wrote this article myself, and it expresses my own opinions. I am not receiving compensation for it (other than from Seeking Alpha). I have no business relationship with any company whose stock is mentioned in this article.