After steadily rising off of its July lows of 1.20 EUR/USD, the euro hit a high of 1.37 EUR/USD last month but has pulled back significantly since then. Currently trading at 1.2937 EUR/USD, the news out of Europe continues to give bears a reason to think that the only path for the euro is further down.

Click to enlarge
(Click to enlarge)
Today, Eurostat announced that unemployment in the euro area and EU27 was down 0.3% and 0.2% in the fourth quarter of 2012 when compared to Q4 2011, or down 0.8% and 0.4% respectfully. This, coming days after also announcing industrial production was down 0.4% in the EU27 for the 4th quarter of 2012 when compared to the Q4 2011, and a week after announcing GDP was down 0.6% for the fourth quarter of 2012.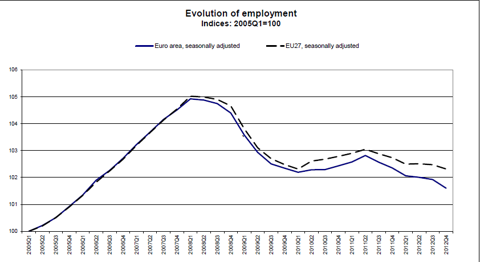 Click to enlarge
(Click to enlarge)
Image from Eurostat
On top of high yields on the Spanish debt, the Italian election fiasco, and continued uncertainty over who's to pay for the Greek debt, nothing seems to be going good for the euro. For those of you, like myself that continue to feel like money can be made shorting the euro, here are a few ways:
Short:
PUTs on Barclays PLC iPath EUR/USD Exchange Rate ETN (NYSEARCA:ERO) and CurrencyShares Euro Trust (FXE) could be purchased. These trade with the movement of the Euro so any fall would make the PUT options some money.
Buy ProShares UltraShort Euro (NYSEARCA:EUO), this ETF moves double the inverse of the

euro

so a drop would lift this ETF. I personally have some long CALL options on EUO which is another way to leverage this bet.
No matter which option you choose, all of these are very risky because of the unstable political environments that dictate foreign currency policies so, never put in more than you can afford to lose!
Disclosure: I have no positions in any stocks mentioned, and no plans to initiate any positions within the next 72 hours. I wrote this article myself, and it expresses my own opinions. I am not receiving compensation for it (other than from Seeking Alpha). I have no business relationship with any company whose stock is mentioned in this article. I have long Call options on EUO.